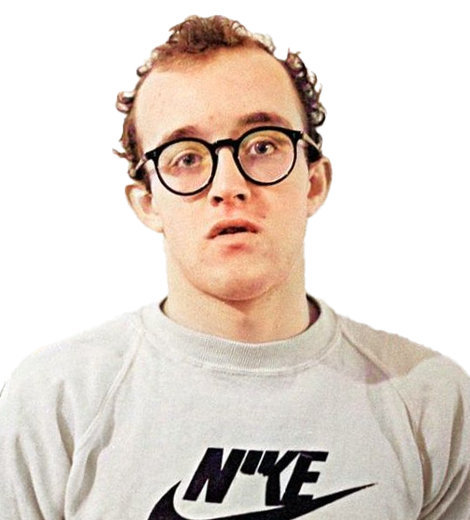 Quick Wiki
Full Name

Keith Haring

Occupation

Artist, Graffiti Artist,

Nationality

American

Birthplace

Reading, Pennsylvania, USA

Birth Date

May 4, 1958

Place Of Death

New York, USA

Death Date

February 16, 1990

Age At Death

31
American Graffiti Artist and Founder of Keith Haring Foundation
Keith Haring | Biography
Known for His Popular Arts Like 'Barking Dogs' and 'Radiant Baby'
After moving to New York City, Haring discovered a thriving alternative art scene developing outside the gallery and museum. He mainly got inspired by the beauty and spontaneity of the graffiti of the downtown streets and the subways. Even during a brief career spanned less than a decade; his artwork was featured in over a hundred solo and group exhibitions. He grabbed the attention of over 40 newspapers and magazines in 1986 alone.
---
Keith Haring was an American graphic artist best known for his graffiti-inspired artworks. He rose to fame while drawing such arts in New York's subways and downtown streets.
Who Is Keith Haring?
Engaged in drawing since childhood, Keith Haring discovered the foundation for his drawing in 1978 when he encountered graffiti of the downtown streets and the subways in New York City. He began using the vacant subway panels as his canvas, where he drew the pictures of "radiant baby" and "barking dog" that would become his signature images. Haring subsequently gained international recognition through his subway arts, which led him to exhibit his artworks at many locations worldwide. He had a brief career that spanned less than a decade. He died on 16 February 1990 at 31 because of AIDS-related complications.
Early Life and Education
Keith Haring was born in Reading, Pennsylvania, the United States, on 4 May 1958. Born as the oldest child of Joan and Allen Haring, he was raised in Kutztown, Pennsylvania, with his three younger sisters Kay, Karen, and Kristen. At a very early age, he developed an interest in arts after getting fascinated by the cartoon drawings of Walt Disney and illustrations of cartoonist Dr. Seuss. 
However, his first inspiration was his father. His father was an engineer and amateur cartoonist. He learned basic drawing skills from his father. Haring said, "My father made cartoons. Since I was little, I had been doing cartoons, creating characters and stories. In my mind, though, there was a separation between cartooning and being an artist."
After graduating from Kutztown Area Senior High School in 1976, Haring hitchhiked cross-country to look at other art programs but returned to Pittsburgh later that year. Then he studied commercial arts at the Ivy School of Professional Art in Pittsburgh, Pennsylvania. However, after spending two semesters, he felt stifled by the constraints of commercial arts, which led him to drop the course.
"I'd been convinced to go [to art school] by my parents and guidance counselor. They said that if I was going to seriously pursue being an artist, I should have some commercial-art background. I went to a commercial art school, where I quickly realized that I didn't want to be an illustrator or a graphic designer. The people I met who were doing it seemed really unhappy; they said that they were only doing it for a job while they did their own art on the side, but in reality that was never the case–their own art was lost. I quit the school," he said.
During his time in Pittsburgh, he eventually engaged with the Pittsburgh Arts and Crafts Center, where he had the first solo exhibition of his artworks in 1978, at age 19. 
Later that same year, he moved to New York City and took admission at the School of Visual Arts (SVA).
Early Career
After moving to New York City, Haring discovered a thriving alternative art scene developing outside the gallery and museum. He mainly got inspired by the beauty and spontaneity of the graffiti of the downtown streets and the subways. At SVA, he learned an essential and critical framework for his emerging style. He befriended fellow emerging artists, Kenny Scharf and Jean-Michel Basquiat, other musicians, performance artists, and graffiti writers. Haring took part in performances and organized exhibitions at Club 57 nightclubs and other alternative venues. Inspired by the work of several artists such as Jean Dubuffet, Pierre Alechinsky, and Robert Henri, Haring also started pushing himself toward a particular graphic expression based on the importance of the line. After noticing the public and participatory nature of Christo's art piece Running Fence and Andy Warhol's unique fusion of art and life, he eventually determined to devote his career to creating public art. 
Haring started experimenting with a unique style of visual communication. In 1980, while going through the subway, he noticed the untouched empty black panel where an advertisement was supposed to go. Instead, the board was covered with matte black paper. Finding it a highly effective medium for public art, he created drawings in white chalk on the black paper panel. 
Then he began using the subway as his canvas. The subway became, as Haring called, a "laboratory" for working out his ideas. He would develop a series of images, such as the radiant baby and the barking dog, that later became his signature images. Haring subsequently started obsessively drawing on the street, drawing whenever he found such black spaces. Between 1980 and 1985, Haring created hundreds of these public drawings in lively rhythmic lines. New York commuters often would stop when they encountered him drawing. Haring said, "I was always totally amazed that the people I would meet while I was doing them were really, really concerned with what they meant. The first thing anyone asked me, no matter how old, no matter who they were, was what does it mean?"
Rise to Fame
Haring soon gained fame through his subway drawings and street graffiti, which got him new opportunities. He even organized his solo exhibition in New York in 1981 at the Westbeth Painters Space. In 1982, he exhibited his artwork at a highly acclaimed and trendy one-man exhibition at the Tony Shafrazi Gallery. His first one-man show included drawings, painted tarpaulins, sculptures, and on-site work. He had transformed part of Shafrazi's space into a club-like environment. The opening received hundreds of visitors, and he also grabbed a great deal of media attention. 
He also continued to engage in subway drawings. "By 1984 the subway [drawings] started to backfire, because everyone was stealing the pieces. I'd go down and draw in the subway, and two hours later every piece would be gone. They were turning up for sale," Haring said.
Haring devoted most of his career to public artworks. Between 1982 and 1989, he produced over 50 public art pieces in dozens of cities worldwide, mainly for charities, hospitals, children's daycare centers, and orphanages. In 1986, he created the 'Crack is Wack' mural inspired by the crack epidemic and its effect on New York City. The mural would become a landmark along New York's FDR Drive. Haring also conducted art workshops for children in schools and museums around the world.
The 1980s also brought him international recognition. During that time, he exhibited his artworks in many locations within the United States and across the world, including Rotterdam, Tokyo, Naples, Antwerp, London, Cologne, Milan, Basel, and Paris. In addition, his rising fame brought him frequent travel opportunities and collaboration with other artists and performers, including Madonna, Grace Jones, Bill T. Jones, William Burroughs, and Andy Warhol.
Even during a brief career spanned less than a decade; his artwork was featured in over a hundred solo and group exhibitions. He grabbed the attention of over 40 newspapers and magazines in 1986 alone. 
Pop Shop
To expand his work and make his artwork accessible to people, Haring opened a retail store called Pop Shop in New York City's neighborhood, Soho, in April 1986. The store offered T-shirts, toys, posters, buttons, and magnets featuring his unique arts. He also painted the whole interior of the store in an abstract black on white mural to create a stunning and distinctive retail experience. The store received wide criticism from the art world. However, he remained committed to making his artwork accessible to as many audiences as possible. He also got support for his project from friends, fans, and mentors. His Pop Shop remained open until 2005.
Keith Haring Foundation
In 1989, a year after he was diagnosed with AIDS, he established The Keith Haring Foundation. Haring founded meg to ensure that his charitable legacy would live on in perpetuity. The foundation also remained committed to preserve, sustain, expand and protect the legacy of Haring's art and his ideals. The foundation also was founded to raise funding to support the organizations which enrich the lives of underprivileged children and organizations which engage in HIV and AIDS-related projects. 
Death and Legacy
After being diagnosed with AIDS in 1988, Haring died on 16 February 1990, at age 31. A few months later, his memorial service was held on 4 May 1990 at the Cathedral of St. John the Divine in New York City, which over a thousand people attended.
Haring has been the subject of retrospectives since his death. His work is still on display and in the collections of major institutions across the world, such as the Museum of Modern Art in New York City, the Art Institute of Chicago in Chicago, Illinois, and the Centre Georges Pompidou in Paris, France.