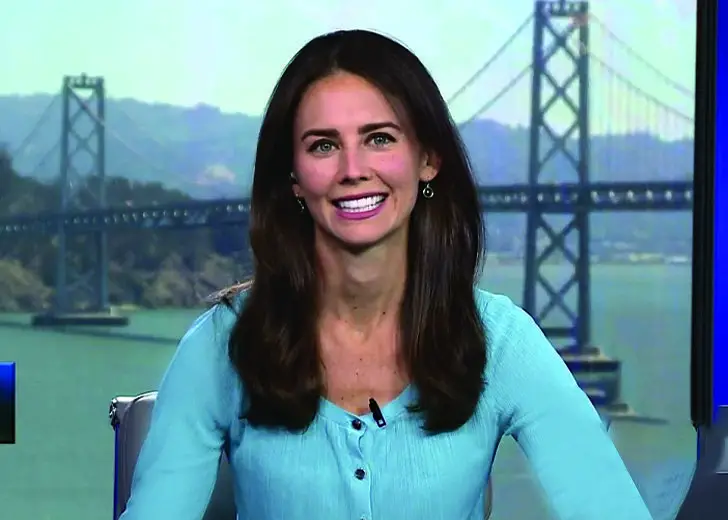 Quick Wiki
Full Name

Kate Rooney

Birth Date

Undisclosed

Nationality

American

Birthplace

USA

Occupation

Reporter, Joirnalist

University

Boston College, Northwestern University

Education

Graduated

Net Worth

Undisclosed
Tech Reporter for CNBC
Kate Rooney | Biography
Joined CNBC in 2015
Kate Rooney is a journalist working as a tech reporter for CNBC. 
---
Who is Kate Rooney? 
Kate Rooney is an American journalist. She earned her bachelor's degree in communication from Boston College. She then received her master's degree from Northwestern University's Medill School of Journalism, where she won an "Eric Lund Global Reporting and Research Grant" for video and created a documentary in the Philippines.
Rooney began her journalism career as a reporter at Medill News Service in April 2014. She worked there for around nine months and served in Medill's Chicago and DC news bureaus, where she covered politics and education.
Then in January 2015, Rooney was hired as a general assignment reporter for The Argentina Independent. She contributed to an English-language website in Buenos Aires by writing articles and shooting/producing videos. In addition, Rooney also reported on the events of Alberto Nisman's death, human rights protests, and the city's urbanization laws.
She worked with The Argentina Independent only for four months before serving as News Intern for Bloomberg LP. During her time there, she assisted the weekly mergers and acquisitions section of Bloomberg Businessweek.
In 2015, Rooney landed a job as a news associate for CNBC. She has been working with CNBC for nearly seven years. During that time, she has served in the posts of news associate, segment producer, markets reporter, and tech reporter.
Moreover, she has revealed nothing about her personal life and her husband.
Also Read: John William Muller - Age, Wife, Married, Salary, Net Worth, Bio
Career at CNBC
Rooney first began working for CNBC in September 2015 as a News Associate. During her time at the post, she wrote for CNBC.com, focusing on global markets and economics. She was also a member of the relaunch of "Worldwide Exchange" in the United States, producing show pieces and writing articles for CNBC.com. 
Then in August 2016, Rooney served as segment producer creating show segments for CNBC's Squawk Box. She also produced live interviews and panel discussions for CNBC anchor Andrew Ross Sorkin.
From February 2018 to March 2020, Rooney was a CNBC markets correspondent. She has authored articles about cryptocurrencies, financial markets, payments, and financial technology.
Following her connection as a markets correspondent, CNBC.com managing editor Jeff McCracken issued a statement saying, "I am pleased to announce Kate Rooney is joining CNBC.com as a reporter covering bitcoin, cryptocurrency and whatever else the market throws our way. She will report to John Melloy and work on his ever-powerful markets team."
In July 2019, she published articles such as 'When the Fed cuts rates without a recession, stocks go higher 100% of the time', 'Venture giant Andreessen Horowitz doubles down on fintech with the newest hire from Credit Karma', and 'The Fed is looking into Facebook's Libra cryptocurrency as Powell flags' serious concerns."
After working as a markets reporter for over two years, Rooney was hired as a tech reporter. She has been working in the post since. She worked as an on-air reporter at CNBC's 1 Market bureau in San Francisco, covering tech, fintech, payments, cryptocurrency, and venture capital.
Is Kate Rooney related to Kate Mara?
No, Kate Rooney is not related to Kate Mara. Mara Rooney is the younger sister of an American actress Kate Mara.