Karen Finerman Transformed From Person Worth $1000 To A Powerful, Inspiring Woman
Karen Finerman is the co-founder and CEO of Metropolitan Capital Advisors. She works as a panelist for CNBC Fast money and runs many charitable causes with her billionaire husband, Lawrence E. Golub, with whom she has four children. So how does she do it all?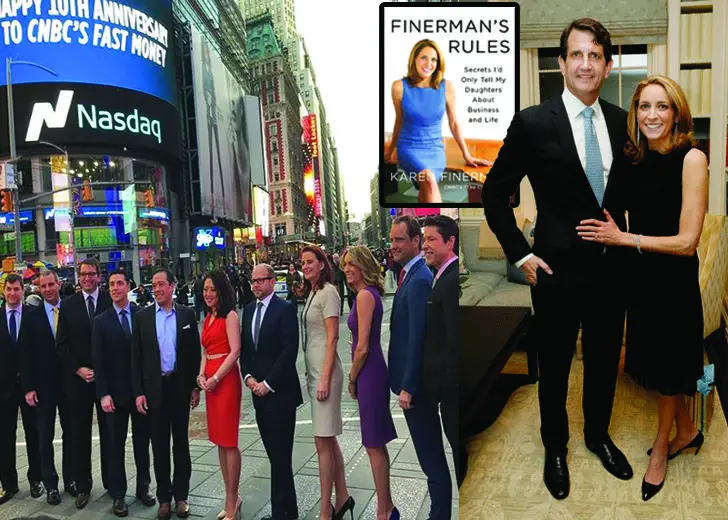 ---
Karen Finerman is a shining light for women who want to make a career in the competitive financial industry. She gets her drive from pure ambition and is on a mission to break gender stereotypes that have haunted women for a long time. 
Starting her career on Wall Street after graduating from the prestigious Wharton School, Finerman gradually climbed up the ladder in the industry. She transformed from a rookie trader with a $1000 net worth involved in First City Capital to a CEO who ran over a $400 million hedge fund. 
To pursue her early career aspirations, she relied on her childhood ambition to get ahead in her life and earn money. She had a clear picture in her mind of going to Wall Street. So she meticulously applied to Wharton School at the University of Pennsylvania as she was "obsessed with making money."
"When I was 15 years old, I read an article about Ivan Boesky, the well-known takeover trader - turned out years later it was all on inside information! But before that came to light, he was very successful, very flamboyant. And I thought, 'This is what I want to do .' So I'm 15 years old, I decide I'm going to Wall Street," Finerman shares. 
Sure, Finerman comes from a family where all of her siblings have been successful. She was born in a family of a surgeon father, Gerald, and a proud homemaker mother, Jane. Perhaps Finerman was largely influenced by her mother as he grew up. Her mother always cherished success and advised her loving daughter to do so. She would suggest her daughter marry a successful man instead of a nice man.
However, as she grew up and fostered her ambitions, Finerman realized that her desire in life and career was rather multi-dimensional and not only focused on money. She rather nurtured a belief that she could take important decisions in her life and professional ventures, contrary to many men who believed otherwise.
"I think, um, it's unusual for a woman to be the manager of a hedge fund, but hopefully, I can do a decent job of presenting myself well and in a way where they think, 'All right! She seems intelligent, and she's on top of her business and her investments,"' Finerman answered The Guardian in 2007. She was asked about certain men labeling women as being limited in their decision-making processes.
"And I've got a lot of money in the game here. The fund is about $400m in assets and a big chunk of it is my partner's and my money. So hopefully I can have womanhood not be an issue in their decision to invest. And I do think there are a lot of advantages to being a woman in this business," she adds. 
Finerman credits her competitiveness and states that the idea of competing with men is meaningful to her "ego." She values "being right, being smarter than the other guy."
"If you're the titan of the hedge fund world and you make a billion or a billion point two, does it really matter? Is that extra point two billion changing your life? Probably not. But if your returns are better than 10 other guys who also fly their private jet out of whatever airport, that's cool. So obviously it is about the money, somewhat, but it's so much about other things," she explains.
She thinks money has brought her empowerment in life and cherishes that she is not financially dependent on her billionaire husband.
"II never want to have to ask my husband for money. Never! That's incomprehensible to me. Would he have preferred that I change my name? Probably. But that's OK! And he probably assumed he would have most of the financial responsibility. Or all, maybe. But I feel we are sort of hitting our stride here, I'd like to really focus on growing this business in the next 10 to 15 years," she shares. 
In her marriage, she thinks of herself as equal. She has set her own standards on how she wants to organize her life, teaming up with her husband for a better work-life balance. Because she is a workaholic, she tends to take fewer holidays but likes to spend time with her family when she can.
"You can be out of the office. That's possible. Um. But there's never a break when they say, 'Everybody stop trading, it's spring break, nothing's going to happen for two weeks' - that never happens. Companies are always being bought and sold, the markets are always moving, you have to be on top of your position," Finerman explains to The Guardian. 
Finerman is also aware of not spoiling her children. She doesn't want to be seen as an extravagant spender. She instead invests most of her money and hopes that her children aspire to have successful lives themselves.
She is particularly cautious about raising her daughters with the right mindset. She even wrote a book 'Finerman's Rules: Secrets I'd Only Tell My Daughters About Business & Life.' 
Through the book, she has tried to render advice to her daughters and young women in general on how to get successful and take personal responsibility in a world that stereotypes women while discovering work-life balance. 
In the book, she writes it is vital for a woman to get successful in life as decision-makers for the sake of their empowerment. And according to Finerman, many societal norms, perspectives, and generalizations related to women tend to cage them to a bounded life and behavioral mindset.
"Recognize there still exists a serious double standard and plan for it: A man who takes a few hours to go to his kid's soccer game is considered a great dad. A woman who does the same is "unprofessional," she shares.
Hence, Finerman draws up conclusions from her experiences. She suggests women take time to research and minimize their emotional baggage, just like men, before making important decisions in life and career.
"You wouldn't let a man tell you where to live, how to vote, or what to wear. Then tell me why 80 % of women have a man in charge of their money?," she voices.