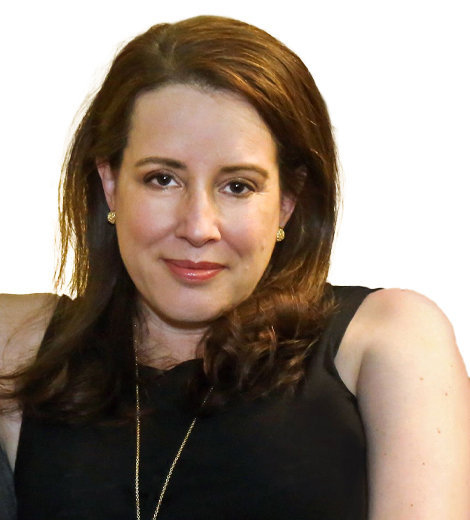 Quick Wiki
Full Name

Julie Pottinger

Occupation

Author

Nationality

American

Birthplace

New York, USA

Birth Date

January 12, 1970
New York Times Bestselling Author
Julia Quinn | Biography
Author of Book Series like 'Bridgerton,' 'Agents of the Crown,' and 'The Lyndon Sisters'
In 2000, Julia Quinn published the first book in the Bridgerton Series 'The Duke and I'. Set in the Regency era, between 1813 and 1827, the series comprised eight novels, each featuring one of the alphabetically named eight siblings of the Bridgerton family. The other novels of the series are 'The Viscount Who Loved Me, 'An Offer from a Gentleman,' 'Romancing Mister Bridgerton,' 'To Sir Phillip, With Love,' 'When He Was Wicked,' 'It's In His Kiss,' and 'On the Way to the Wedding.'
---
Julia Quinn is New York Times bestselling author known for her historical romance novels. Her 'Bridgerton' series of books have also been adapted for Netflix in 2020.
Who Is Julia Quinn?
Julie Pottinger, alias Julia Quinn, is an American romance author who penned several dozen historical romance novels. Her novels are famous for romantic humor with sharp, witty dialogue. She has featured on the New York Times Best-seller List nineteen times. In addition, her novels have been translated into 28 foreign languages. Her 'Bridgerton' series was adapted for Netflix, which premiered on 25 December 2020 under the same title.
Early Life 
Julia Quinn was born as Julie Cotler on 12 January 1970, in New York, the United States. She was raised in nearby New England, but she spent much of her time in California since her parents were divorced.
Education
After graduating in art history from Harvard College in 1992, Quinn wanted to become a doctor. However, since her high school degree was in art history, she had to take two additional years of science classes to apply for the medical course. Quinn knew that she probably wouldn't be studying as much as she ought during those two years, so she wrote a romantic novel. 
After two years, she had already written two novels. When she was figuring out which college to join for her medical course, she learned about the success of her first two novels. Then she postponed medical school for two years to write books. Two years later, she entered Yale School of Medicine and picked up a scalpel, starting dissecting cadavers, and dived into the world of the citric acid cycle. However, it only took her a couple of months to realize that her desire to become a doctor was just temporary insanity, and she realized she wanted to pursue writing. Then she dropped out of medical school and never looked back.
Getting Into Writing
She has been an avid reader since her childhood. She grew up reading different books, including those of Judy Blume. She also devoured the 'Chronicle of Narnia.' "I read ALL the time. My mother would keep trying to get me to go to bed and I'd whine, "Just let me finish this chapter!" Of course, I always snuck into the next chapter," Quinn reminisced.
She also developed her love for writing, and she aspired to become a novelist at a young age. "I'd say I was about 12. My father caught me reading Sweet Dreams and Sweet Valley High books, which he thought were terrible, so he told me I could keep reading them if I could come up with one reason why reading them was good for me. I immediately said, "Vocabulary words," but when pressed, I couldn't find a single word in the books I didn't already know. So then, panicked that I'd lose my favorite reading material, I said, "I'm studying these so I can write one myself," as she recalled how she got into novel writing. She continued, "He said, "Okay," and that night he sat me in front of his computer and told me to go to it. Much to his surprise, when he came back 3 hours later to see how I was doing, I'd written two chapters!"
She only worked on the book during her summer vacations, so it took her three years to finish it. Finally, she sent it off to Sweet Dreams to get it published but was rejected upon finishing the book. She further said, "To this day, I believe that as soon as they read in my cover letter that I was fifteen, they immediately moved the manuscript to their reject pile. Which was too bad--I pulled it out a few years ago and reread it. It was really good!"
Career
Quinn's journey of writing novels began during her high school at Harvard college. Her debut novel, 'Splendid,' was published in 1995 when she was 25 years old. Quinn said that she was 24 when she completed her first novel, but it took about a year for a book to get published, and she was 25 when 'Splendid' first appeared in bookstores. Her second novel, 'Dancing At Midnight,' was also published in 1995. 
Sharing about when she began writing novels, Quinn said, "I started...my first novel the summer after my junior year, while I was working for Harvard Student Agencies...but when I got back to academic life, I found I had absolutely no time to write, and my novel, which was all of four chapters long, sat in my computer until the following summer." 
She started working on it again while doing her pre-med requirements to get enrolled at medical school. She finished it about ten months later and sold it the same month she was accepted to the Yale School of Medicine. 
At that time, her first two novels were the subject of a fierce bidding war between two publishing houses that inspired her to postpone her entrance into medical school to write her third novel, 'Minx.' It was released in 1996. Her third novel was well-received, which led her to put off her entrance for another year to write her next novel 'Everything and the Moon,' published in 1997.
After attending medical school only for two months, she realized she was made for writing. She subsequently quit medical school and devoted herself to writing. She then wrote novels, producing a steady stream of work and perfecting her craft of writing. Eventually, she became known for writing funny romances which emphasized dialogue over description.
Quinn wrote dozens of novels in multiple series, including 'The Lyndon Sisters,' 'Agents of the Crown,' 'Bridgerton,' 'Two Dukes of Wyndham,' 'Bevelstoke,' 'Smythe-Smith Quartet,' 'Rokesby,' 'Lady Whistledown,' and 'Ladies Most.'
'Bridgerton'
In 2000, Quinn published the first book in the Bridgerton Series 'The Duke and I'. Set in the Regency era, between 1813 and 1827, the series comprised eight novels, each featuring one of the alphabetically named eight siblings of the Bridgerton family. The other novels of the series are 'The Viscount Who Loved Me, 'An Offer from a Gentleman,' 'Romancing Mister Bridgerton,' 'To Sir Phillip, With Love,' 'When He Was Wicked,' 'It's In His Kiss,' and 'On the Way to the Wedding.'
Sharing about how she wrote the series, Quinn said, "I didn't originally set out to write an eight-book series; at first it was just going to be a trilogy! But readers really took to the Bridgertons (and to the mysterious Lady Whistledown, whose gossip columns "narrated," the first four books), and I found myself rather enamored with the family, too."
After the completion of the series, readers' curiosity about the latter lives of Bridgertons led her to write "2nd Epilogues" of the series. The stories were initially available as e-shorts were later collected into 'The Bridgertons: Happily Ever After,' along with a bonus novella 'Violet in Bloom.' The series was later adapted as a Shondaland series for Netflix, premiered on 25 December 2020.
Awards and Recognitions
Shortly after Quinn established her unique brand of romance, i.e., romantic humor with sharp, witty dialogue, Romantic Times Magazine nominated her 'Everything and the Moon' for Best Regency Historical in 1997. In 2001, she was selected as a finalist for the Romance Writers of America's 'RITA Awards.' That same year, she also won $79,000 on The Weakest Link. The following year, RWA membership voted 'Romancing Mister Bridgerton' as one of the top ten books of the year. In 2003, Publishers Weekly named 'To Sir Phillip, With Love' as one of the six best mass-market original novels of the year.
She received the RWA's 'RITA Award' for Best Regency Historical Romance for 'On the Way to the Wedding' in 2007, for Best Regency Historical Romance for 'The Secret Diaries of Miss Miranda Cheever' in 2008, and for Best Regency Historical Romance for 'What Happens in London' in 2010. She was recognized in the RWA Hall of Fame the same year. Furthermore, her novels have appeared on the New York Times Best-seller List 19 times.  
Personal Life
Quinn is married to Paul Pottinger. Her husband specializes in infectious disease, is a mountaineer, and is a former Junior Olympics fencer. They live in the Pacific Northwest area of the United States. She wrote most of her books, dedicating her husband, often referencing amusing alternate titles for the work.