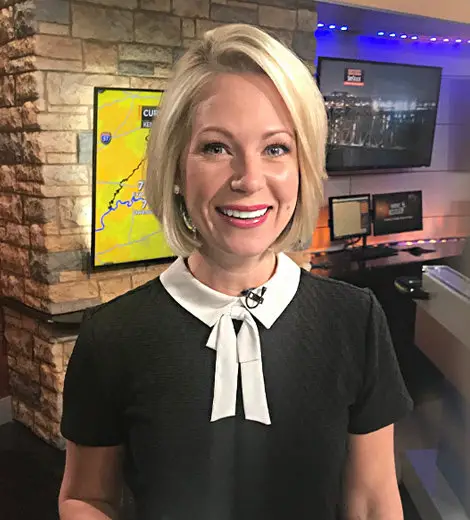 Quick Wiki
Full Name

Jude Redfield

Nationality

American

Birth Date

Mar 04, 1977

Age

46 Years, 9 Months

Zodiac Sign

Pisces

Occupation

TV show host and meteorologist

Relationship Status

Marrried

Wife

Lauren Jones

Wedding Date

September 29, 2012

Net Worth

Undisclosed
Meteorologist for 'Morning in the WDRB'
Jude Redfield | Biography
Certified Broadcast Meteorologist (CBM) from the American Meteorological Society
Redfield is married to a fellow meteorologist and Wave3 News anchor, Lauren Jones. They exchanged wedding vows on 29 September 2012. As of 2022, the pair have completed nine years as a married couple.
---
Jude Redfield is a renowned American TV show host and meteorologist. He appears as the host and meteorologist in WDRB News' meteorological segment, Morning in the WDRB.
Who is Jude Redfield?
Jude Redfield is a famous TV personality best recognized for his appearance on Louiseville-based Fox affiliate channel, WDRB. He serves as the host and meteorologist on Morning in the WDRB.
As per his Twitter bio, he is also a father and husband and is currently based in Louisville, Kentucky. His verified Twitter handle @JudeRedfield has 16.7K followers and has completed 36.1K tweets as of March 2022.
Redfield Recently Turned 45 Years Old
The WDRB meteorologist, Redfield, was born in 1977 and observes his birthday each year on the 4 March every year. Apart from his birthdate, he has not revealed any information on the media/public about his early life aspects, parents, and siblings.
His TV show's official Facebook page, WDRB in the Morning, wished him via a post that read, "45 YEARS YOUNG! We're wishing Jude Redfield a happy birthday today." The page also shared an edited picture of Redfield with balloons and a birthday card around him.
Previously, the WDRB channel's official website wdrb.com also wished him a birthday when he turned 40 in March 2017. WDRB also talked about marking Redfield's four-decade milestone with a special celebration. 
They planned a surprise for him and brought in his family members and friends to help them with the plan. However, the details of the program and the surprising insights are not available on the website now.
Redfield's Fire Extinguisher Accident On The Set
In October 2019, WDRB's Redfield escaped an on-stage accident by a narrow margin. Unfortunately, the fire extinguisher he was using as a prop to put off the heat in the forecast malfunctioned and exploded during the live shot. Luckily, the meteorologist got out of it unharmed.
After the uneventful incident, several WDRB cast members joked about it and shared the clip on social media handles. Among the cast was the Morning in the WDRB's female news anchor Candyce Clifft. She wrote, "Got him! @JudeRedfield was going to use a fire extinguisher to illustrate putting out the heat in the forecast. Welp....."
Moreover, Redfield took to his Twitter handle to share the clip with his followers and laugh about it. He quoted the video as, "I Can't Stop Laughing!."
He Married a Fellow Meteorologist
Redfield married his fellow meteorologist and Wave3 News anchor, Lauren Jones, on 29 September 2012. As of 2022, the pair have completed nine years as a married couple. Moreover, on their 9th marriage anniversary, Lauren shared the pair's wedding day picture on her Instagram handle. Alongside the picture, she also wrote a loving message for Redfield. 
The message read, "9 years ago today. ❤️ Happy Anniversary to my beginning, middle, and end - I love you always @juderedfieldwdrb - and the life we've built together."
Similarly, Redfield also wished his wife a happy 9th marriage anniversary via a post on his official Instagram handle @juderedfieldwdrb. In the post, he talked about how Lauren has made him the happiest person and gave him the greatest gift of his life in the form of family. He wrote,
"Nine years ago today @laurenjonesredfield made me the happiest man in the world. I'm so very thankful that we got to know each other and fell in love. Building our family ever since has been the greatest gift I'll ever receive. Thanks for making my dream come true my love."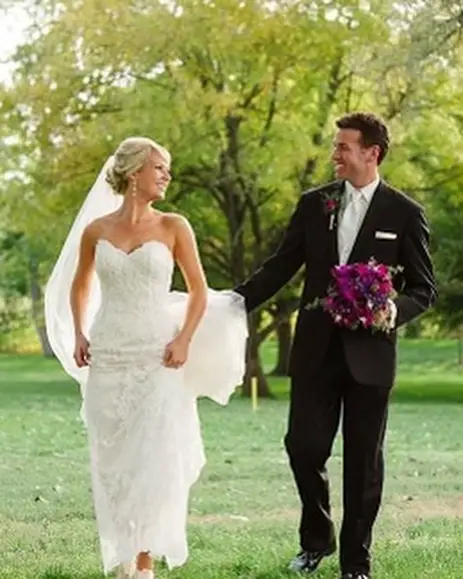 There is no valid information about when the couple first met and began dating. However, three days before their marriage, Redfield's bride-to-be, Lauren, surprised him with a Chewbacca Cake on the set of their show, Morning in the WDRB.
Wife Lauren Jones's New Job at Wave3
Redfield's wife, Lauren Jones, started as the news anchor and meteorologist of the NBC affiliate channel Wave3 in 2011. After a decade-long tenure there, she discontinued her reporting job and left the Louiseville NBC affiliate in March 2021. She disclosed the news to her fans and followers via a video on her Facebook. Her words were,
"Despite my best efforts to stay, I will not be continuing my journey with WAVE3 News. ... This is sad. It's heartbreaking for me, but I wanted you all to hear it from me."
After around six months of leaving the station, Lauren has made a new career move. She joined the marketing team of French Lick Resort, Indiana, in September 2021. Besides being part of the marketing team, she is the social media face of the resort, and her job also includes emceeing events there.
Parents to Three Children
From 9 years of marriage, the meteorologist couple Jude Redfield and Lauren Jones have become parents to their three kids, two daughters and a son. They named their children Marin, Evelyn, and her youngest son Leo Jude Redfield.
As of now, there are no details available on Redfield's daughters on the internet. However, his son Leo was born in May 2016.