Josh Heupel Wife Helped Him In His Knights Appointment in 2017
Josh and Dawn have fostered a solid long-time bond that has relied on the foundation of mutual understanding and shared values for sportsmanship and family. In his wife, Dawn, Josh has found a reliable source of care and compassion. She has, in fact, taken the role of being the life-long partner of a famous personality with grace. She has been the support pillar for the Heisman Trophy runner-up and has aided in Josh's efforts to give their children a healthy, competitive culture inside their households.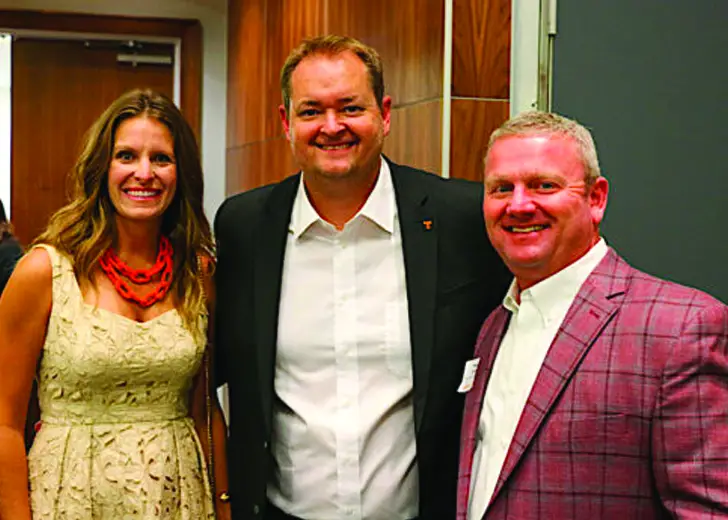 ---
Josh Heupel's Knights appointment in the year 2017 makes up for a remarkable family story. It was his dream appointment as a head coach, but few may know that it had a crucial connection with his wife Dawn, his life-long partner with whom he shares two children, a son Jace and a daughter Hannah. 
As it turns out, Dawn, like Josh, is a sports enthusiast and played sports such as basketball and volleyball in college. Although she graduated in architecture and didn't pursue sports professionally, her personal connection would later help Josh land the Knights job. 
In the turn of events, the University of Central Florida's sports director Danny White decided to hire Josh in 2017, as White already knew about Josh's previous offensive coaching profiles at Utah State Aggies and Missouri Tigers. Not only that, the director knew Dawn and was moved by the couple's mutual passion for sports. 
Josh believes all of the factors combined to aid him to land the job, including his wife's role, as it helped him build a positive image in the eyes of White.
"Brian's perspective of me as a coach and also knowing my wife Dawn--interacting with him and knowing who we are--probably helped spark this opportunity. It gave me an opportunity to talk to Danny and interview with the decision-makers here, and I'm pretty glad it worked out the way it did," Josh said to UCF Knights in 2019. 
For Josh, Dawn is someone who has been in a romantic relationship with him since high school. 9
She is his hometown girl with whom he has developed a long-lasting bond despite the struggles in their relationship in the early days. They were in an on-again, off-again relationship before getting back together and tying the knot. 
After their marriage, their focus has been balancing both Josh's successful career and giving good value to their children. 
Especially for Josh—who treasures relationships at home and in his job—he is blessed to have a life partner who has gracefully handled his household while warmly accepting his distinct approach to their marriage. 
Josh's focus has been balancing his successful career while giving their children, Hannah and Jace, good sporting and life values at home. 
"I also want to take this time to thank my wife Dawn, who's been my co-pilot in life. She's probably piloting most of the time when I'm at the office," he expressed his heart during the Tennessee Intro Presser in 2019.