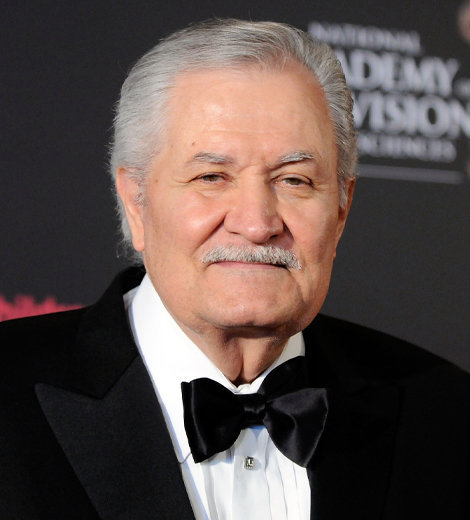 Quick Wiki
Full Name

John Aniston

Occupation

Actor

Nationality

Greek-American

Birthplace

Crete, Greece

Birth Date

Jul 24, 1933

Age

90 Years, 4 Months

Did You Know?

John Aniston is the ex-father-in-law of famous actor Brad Pitt.
Cast in the 3700 episodes of the NBC series 'Days Of Our Lives'
John Aniston | Biography
John Aniston is the active cast of the NBC series 'Days of Our Lives' since the year, 1969
John's notable performances on TV soap operas include 'Love of Life,' and 'Inhumanoids.'
---
John Aniston is a television and film actor best known for appearing as Victor Kiriakis in over 3700 episodes of the NBC series Days Of Our Lives. He is a former Intelligence Officer of the US Navy.
Who is John Aniston?
Giannis Anastasakis, known to his fans as John Aniston, is a TV and film actor and a former military officer. He served in the US Navy in Panama and went up to the rank of Lieutenant Commander. John is also well recognized as the father of famous actress Jennifer Aniston.
John began his acting journey with single-episode roles in the 1960s like 87th Precinct, Combat!, I Spy, The Virginian, among many others. During these years, he also appeared in TV films like Love with the Proper Stranger and The Shakiest Gun in the West. 
In 1975, he got his big break in the CBS's soap opera Love of Life, which earned him prominence in the industry. Since then, the actor has been continuously appearing in various roles in movies and TV series.
How old is John Aniston?
John Aniston was born on 24 July 1933 in Crete, Greece, to his father, Anthony Anniston, and mother, Stella Anniston. As of 2021, John is 88 years old. He was born as the youngest child among four children in his family. His family emigrated to the USA when he was 2. Since then, John grew up in Chester, Pennsylvania.
John Aniston holds a Bachelor's degree with a major in Theatre Arts from the Pennsylvania State University.
Is John Aniston still alive?
The 88-years old actor is still alive and active in his acting profession. He currently appears on NBC as the cast of its long-running show, Days of Our Lives.
Movies and TV Shows
From 1962, John Aniston has been regularly contributing to the TV and film sector. John is the active cast of the show Days of Our Lives from 1969. His notable performances on TV soap operas include Love of Life and Inhumanoids.
John's other works include Mission Impossible (1969), That Girl (1970), Night Sins (1993 TV movie), Star Trek: Voyager (2001), The West Wing (2002), Sands of Oblivion (2007 TV film), Mad Men (2010 TV film), and Return to Zero (2014 drama movie). 
Wife
John Aniston has been married two times in his life. He first married Nancy Dow on 11 December 1965 and became a father to Jennifer Aniston. However, after about 15 years, he legally separated from Nancy on 20 August 1980.
The actor is currently married to actress Sherry Rooney. Rooney has worked in the 1951 TV series Love of Life and Search for Tomorrow. The couple took marriage vows on 14 June 1984. With Rooney, John has a son, Alexander Aniston.
Net Worth
John Aniston's net worth, as per Celebrity Net Worth, is estimated to be around $10 million, and the credit for his massive wealth goes to his decades-long career as a soap opera actor.
Height
The actor stands tall at 6 feet 2 inches.