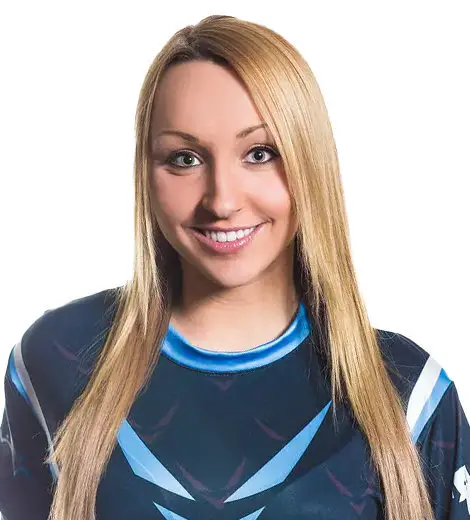 Quick Information
Full Name

Jessica Blevins

Occupation

Live Streamer, Ninja, YouTuber

Nationality

American

Birthplace

Wisconsin, USA

Birth Date

Jun 23, 1992

Age

29 Years, 3 Months
Live Streamer, Wife and Manager of Streamer Ninja, alias, Tyler Blevins
Jessica Blevins | Biography
Jessica has described herself as "Streamer for The Ghosties," in her Twitter bio
Jessica first met her future husband, Tyler Blevins, at a Halo tournament in December 2010. At that time, Jessica had just broken up with her then-boyfriend, and Tyler had a girlfriend.
---
Jessica Blevins is a streamer better known as the wife and manager of the famous streamer Tyler "Ninja" Blevins.
Who is Jessica Blevins?
Jessica Blevins is a steamer who began streaming on the live platform for gamers, Twitch, in 2014. Later, she started working as a manager of her now-husband and renowned streamer, Tyler "Ninja" Blevins. Tyler rose to prominence when he smashed the Twitch record in 2018 after playing the game Fortnite. He is now a millionaire gamer. 
Early Life and Education
Jessica Blevins, originally, Jessica Goch was born on 23 June 1992 in Wisconsin, USA. In 2014, she graduated with a Bachelor's degree in Communication and Human Resources Management from the University of Wisconsin-Whitewater.
Getting Into Gaming
Jessica shared in an Instagram post that her older brother, Joshua Goch, introduced her to gaming. She started playing Mortal Kombat on Sega Genesis with her brother at a very young age. The sibling duo played Halo 3 on Xbox 360 in high school, and Jessica continued playing even after Jessica went to do college. During her college years, she attended dozens of gaming events, but she never competed herself.
Career
While still attending college, Jessica was involved in a part-time job, managing booths at gaming events and competitions. After graduation, she briefly worked as a recruiter for a staffing agency. 
Jessica then started streaming on Twitch in October 2014. According to a CNBC article, Jessica started playing online games like Minecraft using the internet alias "JGhosty." She then participated in what the Twitch community calls "IRL," also known as "in real life" streaming. She live streams herself in everyday activities like exercising, cooking and playing a popular game like Dead by Daylight. On her Twitter bio, she has also described herself as "Streamer for The Ghosties."
Social Media
Jessica has amassed a legion of fans on various social media platforms. She has one million followers on Instagram, 590.3k followers on Twitter, 454k followers on Twitch, and 208k subscribers on her self-titled YouTube channel, as of September 2021.
Relationship with Tyler Blevins
Jessica first met her future husband, Tyler Blevins, at a Halo tournament in December 2010. At that time, Jessica had just broken up with her then-boyfriend, and Tyler had a girlfriend. According to Jessica, Tyler had just started earning as a professional gamer when they first met. A few years later, she messaged him through Twitter. Jessica said that she didn't expect a reply from him as he had more than 1,000 followers then, and he would never see her message. But, Tyler tweeted her back within a minute and also followed her, she shared in an interview with CNBC. 
They eventually exchanged phone numbers, started talking every day and began dating within a month, during 2013. She graduated from college in 2014 and then moved to Illinois to live with Tyler. The couple finally got married in August 2017 in a private ceremony in northern Illinois.
Following their marriage, the couple went on a six-day honeymoon in the Caribbean. Tyler left a message for his viewers explaining that "he'd be gone and queued up videos so they'd have fresh content during his absence. It was his only vacation in eight years," according to a lengthy profile on Tyler that ran on ESPN in 2018.
Husband Tyler Blevins
Tyler Blevins competed in his first gaming (Halo) tournament when he was 17 years old. After going pro in Halo, he started calling himself "Ninja." He then started live-streaming on Twitch in his sophomore year of college, in 2011. At that time, he also worked at Noodles & Company. But when he started making, in his words, a "comfortable living" from streaming, he quit his job and also dropped out of college. He told ESPN that he was earning $80,000 to $90,000 a year at the time. 
Tyler continued achieving astronomical success as a streamer over the years. He rose to prominence when he accumulated an immense number of viewers, breaking the Twitch record in March 2018 on the Fortnite live stream with rapper Drake. The Fortnite live stream attracted more than 600,000 viewers. 
Tyler is known as Ninja on various social media platforms. He has 24.1 million subscribers on his YouTube channel, 16.9 million followers on his Twitch account, 13.7 million followers on Instagram, 6.7 million followers on Twitter, and 784k followers on his Facebook page, as of September 2021.
According to Celebrity Net Worth, Tyler has a net worth of $25 million. 
Managing "Team Ninja"
After living together with Tyler for roughly six months, Jessica realized that Tyler needed her help to advance his snowballing career. In 2015, Tyler was increasingly receiving interest from gaming companies that were looking to sponsor players. But he was often too focused on streaming to seek out his business opportunities. 
Jessica then started taking charge of Team Ninja, which consists of 15 full-time and part-time employees. As a manager of Team Ninja, she responds to the calls and emails that Tyler receives each day from fans, journalists, and representatives from Team Ninja's sponsor companies.
"I have a lot of people who don't think I do much, or don't really care because they'll always just see me as a successful man's wife. I get a lot of bad comments that way," she said in an interview in 2018 about how people think about her. But, she doesn't let these comments block her way. 
Former Abusive Relationship
In her Twitter post dated 17 August 2021, Jessica revealed that she was in an abusive relationship around the early 2010s. She shared that her abusive relationship caused her to have a severe injury to her nose. She also noted that she was undergoing corrective treatment for her nose.