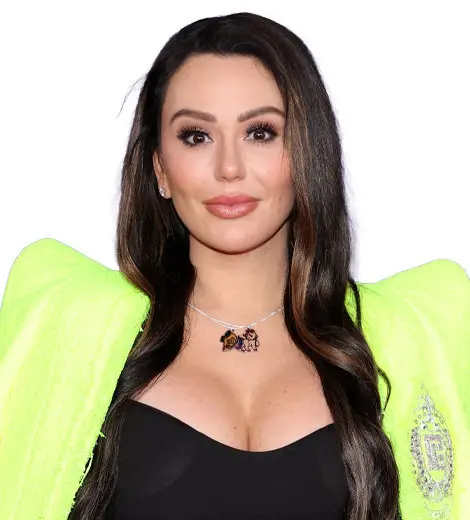 Quick Wiki
Full Name

Jenni Farley

Occupation

TV Personality, Author

Nationality

American

Birthplace

New York, USA

Birth Date

Feb 27, 1986

Age

37 Years, 7 Months
Cast of 'Jersey Shore'
Jenni Farley | Biography 2021
 Founder of clothing boutique Heavenly Flower
Jennifer Lynn Farley became one of the cast members of the MTV reality show 'Jersey Shore' aired between 2009 and 2012. Farley was one of the eight participants in the show's inaugural season. She quickly rose to prominence as one of the show's most popular participants who always exuded arrogance and protested injustice.
---
Jennifer Farley is an American television personality prominently known for starring in the reality television series 'Jersey Shore' and 'Snooki & Jwoww.'
Who Is Jennifer Farley?
Jennifer Lynn Farley, better known as JWoww, is an American actress, entrepreneur, and television personality. She came to the limelight as one of the eight primary cast members of the MTV reality show Jersey Shore, and she continued to star in its spin-off, Snooki & Jwoww. 
She was a part of its spin-off series Snooki & JWoww: Moms with Attitude since 2015, which began on an online streaming platform Go90 and moved to the MTV YouTube channel in 2018. She was also seen in Jersey Shore: Family Vacation in 2018. The show follows the original cast of the series reunited after marriages and parenthood.
She had also featured on other notable programs like TNA Impact!, Marriage Boot Camp: Reality Stars, and Disaster Date. 
She collaborates with various businesses, including 310 Nutrition, through her social media and promotes various goods and sponsorships. Farley also owns a clothing boutique, Heavenly Flower, located in New Jersey.
Farley has been engaged to professional wrestler Zack Carpinello since 20 February 2021. Farley was previously married to Roger Mathews. The couple shares two children: daughter Meilani and son Greyson Valor.
Early Life & Education 
Jennifer Lynn Farley was born on 27 February 1986 and grew up in East Greenbush, New York. Farley completed her high school at Columbia High School and went on to the New York Institute of Technology after high school graduation. She had worked as a babysitter for children during her college days to sustain her financially.
Farley grew up in an era when computers became an increasingly important part of people's daily lives, so she was excited to work in the computer industry. She quickly became interested in graphic design and went to college to become a computer programmer. 
 But, she lost interest in graphic design when Farley was in her senior year of college. She then launched her own graphic design business, Jenni Farley Designs, Inc., which remained her primary source of income during that time.
DNA Test
In 2019, Farley got a DNA test to understand more about her whole genetic history. The 23andMe test revealed she is primarily of Northwestern European ancestry, with a breakdown of 24% British/Irish, 16.9% French/German, and 23.9% Broadly Northwestern European, with Ireland as her most recent ancestor. 
The test also showed that she had a minor proportion of Italian ancestry. The result astonished her as Farley had previously maintained that she was not Italian like most Jersey Shore castmates. In addition, her DNA test also indicated she had only a minor bit of Iberian ancestry, despite her claim to be of Irish and Spanish lineage.
Rise to Fame 
Farley also worked at different clubs in New York City before joining as the main cast of Jersey Shore. According to her, she was working at Origins when she became cast for the reality series. In a YouTube video, she stated, "We used to have casting calls all the time for TV shows."
When one of her best friends came to know that Origins was conducting a casting call for Paris Hilton's reality show titled Paris Hilton's My New BFF, he asked her to come along. Although Farley filled out the application without serious intention, she received a call from a crew about another project.
Two years later, Farley became a member of the Jersey Shore family after many phone conversations, video footage, and auditions. 
'Jersey Shore'
The MTV reality show documented the adventures of 20 adults in Seaside Heights and other locations, including New Jersey and Florida, between 2009 and 2012.
The reality television star was one of the eight participants in the show's inaugural season, which was broadcast in the United States. She quickly rose to prominence as one of the show's most popular participants who always exuded arrogance and protested injustice.
The show grew in popularity and became one of the most popular reality shows on American television. During the show's first season, Farley was labeled "JWoww" by the male participants, which was just an exclamation "J wow" that came from the audience whenever she walked into the room. Farley was also seen in its spin-off series Jersey Shore Family Vacation in 2018.
'Snooki and Jwoww' 
As her fame soared, Farley was approached by a slew of reality-show producers. Her second reality show was on another MTV reality show, Snooki & Jwoww. The show, a spin-off of Jersey Shore, featured her and Nicole Polizzi, aka Snooki, her former Jersey Shore housemate. 
The show's format was influenced by the 1976 show Laverne & Shirley, and it became one of MTV's most popular reality shows. The series aired in 2012 and ended in 2015 with four seasons. 
She also starred in Snooki & Jwoww: Moms with Attitude in 2015.
Other Works
In 2010, Farley published her first book, 'The Rules According to JWOWW: Shore-Tested Secrets on Landing a Mint Guy, Staying Fresh to Death, and Kicking the Competition to the Curb,' which was based on her experiences working on the Jersey Shore sets. 
The television star also had a recurring part in the soap opera One Life to Live, where she portrayed Nikki. Farley also co-hosted MTV's Club New Year's Eve 2013 with Snooki and Jeff Dye in 2013. 
In January 2013, Farley was selected as one of the 'Sexiest 100 Ladies of the 21st Century,' by GQ magazine. She also appeared as a prominent cast member of the reality show Marriage Boot Camp: Reality Stars, in 2014. 
In 2015, she starred in season seven of the reality cooking show Worst Cooks in America: Celebrity Edition, unlike anything she had done before. Eventually, Farley was announced as the winner of the show. 
Farley made her feature film debut as a lead in the comedy independent film The Mint. She starred as the girlfriend of a record executive and also functioned as the executive producer.
She had also appeared in other shows, including Celebrity Family Feud, Burgers, Brew & 'Que, Silent Library, and many more.
Clothing Line
In July 2010, Farley introduced her clothing line named Filthy Couture in a Las Vegas runway show. However, the line's sales were halted in October 2010 after four months of existence because of threatening trademark litigation. Then, Farley indicated the brand would not be discontinued, and a new line would be introduced. 
At the end of December 2020, she opened a clothing boutique named Heavenly Flower in the American Dream Mall in her home state of New Jersey. The business is named after her daughter Meilani, meaning "heavenly flower" in Hawaiian, and features a collection for both adults and children. Meilani frequently poses with her mother Farley on the store's Instagram page.
Who is Jennifer Farley married to?
In October 2015, JWoww married her longtime boyfriend, Roger Mathews. The couple shares two children: daughter Meilani, born on 13 July 2014, and son Greyson Valor, born on 5 May 2016.
After being in a conjugal relationship for three years, Farley filed for divorce, citing irreconcilable disagreements in September 2018. Their divorce was completed in August 2019.
Who is Jennifer Farley dating?
Farley was dating professional wrestler Zack Carpinello from April through October in 2019. 
The pair broke up for a brief period, but Farley declared their reconciliation in December 2019 on her Instagram page. The couple got engaged on Farley's birthday, 20 February 2021, at the Empire State Building.