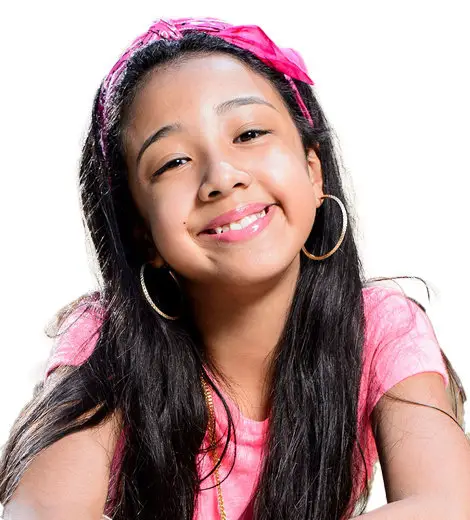 Quick Information
Full Name

Jayla Marie

Occupation

Rapper

Nationality

American

Birthplace

Staten Island, New York.

Birth Date

Aug 05, 2004

Age

17 Years, 1 Months

Ethnicity

Korean (father's side), Puerto Rican and Trinidadian (mother's side) 
Season 2 Cast of the American Rap RealityShow 'The Rap Game'
Jayla Marie | Biography 2021
Released Her Original Song 'Ring Ring' in 2019
Jayla Marie is a rapper and singer who was a participant in Season 2 of 'The Rap Game.'
---
Jayla Marie is a rapper and singer who participated in Season 2 of the American rap reality show The Rap Game.
Who is Jayla Marie?
Marie grew up in a musical family, where her uncle owned a studio, and her engineer father would often work with her uncle. She went with them and watched them sing and make music. The experience inspired her to record her first song at the age of three.
Marie always wanted to rap and sing hip-hop music. So, she made a remix of the prominent rapper Nas' song 'If I ruled the World' and she became known to the hip-hop community when Nas praised her in a retweet.
Subsequently, in 2015, she got selected for the second season of reality rap competition, The Rap Game. She was only eleven years old, and she was the youngest participant in the game.
In addition to that, Marie has also released two original songs and a couple of covers and remixes. In 2019, she released her solo, 'Ring Ring,' and in 2020, she released 'New World' with Sam Trump.
Other than that, she is involved with World Hip Hop Foundation and volunteers for them.
Early Bio 
Jayla Marie was born on 5 August 2004 in Staten Island, New York. She possesses mixed ethnicity due to her parent's distinct ethnic backgrounds—her dad is Korean and her mother is Puerto Rican and Trinidadian. 
Marie briefly grew up in Staten Island with a large family. She recalled to Hot 97 that going to the park after school every day with her friends was a treasured memory of her childhood on the island.
Her father was an engineer, and her uncle owned a music studio. So, she often went with her father and uncle to the studio and watched them play around with music. By and by, she recorded her first song at the age of three.
In an interview, Marie attributed her family as an influence for starting her career so early, "Well my uncle, usually my uncle actually used to go into the studio. My dad would be like the engineer okay and basically what happened was I would always go with my dad to the studio and I always used to be like that, give me the mic, like literally just give me the mic already, yeah and one day he finally gave in and that's when I recorded my first song but I mean to be honest my family listens to music all the time and I was like yeah let's naturally influence." Similarly, Marie regards her mother as her "best friend" and is super close to her.
Early Career
Maria says she was always confident in singing hip-hop music and rapping. That enthusiasm levitated her towards listening and practicing in that genre. She said, "When I was younger I always used to rap dancing. So I used to know that I wanted to be like and then hip-hop and R&B kind of you know genre so um yeah basically I always knew I wanted to rap and sing."
Later, she made a remix of the rapper Nas's song 'If I ruled the World', which was about bullying. She even got a retweet from the artist and recalled it to be the best day of her life.
'The Rap Game'
Then in 2015, she was selected to be one of the competitors on the show, The Rap Game.
Marie was only 11 years old when she got in for the show's second season as the youngest participant in the game's history.
The reality show features an intense musical battle between the stars of the show, who fight each other to be on the 'Hit List.' The list ranks the performance of the rappers and determines their elimination and upgrade process.
The show is run by the infamous 'Grammy Awards' nominated artist Queen Latifah and the 'Grammy Awards' winner artist Jermaine Dupri.
Her Audition
Marie's audition was conducted via skype. She recollected that Dupri found her amazing, and he wanted her to be on his show.
Marie's introduction script for the show was, "Rap can be defined as a freedom of words. I use my words to express myself and to tell everyone it's okay to be different. I am the future because of where I am from because of my roots. I rap for my city. I am New York."
Marie was managed by her father throughout the show, except on one episode where the managers were switched among the participants.
Music and YouTube
After the show, she went back to recording remixes and original songs.
In 2018, she did a mash-up cover of Queen Naija's songs' Medicine' and 'Karma.' Along with that, she did a cover of Natalie La Rose's 'Somebody' and another remix of Rod Wave's 'Heart on Ice.'
In addition to that, she released an original song, 'Ring Ring' in 2019 and a collaboration song, 'New World', with Sam Trump in 2020.
Other than her music, Marie occasionally uploads on her YouTube channel TheRealJaylaMarie which has over 150k subscribers as of 9 August 2021. She is also popular in Tiktok, where she has 1.1 million followers and 27.6 million likes.
Charity Work
Marie has volunteered for the World Hip Hop Foundation and went to numerous places to provide for the less fortunate ones.
She told Hot 97, "I just feel like you know people don't really think of people. I just feel like the less fortunate are amazing [people] still even though they're less fortunate you know I love giving back to them you know just to see their face just to see oh my God thank you so much them smiling just makes me so happy so."