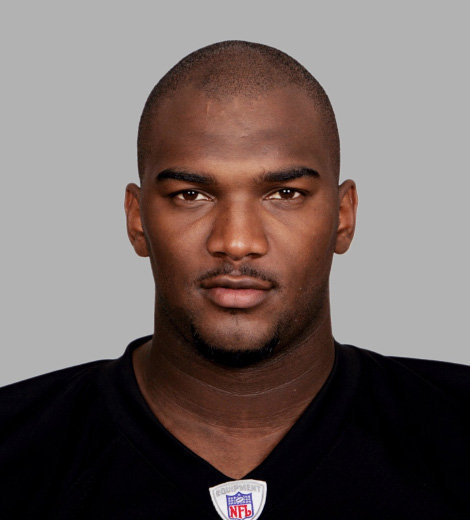 Quick Wiki
Full Name

JaMarcus Trenell Russell

Occupation

Former football player, Coach

Nationality

American

Birthplace

Mobile, Alabama, USA

Birth Date

Aug 09, 1985

Age

37 Years, 9 Months

Net Worth

$4 million (Celebrity Net Worth)
Former American Football Quarterback
JaMarcus Russell | Biography
Quarterback coach at Williamson High School, in Alabama since 2018
Russel was also the first overall pick in the 2007 NFL Draft by the Oakland Raiders. After three seasons, the team released him on 6 May 2010. After that, he was approached by the Saints, Bears, and the Washington Football Team, but he was not signed. 
---
JaMarcus Russell is a former football quarterback who spent three seasons with the Oakland Raiders in the National Football League (NFL).
Short Bio
JaMarcus Russell, full name JaMarcus Trenell Russell, was born on 9 August 1985. He grew up in Mobile, Alabama, attending Lillie B. Williamson High School, and didn't skip a single football game during his four-year course.
As a freshman, Russell led Williamson to the state championship game, completing 180-of-324 passes for 2,683 yards and 20 touchdowns. The subsequent year, Russell passed for 2,616 yards and 20 touchdowns as a sophomore, leading the team to the state semifinals. 
His finest season came in his final year when he completed 219-of-372 passes for 3,332 yards and 22 touchdowns while also running for 400 yards and five touchdowns. Additionally, his 10,774 career throwing yards surpassed the Alabama High School Athletic Association record, which he still holds.
In Russel's college years, he committed to Louisiana State University (LSU) in February 2003 as a five-star recruit. He red-shirted his freshman year before being named the starting quarterback in the fall of 2005. 
They won the BSC National Championship in 2003 and had a winning record every year Russell played. Over three years at LSU, Russell appeared in 36 games and threw 60-yard bombs from his knees at pro day.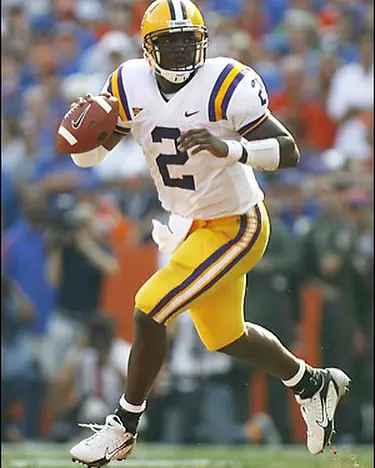 NFL Career 
Russel was also the first overall pick in the 2007 NFL Draft by the Oakland Raiders. He didn't come into the Raiders in the best of circumstances, as the team was in bad condition in the late 2000s. 
Later, it was revealed that his head coach, Lane Kiffin, did not want the team to draft Rusell. However, he finished the season with 36 completed passes in 66 attempts, two touchdowns, and 373 yards passing.
The following year, Russell was named the Oakland Raiders starting quarterback. Then in 2009, he appeared in 12 games, finishing the season with the lowest quarterback rating and lowest completion percentage.
During his three seasons with the Raiders, JaMarcus threw for 4,803 yards on a 52.1 % completion rate with 18 touchdowns and 23 interceptions for a 65.2 passer rating in 31 games with 25 starts.
The Oakland Raiders released Russell on 6 May 2010. After that, he was approached by the Saints, Bears, and the Washington Football Team, but he was not signed. 
Also Read: Trevor Lawrence - Career, NFL Quarterback
A few weeks later, on 28 May 2010, the Raiders filed a grievance against him, requesting $9.55 million in pay advancements for the 2010 through 2012 NFL seasons. He then filed a grievance against the Raiders, arguing he was due an additional $9 million by the organization. 
The parties eventually settled the claims in 2013, with the Raiders paying Russell an additional $3 million.
In April 2016 interview with Sports Illustrated, he explained that he had written letters to all 32 NFL teams requesting a tryout and promising to play for free for one year. However, none of the team responded.
As of now, Russell has been working as the quarterback coach at his former school, Williamson High School, in Alabama since 2018.
Blank DVD Incident
During his time at Oakland Raiders, Russell would be sent home with a game-plan DVD full of plays and ideas to study. However, one day, the coaches slipped a blank DVD into his backpack suspecting that he was skipping his assignment. Russell allegedly remarked the game plan looked excellent to him when he returned.
During an interaction on the Rich Eisen Show in March 2018, former Raiders linebacker Kirk Morrison revealed the incident. 
"Coach [John] Defilippo said 'look JaMarcus we got 15-20 plays that we want this week. Here's a DVD for you. Tonight we want you to watch these because tomorrow this is what we are going with the game plan. The next day they come to practice and they say 'JaMarcus how is the DVD? Did you look at it?' " Morrison remembered. 
"He was like "Oh coach all the plays. They look good. Whatever you want to run let's do it. I like them. They said 'Did you like five of them or seven of them? 10 of them? [He then said] 'Coach whichever. I saw them and we go ready to go. I went through them all.'
"Coach Defilippo was looking around and was like 'it was a blank DVD.' So he didn't watch the DVD. That's when they knew they were in trouble."
Body Fat, Weight Gain & Weight Loss
In early 2013, Russell gained much weight, reportedly reaching 315 pounds. He weighed 308 pounds when he began his comeback, nearly 50 pounds more than his playing weight. 
According to the Bleacher Report, Russell began a strict diet to get back into shape in February 2013. He maintained his tough workouts and training at the TEST Academy in San Diego, and he lost 27 pounds to reach 288 pounds. 
Russell still aimed to lose another 18 pounds to reach his goal of 270 pounds, which he eventually did. As of January 2022, Russell weighs 260.145 pounds.
Did You Know?
 He is the cousin of Robert Jordan, a former Canadian footballer.
His estimated net worth is $4 million as of January 2022.
JaMarcus can throw a football over 70 yards while on his knees.