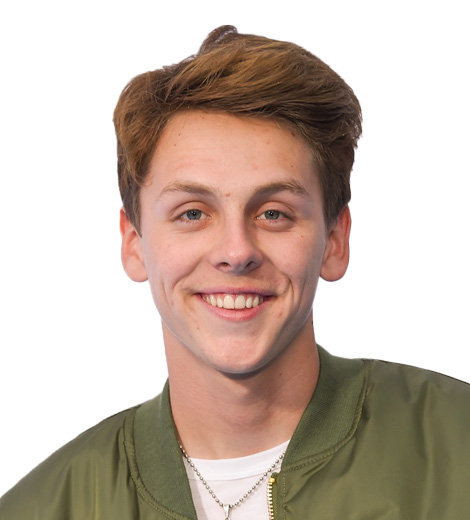 Quick Wiki
Full Name

Jacob Bertrand

Occupation

Actor

Nationality

American

Birthplace

California, USA

Birth Date

Mar 06, 2000

Age

23 Years, 2 Months
Cast of the Netflix series 'Cobra Kai'
Jacob Bertrand | Biography
Bertrand plays the role of Hawk suffering with cleft lip or lip scar issues in the Netflix series 'Cobra Kai'
Playing Eli on 'Cobra Kai,' a character suffering from cleft palate, brought Bertrand an opportunity to collaborate with NGOs such as Smile Train and interact with young fans suffering from the same condition. He was named the first Youth Celebrity Ambassador by Smile Train, the world's largest cleft organization, on 18 May 2021.
---
Jacob Bertrand is an American actor renowned for his role as Hawk in the Netflix series 'Cobra Kai.' 
Who is Jacob Bertrand?
Jacob Bertrand began his acting career as a child artist at 9 in the 2009 movie Duress. After appearing in several TV series, he landed in the DisneyXD's title role Kirby Buckets breakout role. 
In 2018, he got cast as Hawk in the mixed martial television series Cobra Kai, a sequel of the 1984 film The Karate Kid. 
Besides acting, Bertrand had also directed a short movie, Jud's Decisions, the concept of which sparked him in his high school days. With the help of the stunt coordinator, Hiro Koda, the movie materialized, and Bertrand hopes to continue writing.  
Early Life and Education
Bertrand was born on 6 March 2000 in Los Angeles to Scott and Christina Bertrand. He has two siblings - a brother named Blake Bertrand and a sister named Makenna Bertrand. 
He grew up on his dad's music. As his dad was born in the '70s, Bertrand happened to hear a lot of '70s, 80's and 90's rock from his dad. While growing up, his interest shifted to enjoying watching movies.
Bertrand had a tragic school life as he was severely bullied throughout elementary school. "I really, really don't care for bullies, I don't really get why people do that. It sucked, I hated it," he told Heavy in one of his interviews. Surprisingly, he stars as a bully in the 2018 series Cobra Kai.
Career
Jacob Bertrand began his acting career as a child actor in the 2009 movie Duress. Bertrand also did guest roles on the television series, The Cape and The Middle.
Bertrand's first major role was when he portrayed Henry in the Nickelodeon show Marvin Marvin. It ultimately landed him to play the title role in DisneyXD's show Kirby Buckets for several seasons, where he played a 13-year-old boy who dreams of becoming an animator. The actor also previously starred in Disney's hit film The Swamp and the movie Jinxed. He also co-starred in Nickelodeon's sitcom iCarly. In 2018, he appeared in Steven Spielberg's sci-fi movie Ready Player One as a high school kid. Bertrand also played a recurring role in the animated series Bubble Guppies.
His other film credits include Paranorman in 2012, Tom & Jerry's Giant Adventure in 2013, The Gambler in 2014, and Ready Player One in 2018.
Signing With ICM
Bertrand signed with ICM Partners in August 2021. ICM Partners is one of the world's biggest talent agencies specializing in the exhibition of artists, content yielders, broadcasters, writers, reporters, and others.
He even posted a snapshot of the Deadline article that revealed his association with ICM Partners on his Instagram handle on 13 August 2021 with a caption that read, "JAZZED!! Beyond grateful. Can't thank my Mom, Dad, and family enough for supporting me throughout the years."
'Cobra Kai'
Cobra Kai is a mixed martial arts television series and a sequel to the 1984 film The Karate Kid. The first season of the series premiered on 2 May 2018 on YouTube. The second season was premiered in 2019, after which YouTube announced to stop producing scripted original programs. 
Briefly, after some time, the third season of Cobra Kai premiered on Netflix in January 2021, and the fourth season is expected to release by the end of 2021. Netflix has also renewed for the fifth season.  
The first 10 episodes of Cobra Kai featured the return of the main characters Daniel LaRusso and Johnny Lawrence, the two arch-rivals from the legendary The Karate Kid film series. In Cobra Kai, LaRusso lived with his family and ran a successful network of car dealerships, whereas his archenemy, Lawrence, was portrayed working as a maintenance man struggling to make ends meet. However, with a series of unfortunate events involving their high school children, the duo's lives get intertwined, and their rivalry gets restored.  
His role
In the series, Bertrand plays the character of Eli Moskowitz aka, Hawk, with cleft lip issues. His character with the lip scar has received applause from several kids suffering from the condition. 
In an interview with Red Carpet News, Bertrand expressed that he enjoyed the popularity of the show. He also confessed that he was intimidated in the initial days as there was a legacy built behind The Karate Kid and feared to meet the expectations. According to him, the people who wrote the Cobra Kai were the biggest The Karate Kid fans ever.
Bertrand shared that he and his co-actors underwent training and drilling for two days to film the school fight scene from episode 10 in season 2, which he claims to be his favorite scene. 
While expressing his thoughts about his return in season 3, he said that he liked when they brought Eli back because it was another facet of the role. He stated that it was challenging and fun and loved performing both positive and negative shades of the character.
In an interview with California Live, the actor shared the backstory of the third season. "I do a lot of bad things to a lot of nice people," Bertrand said. 
He noted that it took an hour to set up Hawk's hairstyle, and it's all his natural hair with a lot of hair spray. His tattoo for the role was temporary, and the lip scar was also a tiny tattoo.
In the upcoming season 4 of the series, the actor is looking forward to his character getting an opportunity to amend many relationships he had hurt throughout the show and, most importantly, his relationship with the characters Demetri and Miguel. 
Bertrand also wishes to have a father character for his Hawk role as it would be fun to explore more of Hawk's personal life and have a look at his family.
Smile Train Ambassador
Bertrand's character on Cobra Kai, Eli Moskowitz (Hawk), suffers from cleft palate, a condition when the tissue that makes up the roof of the mouth does not fully fuse during pregnancy. The portrayal brought Bertrand an opportunity to collaborate with NGOs such as Smile Train and interact with young fans suffering from the same condition.
Bertrand was named the first Youth Celebrity Ambassador by Smile Train, the world's largest cleft organization, on 18 May 2021. As part of the inception of his ambassadorship, he participated in a series of immersive digital learning workshops with Smile Train personnel and cleft-affected people to learn more about the health consequences of cleft and its impact on patients and their families. He also attended Smile Train's Annual Student Ambassador Conference. It was a virtual event aimed at motivating and encouraging the high school students committed to serving the mission of Smile Train.
Bertrand hopes to use his ambassadorship position to spread awareness about cleft lip and palate and its long-term effects on individuals and families. He also wants to promote Smile Train's venture to restore confidence in those bullied because of the condition and encourage young people to use their strengths and interests to make a positive difference in the world.
Recent projects
Bertrand is set to feature as Billy O'Reilly in his forthcoming TV short Oh, Mighty Ocean! in 2021. Likewise, he is also set to voice the character Bam in the TV series Batwheels which, as of September 2021, is in the filming phase.
'Batwheels'
Batwheels is a comedic action-adventure series based on the legendary cars from the 'Batman DC comic' book. Hawke will be voicing Batman's character, whereas AJ Hudson will voice for Duke Thomas/Robin, Leah Lewis for Cassandra Cain/Batgirl, and Jacob Bertrand for Bam the Batmobile.
Bam is the batmobile and commander of the Batwheels squad. Like his idol Batman, he carries a strong sense of duty and goes out of his way to lead the squad even if he isn't always sure he is up to the role. Eventually, Bam gains the trust and support of the other Batwheels. They realize that they can lean on Bam, both as a teammate and as a companion.
Warner Bros Animation is in charge of the production of Batwheels. 
Podcast 
On 13 May 2021, iHeartMedia, America's largest audio business and No. 1 podcast developer, announced the release of My Cultura, a new independent podcast network committed to amplifying Latinx voices and producers and communicating the Latinx experience with listeners. 
The network is expected to premiere six new shows in the summer of 2021 and 30 more across the first year, in genres such as pop culture, music, comedy, mental health, finance, news, and much more. The shows are announced to be facilitated by personalities including Rosario Dawson, stars of Red Table Talk: The Estefans - Gloria, Lili, and Emily Estefan, Cobra Kai stars Xolo Mariduea and Jacob Bertrand, and many more.
'Lone Lobos' 
Mariduea and Bertrand facilitate the podacst series, Lone Lobos on My Cultura. The first episode premiered on 22 September 2021. Lone Lobos is a talk show formatted series that guides the listeners through adulthood via the lens of pop culture, from movies and television to cuisine, music, and relationships. 
Along with the personal opinion and thoughts on current events, the hosts is said to involve in a serious and humorous discussion on several issues with the guests. 
"Representation of authentic voices is super important to Jacob and me, and we know it's important to our partners at iHeartMedia," Maridueña and Bertrand, together, told TheWrap on 14 September 2021. "We're really excited about the opportunity to invite you all into our conversations and smack talking. This podcast is all about getting to know us beyond the surface and doing a deeper dive into the lives of the Lone Lobos," they added.
Personal Life
Bertrand is currently residing in Los Angeles. He loves directing short movies in his leisure. Bertran also enjoys playing guitar, hiking, rock climbing, skateboarding, and working in his woodshop.
Girlfriend
Bertrand has been dating a girl named Serena Pullem for several years. She was his date for senior year prom. Though Serena is his girlfriend, he calls her his best friend.