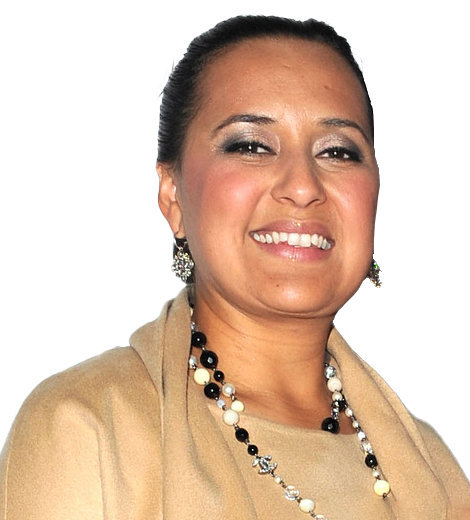 Quick Wiki
Full Name

Ilusion Millan

Occupation

Clinical Psychotherapist

Nationality

American

Birth Date

Sep 18, 1976

Age

47 Years, 2 Months
Quotes
"He was raised that women were last on the food chain. You feed everyone first, including the dog."
Ex-wife of Dog Behaviorist Cesar Millan
Ilusion Millan | Biography 2021
Former President of Millan Inc.
Ilusion Millan fell in love with Cesar Milan at first sight. She was the producer of Cesar's very first show 'Dog Whisperer with Cesar Millan.' They eventually got married, and Ilusion started helping the popular dog behaviorist in all his ventures. She became the President of Millan Inc. for six years. After she found him very judgemental, Ilusion officially divorced Cesar in 2016.
---
Ilusion Millan is the ex-wife of Cesar Millan and a producer of his first show, Dog Whisperer with Cesar Millan.
Who is Ilusion Millan?
A mother of two children and ex-wife of famous Dog behaviorist Cesar Millan, Ilusion was the producer of her ex-husband's famous show Dog Whisperer with Cesar Millan. She married Cesar in 1994 and divorced in 2016.
She assisted her ex-husband in operating Millan Inc. and remained the President of Millan Inc. for six years. In 2008 she received the 'Hispanic Hero Award.'
Apart from her engagement with her husband in various ventures and TV shows, Ilusion is also a Clinical Psychotherapist.
Early Life and Education
Ilusion was born in an American-Mexican family on 18 September 1976, as per Cesar's Twitter. But various other sources suggest that her birthday falls on 19 September. 
She graduated in 2014 from Pacific Oaks College with an Arts degree majoring in Human Development and Family Studies. In 2018 she earned her Master's degree in Clinical Psychology from Pepperdine University Graduate School of Education and Psychology. 
She used to be a preschool teacher during her early days.
Career
Ilusion was the producer of the reality show Dog Whisperer with Cesar Millan. It was a TV show where troubled dogs of all shapes and sizes were rehabilitated and trained. The first season was released on 13 September 2004. The show aired until 2016, spanning over nine seasons. Dog Whisperer with Cesar Millan was nominated for three 'Primetime Emmy Awards.'
Ilusion assisted, helped, and engaged more in her ex-husband Cesar Millan's career. She helped him operate Millan Inc. and served as its President from 2004 to 2010. She also designed the 'Illusion Collar' that helped to control and train problematic dogs, especially when they were attached to the leads.
In 2008, Ilusion was honored with the 'Hispanic Hero Award' at the second annual Hispanic Hero Gala of the U.S. Hispanic Youth Entrepreneur Education. She is also a Clinical Psychotherapist.
Who is Cesar Millan? 
Cesar Millan, full name, César Felipe Millán Favela, was born on 27 August 1969 in rural Culiacan, Mexico. The Mexican-American dog behaviorist rehabilitated and trained severely aggressive dogs. He had also established Dog Psychology Center in East Los Angeles. It was later shifted to Santa Clarita, California.
Cesar became famous when he landed on the TV series Dog Whisperer with Cesar Millan, broadcast in more than one hundred countries worldwide. 
He had also hosted shows like Cesar Milan's Dog Nation and Cesar's Recruit Asia and starred in a television documentary series Leader of the pack (2013) that aired on the National Geographic Wild. He was also credited for the shows Cesar 911, Cesar to the Rescue, and Mutt & Stuff. 
In 2012, he released a documentary of his own life, Cesar Millan: The Real Story, which aired on National Geographic Wild. The one-hour documentary presented his unique life from illegally entering the U.S at the age of 21 and becoming a global icon.
The first meeting of Ilusion and Cesar Millan
Ilusion met Cesar at an ice rink when she was 17 years old and immediately attracted him. Cesar was 23 years at that time and staying in a one-room apartment with half a dozen dogs. He wasn't very sure of being in a relationship with Ilusion. Additionally, a friend of Cesar told him that he could be imprisoned and possibly deported for dating an underage girl. It put an end to their romantic feelings against each other. "I came to the door and pressed the bell, and he said he couldn't see me anymore. "It killed me," "Ilusion said to Elle. 
Relationship between Ilusion and Cesar Millan
After Ilusion celebrated her 18th birthday, she approached Cesar again. And this time, they expressed their love for each other. Shortly after a few months, Ilusion found herself pregnant, and Cesar proposed to her right away. They got married in 1994.
Although Cesar was delighted to tie knots with Ilusion, he saw his wife as a required encumbrance rather than as a reciprocal partner. Ilusion was aware of Cesar's rural upbringing and found him culturally unalike from her. But, she was shocked when she found him to be highly judgmental. "Cesat didn't know better," she said and added," He was raised that women were last on the food chain. You feed everyone first, including the dog."
According to Ilusion, if Cesar didn't get what he wanted, he would be verbally abusive and scream at the top of his lungs.
Ilusion had to undergo her gallbladder surgery when their first son Andre was one year old. According to Ilusion she almost succumbed to death, but her husband didn't appear days after her incision. "He came to visit for two hours, but he was like, `I can't believe you're sick.' ", Ilusion reported to Elle. 
The day Ilusion returned home from the hospital, Cesar didn't pay attention to Ilusion. Instead, he talked about focusing on his dogs. Soon, Ilusion waved her goodbyes to Cesar. Then, when Cesar cried over the phone and asked her to return, she said she would only consider it if he was ready to go to counseling with her. But, even that turned out futile.
The couple filed for divorce in 2010 and officially divorced in June 2016. Cesar agreed to settle for divorce with a one-time payment of $400000, a monthly payment of $23,000 to Ilusion, $10,000 monthly for child support.