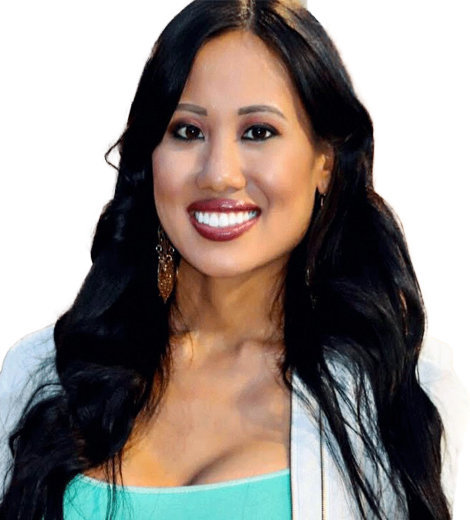 Quick Wiki
Full Name

Helen Yee

Occupation

Sports Writer, Journalist, Host, Producer

Nationality

American

Birthplace

Las Vegas, USA

Birth Date

Aug 16, 1991

Age

32 Years, 3 Months

Ethnicity

Asian

Zodiac Sign

Leo

Relationship Status

In a Relationship

Boyfriend

Dave Schmulenson

Height

5 feet 10 inches

Net Worth

Undisclosed
American Sports Journalist, Creator of NBC Sports AM920's 'Eyes On The Game'
Helen Yee | Biography
Former Nationally Ranked Age Swimmer
Helen Yee rose to national popularity with 'Eyes On The Game' after being the first to interview and confirm with Floyd Mayweather Sr. that his son would come out of retirement to fight Conor McGregor. She has also interviewed famous athletes, including Mike Tyson, Derek Jeter, MMA Hall of Famer Chuck Liddell, and NBA phenom Blake Griffin. Besides, she was one of the first to interview winner Kevin Harvick during the Nascar Kobalt 400 at the Las Vegas Motor Speedway.
---
Helen Yee is a sports journalist, writer, and creator for NBC Sports AM920's Eyes On The Game sports radio show. 
Who Is Helen Yee?
Helen Yee is a bilingual (English and Mandarin) sports writer, journalist, and host. She is the creator, writer, reporter, and producer of the Eyes On The Game sports radio show on NBC Sports AM920. She is also the co-host of The Schmozone Podcast. 
In addition, Yee is a two-time state champion and nationally recognized swimmer. She has also served for Las Vegas Sports Network, an ESPN and Fox Sports affiliate, as a sports reporter, writer, producer, videographer, and photographer. Moreover, Yee worked as an associate producer for ESPN's Top Rank Boxing. She has also appeared on NBC's KSNV Channel 3 Las Vegas and ESPN Radio shows in Las Vegas and Texas to talk about UFC fights and boxing.
How Old is Helen Yee?
Helen Yee was born on 16 August 1991 in Las Vegas, USA. She celebrated her thirtieth birthday in Hawaii with her boyfriend. Sharing a vacation birthday picture on her Instagram, she wrote, "Can't believe I'm 30 already! Life goes by so quickly and I have learned so much in my 20's. I wouldn't want to go back, anyway."
How Tall Is Hele Yee?
Helen Yee stands at a height of 5 feet 10 inches tall.
She Competed for a Decade as a Nationally Ranked Age Swimmer
Yee was a student-athlete who competed for a decade as a nationally ranked age swimmer. She did 3-6 hours of practice per day, six days a week as an athlete. She has always enjoyed establishing goals and working hard to achieve them. However, Yee had been shy her entire life and worked hard every day to improve herself and her speech. 
She had her first experience in the broadcasting industry as a swimmer. Yee was interviewed by LA's renowned newspaper, the Las Vegas Review-Journal, and several other news sources and magazines.
Unfortunately, her swimming career was cut short, and eventually, she shifted her concentration from athlete to reporter, fueled by her interest in athletics and sports. Yee later interviewed her previous training partner and teammate on the Las Vegas Sandpipers, Cody Miller, after he earned a gold and bronze medal at the 2016 Olympics. 
Yee got her initial foray into the public light as a model after getting her first magazine cover before 21. She has also performed in local runway displays, fitness events, and advertisements and served as a ring girl for some of the city's many boxing and mixed martial arts events.
She's Worked as a Sports Reporter for Almost a Decade
Yee began her sports radio career in late 2013, not only because she is a huge sports fan but also because she wanted to overcome her greatest fear of public speaking. She worked as a radio host for Isla TV Radio Show from September 2013 to February 2014.
Subsequently, she established and presented her own sports internet radio show, which drew listeners and callers from worldwide. Soon after, she was offered a time slot on a local radio station in her hometown within a few months because of the show's enormous success. In February 2014, she established Eyes On The Game to force herself to talk as her Olympic dreams ended abruptly. She then turned her apprehension into a professional career.
Also Read: Bob Pockrass - 'Fox Nascar,' Net Worth & Age
Yee rose to national popularity with Eyes On The Game after being the first to interview and confirm with Floyd Mayweather Sr. that his son would come out of retirement to fight Conor McGregor. She has also interviewed famous athletes, including Mike Tyson, Derek Jeter, MMA Hall of Famer Chuck Liddell, and NBA phenom Blake Griffin. Besides, she was one of the first to interview winner Kevin Harvick during the Nascar Kobalt 400 at the Las Vegas Motor Speedway.
In addition, her MMA and boxing breaking news reports and on-camera interviews have appeared on renowned media houses like ESPN, TMZ, Fox Sports' Undisputed with Skip Bayless and Shannon Sharpe, Forbes, Sky Sports, Bleacher Report, USA Today, SB Nation. Yee has also featured in international media sources in Brazil, the United Kingdom, among others.
She Has a YouTube Channel titled 'Helen Yee Sports'
Yee started her YouTube channel titled 'Helen Yee Sports' in December 2014, where she shares her interactions in boxing, wrestling, MMA, and other sports. She also documented her return to competitive swimming after a 13-year hiatus on her YouTube channel. The channel has over 127000 subscribers and 39 million views as of March 2022.
Celebrating the victory of gaining 100,000 subscribers on YouTube, she wrote, "Thank you for over 100k subscribers on YouTube! So grateful to do what I love every day. I started this because, as a lost former athlete, I was extremely shy and hated talking to people. I wanted to conquer that fear and challenge myself to overcome it through my love for sports. Thanks for all your love & support."
Does She Have a Husband?
Yee isn't married yet; however, she is in a relationship with a news reporter and media personality, Dave Schmulenson.
Schmulenson graduated from the University of Arizona and studied a bachelor of arts in communication and sports management from 2008 to 2012. 
Schmulenson is the creator and host of The Schmo podcast, founded in January 2016. He created the podcast as a novel perspective and a new substitute for what is going around in sports today. According to its official website, he can grasp the athlete's perspective by shooting humor and self-deprecation. He prefers to call this genre 'sports comedy'. 
Before his podcast journey, he worked at USA TODAY Sports Media Group for three years, starting from May 2014 to April 2017. There, he worked in the capacity of Publisher account manager, content producer, and senior publishing manager. Likewise, he worked as a Sales assistant in Starz Entertainment in Beverly Hills, CA, from February 2013 to April 2014. 
In a podcast, Sex and Violence With Rebel Girl, Schmulenson was asked about the easiest UFC fighters to vibe with, to which he replied players like Colby Covington, Ben Askren, Henry Cejudo, and Kevin Holland have the best personality.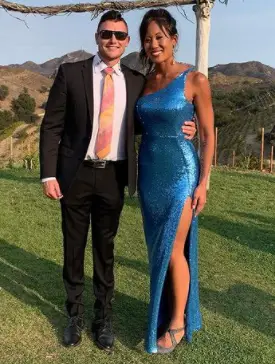 Yee celebrated her boyfriend's 30th birthday on 14 March 2020 and posted a photo of her and Schmulenson. 
"Happy 30th birthday to my love & best friend. What a year it's been! I'm so happy to see you happy & so happy the world gets to see your shine @TheSchmo312 . You deserve the best. I'm so thankful for you and always so proud of you. I love you", Yee captioned. 
Helen Yee on Her Free Time
Yee is trying to get back into swimming when she is not covering sports or studying. She also enjoys golfing, hiking, beach vacations, spending quality time with friends and family, and enjoying a good meal.
She Interviewed 'UFC' Player Jiri Prochazka 
The sports journalist has recently interviewed Jiri Prochazka, the next competitor for the UFC light heavyweight title. Prochazka is one of the radiant stars in the UFC right now and is a fierce fighter. 
Yee recently approached him and chatted about various things. While during the conversation, the UFC sensation also disclosed his favorite fighter, someone who was least expected by others. 
His treasured fighter is Scorpion, from the game Mortal Kombat, as he finds the character to be smart and has effective attacks. He also shared that he considers players like Henry Cejudo and John Dodson as MMA legends.
Yee looks Forward to Pursuing Her Childhood Dream
The sports reporter has decided to pursue her childhood dream to be qualified for Olympic Trials in swimming. Before entering the media journey, she remained a competitive swimmer for a decade and trained 3-6 hours per day, six days a week. However, her swimming journey ended abruptly. 
She has recently posted about her planned endeavor on Twitter and asked her well-wishers to support her.  
Yee tweeted, "Life Update: Been thinking of the right words to say, but want to keep it real with everyone before I keep getting questions about it. My childhood dream is to qualify for Olympic Trials in swimming. I won't feel satisfied if I don't do EVERYTHING possible to achieve my dream and be an athlete to my full potential." She added, "You might notice big changes in my appearance (f**k vanity) but I'm willing to do what it takes to reach that dream. I hope you guys will continue to support me as a reporter & my journey as an athlete. No sacrifice, no victory. All love."
Did You Know? 
1. After Yee's swimming journey came to a sudden halt, she thought she had lost her identity for years because she always grew up thinking that one day she would be a pro swimmer or an Olympian. 
2. Yee has been training for the Olympic trial in swimming for 2024, and it was her boyfriend encouraged her to pursue her unfulfilled childhood dream.