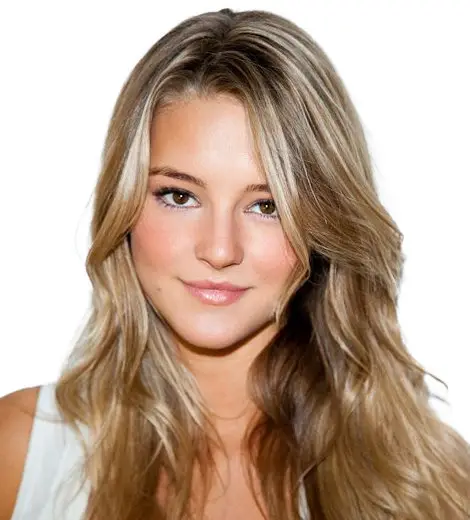 Quick Wiki
Full Name

Hassie Harrison

Occupation

Actress

Nationality

American

Birthplace

Texas, USA

Birth Date

Mar 20, 1990

Age

33 Years, 6 Months
Quotes
"This work allows me to explore what makes people tick, both in the characters I play and the cast and crew I work so closely with. If you are genuinely interested in the people around you, you'll never be bored."
Cast of the TV series 'Yellowstone,' and 'Tacoma FD'
Hassie Harrison | Biography
Harrison has been in a relationship with actor and director Austin Nichols since 2018
Harrison played the role of Laramie in the Paramount Network's drama series 'Yellowstone.' The series initially premiered on 20 June 2018. It was created by Taylor Sheridan and John Linson and had completed three seasons as of 2021. The new season is expected to be released in late 2021.
---
Hassie Harrison is an American actress best known for her role in the television series 'Yellowstone' and 'Tacoma FD,' and the historical drama movie 'The Iron Orchard.'
Who Is Hassie Harrison?
Hassie Harrison is an American actress and model. She made her television debut in 2014 with the comedy show L.A. Rangers. But it was the role of Mazie Wales in the 2018 movie The Iron Orchard that showed her true potential as an actress and established her as a prominent artist in the entertainment industry. In 2019, the actress got her next big role as Lucy McConky in the television series, Tacoma FD.
Her role as Laramie in the western drama series Yellowstone increased her popularity among the fans. She had also featured in other notable television shows like Hart of Dixie and The Astronaut Wives Club. Harrison had starred in the movies like A-X-L, Back To Lyla, and Max Reload and the Nether Blasters. 
Harrison has been in a relationship with actor Austin Nichols since 2018. Austin Nichols is an American actor and director known for his performance in the TV series, The Day After Tomorrow, One Tree Hill, and The Walking Dead.
Early Life
Hassie Harrison was born on 20 March 1990 in Dallas, Texas, USA. She was raised in the Dallas neighborhood with her three sisters, where she remained until she was fifteen years old. 
Harrison was passionate about acting from a very young age, thanks to her mother, Laurie Harrison, who was highly involved in children's theater in Dallas. 
She graduated from her high school studies early and joined college when she was just 15 years old. Harrison studied acting at a Los Angeles drama school before moving to Copenhagen to study European cinema. At Copenhagen, Harrison spent about a year studying European cinema. She was also a part of an American improvisational theatre and training company, Upright Citizen Brigade that runs improv, sketch, and characters classes. The theater was founded by the troupe members - Matt Besser, Amy Poehler, Matt Walsh, and Ian Roberts. In addition, Harrison took acting classes from acting teacher and coach Lesly Kahn.
According to her, Harrison was clear that her schooling helped center her and give her the courage to branch out and try performing independently. Harrison was also proud of her efforts.
Career 
Hassie Harrison landed her first television role in 2014 in L.A. Rangers, a comedy show that aired between 2013 and 2014. She portrayed the role of Olivia in an episode titled 'Brus Brothers.' 
Soon after, Harrison got her first recurring role in the romantic comedy-drama series Hart of Dixie. She played Lucy in three episodes between 2014 and 2015. She first appeared in the series' Season 3 Episode 12 titled 'Should've Been a Cowboy' that aired on 3 February 2014. Her next two appearances include the Season 3 Episode 18 titled 'Back in the Saddle Again' aired on 18 April 2014 and Season 4 Episode 7 titled 'The Butterstick Tab' aired on 27 February 2015. Season 1 of the series premiered back on 26 September 2011 and ran for four seasons. The last episode of the series was aired on 27 March 2015. Hart of Dixie was created by Leila Gerstein.
Harrison made her film debut in the 2015 horror-thriller Southbound, in which she played Jem. She debuted in the music industry in 2016 by starring in a short film for pop singer Hayley Kiyoko. She played the character Sienna, also known as the "Bubblegum girl," in the 'Gravel to Tempo' video.
Between 2015 and 2016, she appeared in a thriller film Dementia as Shelby Lockhart, a comedy television movie Chunk & Bean as Denise Morgan, and a short comedy film, The First Time as Andie. In 2017, she portrayed the role of Stephanie in the comedy film Fat Camp.
In 2018, the actress got her breakthrough role as Mazie Wales in the period drama movie, The Iron Orchard. In the same year, she also starred alongside Becky G, Dominic Rains, Thomas Jane, Alex MacNicoll, and Sam Upton in the American science fiction adventure film A-X-L. 
Her first leading part was in the film Back to Lyla, released in 2020, in which she played Lyla. Harrison was also seen in the 2020 movie Max Reload and the Nether Blasters and Yellowstone TV series' tenth episode of season 3 'World is Purple,' the same year. 
'Tacoma FD'
Tacoma FD is a comedy sitcom about a crew of firefighters who reside in America's rainiest city. The show initially aired in 2019 and had completed two seasons as of 2020. After the success of past seasons, the series was renewed for a third season in August 2020 and will premiere on 16 September 2021 on truTV. She had appeared in 22 episodes of the comedy series in the last two seasons. 
Harrison plays Lucy McConky, the daughter of Chief Terry McConky (played by Kevin Heffernan), who follows in her father's footsteps and joins as a firefighter. She portrays a tough and athletic rookie firefighter who wants to prove she belongs in the environment. 
Harrison shared that her prior characters were more challenging and found the role in the series at ease. Speaking to Meaww, she said, "This is the most' me' role I've done so far. Not on purpose but I guess in some ways I have kind of branded myself as a girl who hangs well with the dudes, so I think that's very much who I am."
'Yellowstone'
Yellowstone is an American drama series that initially premiered on the Paramount Network on 20 June 2018. It was created by Taylor Sheridan and John Linson and had completed three seasons as of 2021. The new season is expected to be released in late 2021. 
The series chronicles the battle between a major cattle ranch, a Native reservation, and land developers. The actress had appeared in five episodes since she joined the cast in 2020. Since she grew up in the countryside, Harrison opined that she doesn't have to push herself more to play the character, Laramie.
"I knew I had an easy way into this character. Getting to be a part of a modern-day western and bring Taylor Sheridan's words to life is something larger than I'd even let myself dream," Harrison said to Meaww about working under Taylor Sheridan.
'Dementia'
Directed by Mike Testin, Dementia is a psychological thriller film released on 4 December 2015. The film follows an elderly Vietnam War veteran George Lockhart, (played by Gene Jones). After being diagnosed with dementia, George's estranged son Jerry (played by Peter Cilella) and granddaughter Shelby (played by Harrison) decide to send him to an assisted living facility. However, a nurse, Michelle (played by Kristina Klebe), who stops by to check up on him, convinces the Lockhart family to hire her as a live-in nurse. 
Due to his mental condition, George suffers from nightmares related to his experience as a prisoner of war. He does not cooperate with the caregiver. Then, a seemingly sweet live-in nurse unleashes her dark side as she torments George. The film shows further deterioration of George's condition. 
'Chunk & Bean'
Chunk & Bean is a 22-minute single-camera comedy pilot, aired on ABC in 2016. It was directed by Chris Koch and co-written by Brian Donovan and Ed Herro. The ABC pilot chronicled the unlikely friendship of Chunk (played by Cyrus Arnold) and Bean (played by Simon Belz), two misfits who benefit from having two different sets of parents living next door. Harrison portrayed the role of Denise Morgan. Other cast members included Adam Rodriguez, Sofia Gonzalez, Andrew Daly, and Anna Gunn.
Personal Life
Harrison is dating actor, director, producer, and screenwriter Austin Nichols. The two marked their red carpet debut as a couple on 21 July 2018 at Oceana's 11th Annual SeaChange Summer Party in Laguna Beach, California. Harrison told Us Weekly that they have been dating for some time. Nichols also called her his lady. Before the red carpet debut, Nichols first posted their photo on his Instagram account in April, the same year.
The duo co-starred in the 2018 historical romantic drama film The Iron Orchard. The film premiered on 5 May 2018 at the Dallas International Film Festival.
Boyfriend Austin Nichols
Nichols played one of the prominent roles as Julian Baker in The CW drama series One Tree Hill from 2008 to 2012. 
From 2015 through 2016, he appeared in Frank Darabont's horror thriller television series The Walking Dead, based on the post-apocalyptic graphic novel series created by Charlie Adlard, Robert Kirkman, and Tony Moore. Nichols first appeared in Episode 13 of Season 5 in the series, portraying the role of Spencer Monroe. The episode was aired on 8 March 2015. He was part of the series till Episode 8 of Season 7, which aired on 11 December 2016. He also had a notable role as J.D. in the 2004 sci-fi action-adventure film The Day After Tomorrow.
In addition, Nichols had a recurring role in television series Pasadena (2002), Surface (2005-2006), John from Cincinnati (2007), The Mob Doctor (2012-2013), Bates Motel (2017), Ray Donovan (2013-2019), and Walker (2021). He had also appeared in over a dozen films, including Durango Kids (1999), The Utopian Society (2003), Wimbledon (2004), Glory Road (2006), LOL (2012), Parkland (2013), Lawless Range (2018), and Masquerade (2021). He will be starring as Ian in Sean McGinly's upcoming film Match.
Previous Relationship
Before dating Nichols, Harrison was in a relationship with actor Wilson Bethel. The two appeared on Hart of Dixie (2011-2015), in which Bethel was a series regular while Harrison appeared in three episodes of the series between 2014 and 2015. Reportedly, the two started dating in 2013, but their relationship was short-lived.
Interesting Facts
Harrison is a left-hander, but she is ambidextrous during sports and while using scissors.
'The Great Gatsby' is one of her favorite books.
Harrison is an animal enthusiast, and dogs, otters, raccoons, and giraffes are her favorite animals.