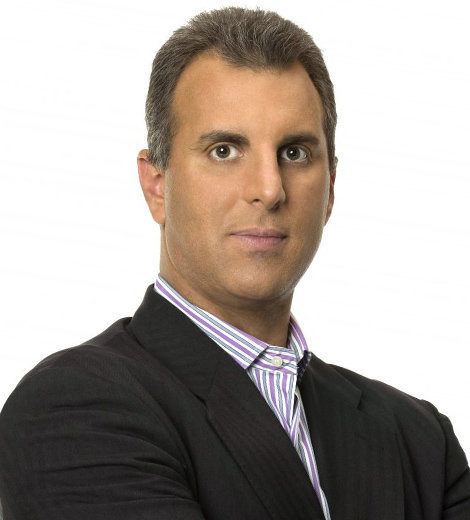 Quick Wiki
Full Name

Guy Adami

Occupation

TV Personality, Investor, Trader, Philanthropist

Nationality

American

Birthplace

New York, USA

Birth Date

Dec 18, 1963

Age

59 Years, 5 Months
Cast of CNBC talk show 'Fast Money'
Guy Adami | Biography
While working at CIBS World Markets, Adami guest-hosted a business news talk show 'Squawk Box' for CNBC
Adami's big break while at CIBS, when he got the opportunity to work for CNBC's Fast Money. In the show, he works as "The Negotiator," analyzing the financial crisis alongside other panelists.
---
Guy Adami is an American TV personality and professional investor, popularly known as being one of the original members of the CNBC show 'Fast Money.' 
Who is Guy Adami? 
Guy Adami is an American trader and TV personality who gained fame from CNBC's 'Fast Money.' He is an Independent Director for the urban mobility company Helbiz and the Director of Advisory Advocacy, Private Advisor Group. Besides, Adami co-hosts a podcast, 'On The Tape,' along with other panelists of the 'Fast Money' śhow. He is also a professional speaker and a national board member of charitable foundations and non-profit organizations. 
Early Life and Education 
Guy Adami was born on 18 December 1963, in Sleepy Hollow, New York, to Nancy C. and Guy M. Adami. He is the oldest of five children. While in high school, Adami was the captain of both football and basketball teams. He was also named All-League in both sports. However, he left behind his interest in sports after his graduation.
Adami attended Georgetown University between 1982 and 1986 and graduated with a BS, Business. Following that, he received the Honorary Doctorate of Humane Letters on 10 May 2014 from Quinnipiac University. 
Career 
Adami has worked in different organizations. His first organization was Drexel Burnham Lambert on the floor of the New York Mercantile Exchange. He worked as an Analyst between 1986 and 1990.
He then worked for AIG as the Vice President from 1990 to 1996. Adami went on to deal as the head gold trader with the Fixed income Currency and Commodity division for Goldman Sachs and held the position of Vice President. 
From 2003 to 2007, he worked as the Executive Director for CIBS World Markets in the challenging US Equities division. He was also in charge of the Industrial/ Basic Material group.
CNBC - 'Fast Money'
Adami's big break while at CIBS, when he got the opportunity to work for CNBC's Fast Money. 
In the show, he works as "The Negotiator," analyzing the financial crisis alongside other panelists. He is still a contributor to the show. 
While working at CIBS, Adami also guest-hosted the business news talk show Squawk Box for CNBC.
Private Advisor Group
Since August 2014, Adami has been providing support for businesses through different media outlets and acts as an advisor through his Private Advisor Group. Private Advisor Group is comprised of a network of nearly 600 advisors. The total asset of the organization is approaching $17 Billion.
'On the Tape' Podcast
On the Tape is a podcast where CNBC's Fast Money contributors, Dan Nathan, Danny Moses, and Guy Adami, break down market-moving headlines and provide personal insights into financial markets. The first episode was aired in December 2020, and the podcast comes with new episodes every week.
The podcast focuses on educating the listeners with a better perspective on financial and business news, thereby making them come up with better financial decisions. 
The co-hosts invite a guest from finance, media, entertainment, or sports for each episode and gather their insights on the latest news, policies, and schemes. 
Other Works
Adami is an independent director for the mobility company Helbiz. He is also a professional speaker. To give a speech, he charges a fee range between $20,001- $30,000 per event. 
Networth
According to Celebrity Net Worth, Adami has a net worth of $30 million. The net worth comes from various investments he has made throughout the years. 
Personal Life
Adami is married to Linda Snow Adami. The two tied the knot on 2 August 1997. They have three children - one daughter, who is the eldest, and two sons. Guy Adami spends more time with kids and often posts about them on his social media accounts. 
Philanthropist
Guy Adami is the Vice-chairman of the NJ Chapter of the Likermia and Lymphoma Society. He was named the "Ironman" in 2012 when he completed the event in New York City to raise money for Leukemia and Lymphoma. In 2015, he was named the "Man of the year" by the organization. 
He is a national board member of the charitable foundation, Investment in Others, and non-profit organization Big Brothers Big Sisters of America.