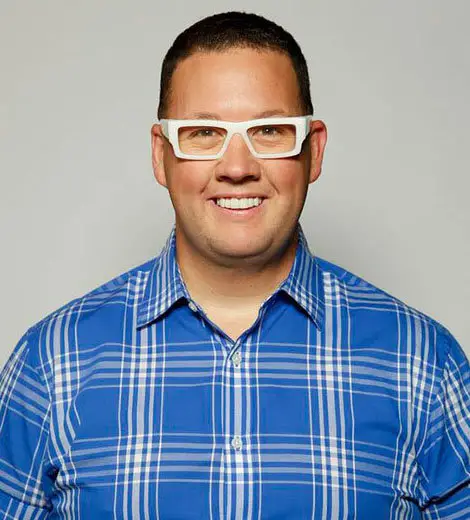 Quick Wiki
Full Name

Graham Elliot

Occupation

Chef, TV Personality, Host, Restaurateur

Nationality

American

Birthplace

Washington, D.C., USA

Birth Date

Jan 04, 1977

Age

46 Years, 8 Months
Chef, Restaurateur, Former host of the cooking show 'MasterChef'
Graham Elliot | Biography
Graham Elliot has also participated as a contestant on 'Iron Chef America'
Elliot left the cooking show 'MasterChef' in 2015, and his role was replaced by Chef Aaron Sanchez. However, he did not give a reason for leaving the show but mentioned that he enjoyed his experience on the show. 
---
Graham Elliot is an American chef, restaurateur, and reality television personality.
Who is Graham Elliot?
Graham Elliot is the owner of the restaurant, Grahamwich in Chicago. He is popularly known for his appearance on Top Chef Masters. He was also the host of MasterChef. 
How old is Graham Elliot?
Graham Elliot Bowles was born on 4 January 1977 in Seattle, Washington, D.C. He is currently 44 years old. He attended Johnson and Wales University.
Career 
Elliot was named one of Food & Wine Magazine's 'Best New Chefs' in 2004. At 27, he became the youngest chef in the US to receive four stars from Chicago Tribune, Chicago Sun-Times. 
In May 2008, Elliot opened a restaurant, Grahamwich, which was awarded two Michelin Stars. The honor is only received by fifteen restaurants in the country. He also earned the spot on Crain's Chicago Business List of "40 Under Forty." It put him in an elite club that included many influential people like Barack Obama and Oprah Winfrey. 
Elliot has been receiving rewards and recognitions since the initial days of his career. In 2009, he appeared on the reality cooking show, Top Chef Masters. In the show, Elliot cooked for the Heart and Stroke Foundation, a charity organization he associated with as a result of his nephew's heart condition. He has also participated as a contestant on Iron Chef America. 
In 2010, Elliot was one of the three host judges in the series, MasterChef. He also appeared in the spin-off series, MasterChef Junior. Elliot worked alongside Gordon Ramsay for many years.
Why did Graham Elliot leave Masterchef?
Elliot left MasterChef in 2015, and his role was replaced by Chef Aaron Sanchez. However, he did not give a reason for leaving the show but mentioned that he enjoyed his experience on the show. 
A few months after he made his announcement, Bravo announced that Elliot would be joining the judges' panel for Top Chef's 16th season. In addition, he also worked as a judge on Food Network's Cooks vs. Cons. 
Wife and Children
Elliot is married to Allie. Allie is also Elliot's business partner. The couple has three sons - Mylo Ignatius, Conrad Matthias, and Jedediah Lindsay. 
How much weight did Graham Elliot lose?
Elliot lost 147 lbs weight after he went a sleeve gastrectomy. Initially, he was nearly 400 pounds. Before the surgery, Ellio opened up about struggling with his everyday life tasks such as getting out of the car, tying his shoes, and playing with his kids. He got the surgery at the University of Chicago Medical Center and saw the results after nine months. 
Elliot jogged his first mile without stopping in September and ran his first 5k by the end of November. 
Tattoos 
tattoos are a part of Elliot's appearance. He got his first tattoo when he was 18, but the tattoo did not have any real meaning. The tattoos on his upper arm were symbolic tattoos done for his two sons, Ignatius and Matias. The tattoo on his forearm was designed by his brother, symbolizing birds that overcome their obstacles, "kiwi with balloons." Another tattoo of Elliot symbolizes the cities he has lived in, while some of his tattoos have philosophical values. 
Net Worth
According to Celebrity Net Worth, Graham Elliot has a net worth of $1.5 million, which he accumulated from his different business ventures, and works as a television personality.