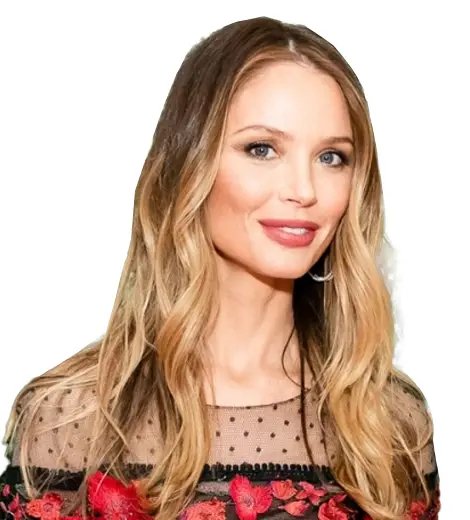 Quick Wiki
Full Name

Georgina Champman

Occupation

Costume Designer, Actress

Nationality

British

Birthplace

London, England, UK

Birth Date

Apr 14, 1976

Age

47 Years, 7 Months
Co-Founder of the fashion label Marchesa
Georgina Chapman | Biography 2021
Georgina Chapman and her college friend co-founded the high-end fashion label Marchesa in 2004. They had initially planned to create loungewear under the label but changed their plan later. The label has been flaunted by many Hollywood actresses on the red carpet, including Sandra Bullock at the 2010 Academy Awards, in which she won Oscar for the category 'Best Performance by an Actress in a Leading Role.'
---
Georgina Chapman is a British fashion designer best known as the co-founder of the fashion label 'Marchesa.'
Who is Georgina Chapman?
Georgina Chapman began her professional career as a costume designer in 2001. In the following years, she and her college friend Keren Craig co-founded the high-end fashion label Marchesa. Many Hollywood actresses have flaunted Marchesa dresses on the red carpet. 
However, the brand saw fallout following the allegations of sexual misconduct against Chapman's ex-husband and former film producer Harvey Weinstein started making headlines in 2017. Yet, actresses like Scarlett Johansson, Constance Wu, Priyanka Chopra, and Meghan McCain supported the brand even after the Weinstein scandal. In addition, Chapman was a judge in a reality television show Project Runway All Stars from 2012 to 2019. Furthermore, Chapman had also appeared in several films, including Unleashed (2005), Factory Girl (2006), and Awake (2007). 
Early Life and Education
Georgina Chapman was born on 14 April 1976 in London, England. Her mother, Caroline Wonfor, was a journalist at Reader's Digest and her father, Brian Chapman, was an entrepreneur. He is the founder of Food Brands Group and Percol organic coffee brand. Chapman was born with a congenital condition called hip dysplasia that caused her toes to point inward while walking. As a result, she used to fall over while walking to the top of the street. At age eight, she was diagnosed with dyslexia, a learning disorder that causes difficulty reading, writing, and interpreting words, letters, and other symbols. So, she had terrible anxiety when she studied in her school since she could not do so.
Chapman was raised in Richmond, London, and she has a younger brother named Edward. Chapman attended St David's School, an independent girls' school in Ashford, Surrey, and took up drawing and painting. Later, she attended Marlborough College in Marlborough, Wiltshire, England. Next, Chapman went to Chelsea College of Art and Design in London, where she met her future business partner Keren Craig. She then graduated from Wimbledon School of Art in 2001.
Early Career
Chapman was scouted by an agent when she was 17 years old and did modeling for a few years. In her early 20s, she appeared in advertising campaigns for Head & Shoulders and Halls Soothers. She also worked in a hotel, bar, and ski shop. 
After graduating from Wimbledon School of Art, Chapman began her career as a costume designer. While she was still at college, she invited actor David Oyelowo to attend an art exhibition at her college that also featured Chapman's drawings on fashion. Her work impressed Oyelowo, and he asked her to make costumes for the play The Love of the Nightingale, which he would perform at the Edinburgh Festival. Chapman made extraordinary costumes from transparent materials attaching pieces of mirrors.
Marchesa
In 2004, Chapman and Craig co-founded a fashion label called Marchesa, the name inspired by Italian glam-queen Marchesa Luisa Casati. The duo had initially planned to create a loungewear company, but they soon changed their plan after getting the fashion label. They gradually started developing connections with sponsors, stylists, publicists, and celebrities. The label has been flaunted by many Hollywood actresses, including Jennifer Lopez, Emma Watson, Selena Gomez, and Sandra Bullock on the red carpet. Bullock donned a Marchesa gown at the 2010 Academy Awards, in which she won Oscar for the category, 'Best Performance by an Actress in a Leading Role.' In 2016, actresses Nina Dobrev, Karolina Kurkova, and Poppy Delevingne wore a Marchesa dress at the Met Gala. Later, the brand launched Marchesa bridal collections, handbags, and jewelry lines, among others.
Reportedly, Chapman's husband, former film producer Harvey Weinstein contributed to the success of the Marchesa fashion line. It was also reported that Weinstein pressured actresses to wear the Marchesa brand on the red carpet. However, when sexual harassment allegations against Weinstein made headlines in October 2017, it put the brand in trouble. As a result, actresses avoided wearing the Marchesa brand on the red carpet until, after several months, Scarlett Johansson wore the Marchesa dress at the 2018 Met Gala to support the brand. Actresses like Constance Wu, Priyanka Chopra, and Meghan McCain also supported the brand after the scandal. In June 2019, Craig announced that she had decided to leave Marchesa to pursue new endeavors.
Films and Television Shows
Chapman made her acting debut in the 2001 short film Desire as Eve. The following year, she starred in another short film Chasing Heaven, portraying the role of a woman in a pink sarong. She also appeared as a secretary in the BBC biographical comedy-drama in the 2002 TV movie Jeffrey Archer: The Truth. The movie looked satirically at the true life of disgraced 1980's politician Jeffrey Archer who turned bestselling author. In 2003, she was cast in the role of Louie in the romantic drama TV movie Sons & Lovers, adapted from D.H. Lawrence's 1913 semi-autobiographical novel of the same title. The same year, she appeared in Shanghai Knights, a martial arts action comedy film that starred Jackie Chan and Owen Wilson. She went on to appear in a string of films, including Bride & Prejudice (2004), Unleashed (2005), The Business (2005), Derailed (2005), Factory Girl (2006), The Nanny Diaries (2007), and Awake (2007). 
In 2012, Chapman appeared as a guest judge on America's Next Top Model reality television show. She also made frequent appearances as a guest judge in the reality television show Project Runway between 2010 and 2017. From 2012 to 2019, she was a judge in a reality television show Project Runway All-Stars, a spin-off of Project Runway. In 2013, Chapman directed a short film, A Dream of Flying, written by Neil Gaiman.
Personal Life
Chapman first met film producer Harvey Weinstein at a party, and they started dating in 2003. After dating on and off for a few years, they married on 14 December 2007. The couple welcomed a daughter India Pearl Weinstein on 30 August 2010 and a son Dashiell Max Robert Weinstein, on 11 April 2013. In October 2017, Chapman decided to leave Weinstein following multiple cases of sexual harassment against Harvey Weinstein. The divorce was finalized in January 2018. 
In the fall of 2019, Chapman and Oscar-winning actor Adrien Brody got along after they attended supermodel Helena Christensen's swimwear line launch in Puerto Rico. It is reported in February 2020 that Chapman has been dating Brody.