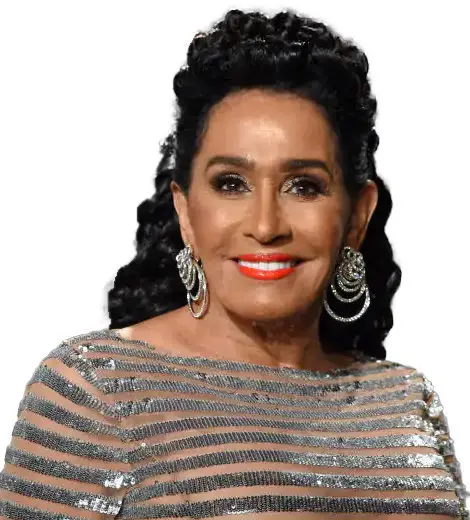 Quick Wiki
Full Name

Frances Glandney

Occupation

Entrepreneur

Nationality

American
Wife of Singer, Songwriter Smokey Robinson
Frances Glandney | Biography 2021
Co-founder of skincare line Skinphonic
Frances Glandney is the second wife of Smokey Robinson, and they got married in 2002. The couple did not have any children. But, Robinson has three children; two children from his first wife, singer, and member of his R&B group The Miracles, Claudette Rogers, and one child out of an extra-marital affair, which led Rogers to divorce Robinson. France Glandney, along with Robinson, co-founded a skincare line Skinphonic, after they suffered several skin problems, which made them create one tailor-made brand for both men and women.
---
Frances Glandney is the second wife of 90s stars Smokey Robinson, and she is also the co-founder of Skinphonic.
Who is Frances Glandney?
Frances Glandney and Smokey Robinson got married in 2002. Any further information on Glandney's background has not been made public. However, in 2016 the couple revealed a part of their life during the launch of their new skincare line Skinphonic.
Skinphonic
Glandney and Robinson were tired of skin problems like sun poisoning, dark spots, and wrinkles, which were unsolved even after using doctor prescribed treatments and over-the-counter products. Instead, they admitted that it made their skin texture and appearance worse. So, they worked with medical scientists and dermatologists to develop a customized product to help their skin. But after two years of research and work, they decided to make it into a commercial product tailored to people of color.
During the promotion of the product, Robinson shared about his skin issues, "There's nobody who doesn't have some sort of skin care problem. I used to get a lot of ingrown hairs … and for black guys, that starts making dark marks. I cleared it up before, but this product has enhanced [my skin] so much because the formula is for everything. It's not just for acne or lines. It's not just a cover-up for somethings. It's targeted for people of color, and there's never been anything like that. It's a skin healer."
Glandney and Robinson's 'selfish' act turned into a skincare line that suited both males and females. They experimented on a variety of products originating from chemical components to ayurvedic elements. They admitted to being the trial subjects of the product. Skinphonic website also retains a beauty blog that had captured their skin journey.
About husband Robinson
Smokey Robinson was born and raised as William Robinson Jr. in Detroit, Michigan. He began singing in local organizations in the neighborhood while growing up. He co-founded a band called the Matadors in the early 1950s, which later became the world-famous group The Miracles.
In over four decades, he was dubbed the 'America's best living poet' by the infamous artist Bob Dylan. Robinson had garnered several honors and accolades, including the 'Grammy Living Legend Award,' the 'NARAS Lifetime Achievement Award,' an Honorary Doctorate from Howard University, Kennedy Center Honors, and the President of the United States 'National Medal of Arts Award.' He is also a member of the 'Songwriters' Hall of Fame' and the 'Rock & Roll Hall of Fame.'
First Marriage of Robinson
Robinson was married to Claudette Rogers from 1959 to 1986.
Rogers was one of the founding members of the Miracles and was also the first female artist to sign with the band's label Berry Gordy's Tamla/Motown Records. After the Miracles' track 'Shop Around' became Tamla/first Motown's million-seller in 1960, she was officially given the title of 'The First Lady of Motown.'
Robinson married Rogers two years after she joined The Miracles in 1957. Although they had professional success and appeared to have a happy marriage for years, Rogers experienced multiple miscarriages when the pair sought to have a child.
So, in 1968, Roger's fertilized egg was implanted in a surrogate, and their firstborn, boy Berry (named after Gordy), was born. The same doctor came up with a remedy for Claudette's problems two years later: a cervical brace was installed in her, which allowed her to carry Tamla Claudette.
Smokey left The Miracles in 1972 to pursue a solo career, while Rogers left to become a full-time mother. However, Robinson had a child out of an affair, resulting from which she filed for divorce in 1984.
Lawsuit
Despite Robinson's and Rogers's continuing relationship after the divorce, they still had a few difficult patches.
In 2014, Rogers filed a suit, claiming that she was entitled to half of the earnings if Robinson recovered rights to his compositions, including 'My Girl' and 'You've Really Got a Hold on Me.' In her suit, she also added that she put her singing career on hold to care for their children, making her entitled to the rights.
On the other hand, Robison responded by filing a declaratory relief case, which she countered with counterclaims. Nevertheless, due to the sensitivity of the issue, they sought additional time to achieve an agreement. But, there was no follow-up, and they were presumed to have settled in an amicable agreement.
Glandney and Children
Robinson married Frances Glandney in 2002. He does not have any children with Glandney, but he remained close with his three children, Berry, Tamla, whom he shares with Rogers, and Trey, who was born out of an affair he had.
In an interview, Robinson expressed his 'bucket list dreams' to travel the world with his wife Glandney. He added that Glandney had not been to as many places as he had, and so, it was his dream to take her to those places.