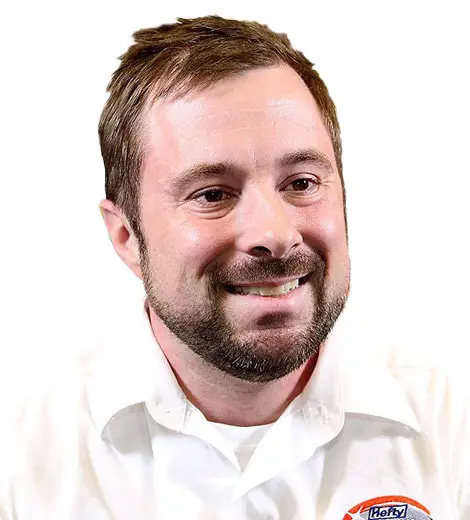 Quick Wiki
Full Name

Eric Wayne McClure

Occupation

Professional Stock Car Racing Driver and Team Owner

Nationality

American

Birthplace

Chilhowie, Virginia, USA

Birth Date

December 11, 1978

Death Date

May 2, 2021

Age At Death

42
American Former NASCAR Driver, Co-owner of the team Martin-McClure Racing (MMR)
Eric McClure | Biography
Died on 2 May 2021 at 42 years
In April 2016, Eric McClure announced the launch of his new team Martin-McClure Racing (MMR). He partnered up with another NASCAR Xfinity Series Driver, Hal Martin, and Charlie and Don Henderson, the owners of the Abingdon race team. The team's title was later changed to ARCA Menards East Series, and McClure left the team after the 2018 domestic violence charges.
---
Eric McClure was a former professional stock car racer and team owner.
Who is Eric McClure?
McClure was an American former NASCAR driver and a co-owner of the team initially known as Martin-McClure Racing (MMR). He was from a racing family. His uncle Larry McClure was one of the owners of the infamous Morgan-McClure Motorsports, which had won three Daytona-500 races. He joined the sports racing arena in 2004, starting at the NASCAR Cup Series in Talladega Superspeedway and 2005 Raabe Racing Enterprises at Las Vegas 2005.
After 2006, he was sponsored by the Reynolds Consumer Product Brands, like Hefty and Reynolds Wrap. He raced for NASCAR Xfinity Series from 2006 to 2016. The highlight of his career was the 2013 Daytona 2013 Xfinity Series season, ending at the 8th position for the TriStar Motorsports group owned by Mark Smith. He had completed 288 races in 14 seasons of the Xfinity race.
In 2012, he encountered a severe crash at the Talladega Superspeedway where his car dove into a wall after a 16 car pile-up. The accident left irreparable damage to his body. McClure encountered multiple crashes after the Talladega pile-up. Later, he was diagnosed with renal failure in 2013, lung infection, and musculoskeletal disorder in 2019. He passed away in May 2021 at 42.  
Early Life
Eric Wayne McClure was born on 11 December 1978 in Chilhowie, Virginia. He went to Emory and Henry College.
McClure's uncle was one of the owners of the Morgan-McClure Motorsports team. The team had three Daytona 500 wins and was based in Abingdon, Virginia. He grew up watching Richard Petty and Cale Yarborough driving and winning during the 1984 NASCAR Cup Series. 
He reminisced, "I'll never forget Richard Petty and Cale Yarborough, on the weekend, Richard won his 200th race, spending time with me when I was four years old in the garage area. My family was just fledging and just trying to get started. I remember those were my dad's heroes."
Career Beginnings
McClure started his racing career from the NASCAR Cup Series. His first race was in 2004 for the Morgan-McClure Motorsports at Talladega Superspeedway, where he made two cup starts. Followed by that, in 2005, he raced for Raabe Racing Enterprises at Las Vegas, with one cup start.
Then he was sponsored by Reynolds Consumer Product Brands, like Hefty and Reynolds Wrap, in 2006. He then raced for the Xfinity Series as a driver for 288 races making up 14 seasons. His highlighted race was at the Daytona 2013 Xfinity Series season opener for TriStar Motorsports group owned by Mark Smith. He had finished the race in the 8th position.
McClure connoted the race as an unforgettable moment of his career. "For me, this is the best day of my life professionally. We've raced for a lot of years, never had a whole lot to show for it statistically, but we raced up front all day, survived, had a great day and I'll never forget it," he stated. 
McClure raced for the Xfinity series until 2016. His last race was for JD Motorsports in the Daytona Season opener, where he finished in the 30th position.
Team Ownership
In April 2016, McClure announced the launch of his new team. He partnered up with another NASCAR Xfinity Series Driver, Hal Martin, and Charlie and Don Henderson, the owners of the Abingdon race team. The team was titled Martin-McClure Racing (MMR).
MMR was started with two drivers in the K&N East Series race at Bristol. The first racer was Chad Finchum from Knoxville Short Track on Reynolds Wrap sponsored No. 39 Toyota. Followed by veteran Caleb Holman, who previously drove at the Abingdon Truck Series, was hosted by Food Country, and drove No. 75 Toyota.
McClure was from the family of owners, as his uncle co-owned the Morgan-McClure Motorsports (MMR), so he thought it was a logical step in his career. He stated, "I enjoy the challenge of competing. I think that's vital to the way that I'm geared, and I felt that ownership was the next logical step. But it's only rewarding if you enjoy the people that you work with. We want high-quality people here."
Later, the team's title was changed to ARCA Menards East Series. McClure left the team after the 2018 domestic violence charges.
Team Rensi Motorsports
Despite the economic downturn and uncertainty surrounding car racers, McClure was able to sign a deal for the 2009 NASCAR Nationwide Series with the Rensi-Hamilton Racing squad dubbed Team Rensi Motorsports. He competed in a minimum of 33 races in the No. 25 RHR Ford Fusion.  
"This is the best opportunity I've had in my career," McClure told Herald Courier in 2009. "With so many people looking for work and sponsorship so hard to come by, it's caused congestion in the NASCAR workforce," he added.
He played the season until 29 November 2009.
Xfinity Series
McClure competed in NASCAR (The National Association for Stock Car Auto Racing) from 2003 to 2016. However, he made his advantageous starts in NASCAR's second-tier Xfinity Series. McClure competed in 288 games in his 14 game stints and achieved the only top-10 finish of his career in the season-opening race at Daytona in 2013. He had finished eighth in that race. The previous year, he had finished 16th in the points standings, which was his career-high.
Car Accidents
While racing at the NASCAR Xfinity Series, McClure encountered severe accidents. In 2012, his car on high speed had hit a wall during the Talladega 16 car pile-up. As a result, he suffered from a concussion and internal bruises. McClure was also left with lingering side effects, which caused him problems in the future. He also had to omit four races after that. However, McClure returned to end the race. He finished in 16th position driving for the Road America Race.
In 2013, he revealed the trauma he and his family went through after the accident, "I am a better person because of what happened. I could talk for two hours about how this has really impacted our lives, but it's way too much drama unless people have gone through something traumatic. It was huge for our family. It just uprooted everything we were used to. It made us think about career steps, family steps, what we need to focus on. When people go through things, it affects them differently and not everyone can relate to that situation, but for me, it's just still surreal."
Then in 2013, he was diagnosed with acute renal failure, which got him hospitalized. Followed by that, in 2015, he had another accident at the Kentucky Speedway. He suffered from a concussion from that crash.
Awards
McClure was the recipient of the 2015 'A.L. Mitchell Young Alumnus Award' by Emory & Henry College. The award honors alumnus who has made substantial contributions to his profession or community.
Personal Life
McClure was married to Miranda McClure from 2004 to 2018. In 2018, he was arrested for domestic violence abuse after a physical altercation with Miranda. She claimed McClure had physically abused her in front of their children, after which their 9-year-old daughter called the authorities.
Domestic Violence
McClure was strangling Miranda and beating her in front of their children when their 9-year-old daughter dialed 911. According to a criminal complaint, Miranda McClure had handprints on her face when the officer arrived.
McClure was then arrested on the allegation of domestic assault in 2018. He was released from detention on a $2500 bond and was scheduled to appear in Juvenile Domestic Relations Court in February 2018. From the beginning, he claimed no contest against Miranda's claims. Then he was charged with misdemeanor domestic violence and was ordered 12 months of active probation, mental health counseling, substance abuse counseling, and other recommended counseling by the court. 
However, McClure's state legislator counsel, Jeff Campbell, put off his court appearance for a lengthy time by exploiting the privilege granted to legislator-lawyers that allowed them to seek continuances in their cases with extensive discretion. 
Miranda McClure told the Associated Press in 2018 that Campbell was misusing the privilege to drag out the criminal case throughout the couple's acrimonious divorce process to wear her down. She even lodged a complaint with the Virginia State Bar, alleging that Campbell appears to have committed a significant ethics violation by "using his position as a Virginia Delegate" to prevent the matter from getting to trial.
Followed by that incident, the couple was estranged and eventually got a divorce. The couple shared seven daughters.
McClure's deteriorating health condition
 McClure's career was short-lived due to several health issues he suffered during accidents that occurred during the competitions. He had at least two concussions throughout his career, which afflicted him with lasting headaches, nausea, vomiting, dizziness, light sensitivity, episodes of depression, and amnesia. McClure claimed he was diagnosed with acute renal failure in 2013 and was being treated for kidney failure in both kidneys in 2019.
In addition, he suffered from lung infection and Rhabdomyolysis.
"I still have a lung infection. It isn't fully healing, but after ruling it out as a cause of the other, treatment has resumed. I also have Rhabdomyolysis. My muscles were dying and even heart muscle was at risk," McClure told Racing News in 2019.
McClure also noted that he had developed compartment syndrome in both his upper and lower limbs as a result of the Rhabdomyolysis and had to undergo two emergency surgeries to relieve the muscles in each limb. Even though both surgeries were successful, the first took more time to recover fully. "It's a waiting game now," he told Racing News.
Death
McClure passed away on 2 May 2021 at 42 years. NASCAR officials and his family confirmed his death. During the time of his death, he was engaged to Keira Brinegar Tibbs, who later shared a statement on his death quoting, "Eric, I will love you until my last breath.... please wait for me until then. I love you more."
The family did not reveal the cause of death until the autopsy result arrived. The autopsy report was forwarded to the medical examiner's office of the Virginia Department of Forensic Science in Roanoke. In 2019, McClure had become a regular victim of his health issues. He had a lung infection and a severe musculoskeletal condition.
Fiancee Keira Brinegar Tibbs
After parting ways with his first wife, McClure got engaged to Keira Brinegar Tibbs on 18 September 2020. Keira is a Beauty Consultant at LimeLife by Alcone Independent Beauty Guide. She formerly worked as a Dental Assistant (DA) at Brown Dental Associates PC.
Endowment Fund
Eric McClure, an alumnus of Emory & Henry College, wanted to make sure that the college's radio station, WEHC 90.7, remained financially viable for a long time. Therefore, he participated in a race in 2017 as a fundraiser for the radio station.
In January 2017, McClure stated that his team, Martin-McClure Racing, would be competing in the NASCAR K&N Pro Series PittLite 125 at Bristol Motor Speedway scheduled on 22 April 2017. According to WEHC 90.7 General Manager Teresa Keller, all funds from the race would go straight into the Eric McClure Endowment for the radio station. 
McClure decided on the contribution because of the impact his college experience had on his desire to pursue a racing career. He credits the radio station for giving him the courage to pursue a profession, and McClure decided to repay the favor.
"I started this as a way to make a difference in the community … it's a good opportunity to do something to benefit my team and the station," McClure told Bristol Herald Courier in 2017.
He told the same portal that he chose to make such a significant donation to the institution after realizing that the power of being heard by the community was more than just a few bucks of transaction. "If I didn't have the radio station experience, I wouldn't have the confidence to speak to people now," he stated.
His sense of dedication and duty to the radio station of Emory & Henry College even made General Manager Keller emotional. 
"I had no idea the education and radio station made that kind of a difference for him," Keller wiped her eyes and remarked to Bristol Herald Courier in 2017.
Tribute by WEHC 90.7
Following McClure's death, on 16 May 2021, an already-aired conversation between Keller and McClure, which was filmed in 2016 during the launch of the racing team, Martin-Mcclure Racing, was repeated on the radio station. The program served as a memorial to McClure's departed soul.