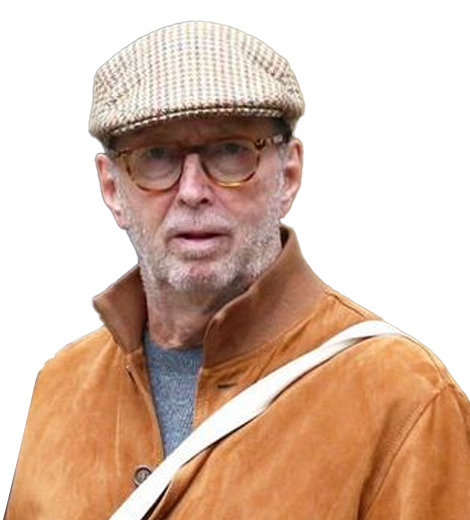 Quick Wiki
Full Name

Eric Patrick Clapton

Nickname

Slowhand

Occupation

Musician, Singer, Songwriter, Record producer

Nationality

British

Birthplace

Ripley, Surrey, England

Birth Date

Mar 30, 1945

Age

78 Years, 2 Months
18-time Grammy Award-winning Musician
Eric Clapton | Biography
Three-time Inductee of the 'Rock and Roll Hall of Fame in 1992, 1993, and 2000
Eric Clapton is the only person to be inducted three times into the Rock & Roll Hall of Fame. He was inducted as a band member of The Yardbird (1992), with Cream (1993), and in 2000 as a solo artist. On June 14, 2001, he was inducted into the 'Songwriters Hall of Fame.' In September 2018, Clapton was honored with one of the first stars on the Royal Albert Hall's "Walk of Fame." Clapton was also the recipient of the title of 'Officer of the Order of the British Empire' in 1994, given to him by Queen Elizabeth II. Later, in 2004, he was honored as a 'Commander of the Order of the British Empire' by the Queen.   
---
Eric Clapton is a British rock musician. He was also taken as the highly influential guitarist in the late '60s and '70s, later becoming a successful singer and songwriter. 
Who Is Eric Clapton?
Eric Clapton is an English guitarist, singer, and songwriter who ranks second in Rolling Stone's list of 100 Greatest Guitarists of All Time. Clapton is the only artist recognized as the three-time inductee of the 'Rock and Roll Hall of Fame in 1992, 1993, and 2000. Known for his iconic hit pieces of music like 'Tears in Heaven,' 'Layla,' 'Wonderful Tonight,' 'Lay Down Sally,' Clapton was recognized number five in Time magazine's list of The 10 Best Electric Guitar Players in 2009. In addition, he is among the top artists when it comes to 'Rock' and 'Blues' music.  
Growing up with Grandparents
Eric Patrick Clapton was born in Ripley, Surrey, England on 30 March 1945. He was born to Patricia Molly Clapton and a Canadian soldier, Edward Walter Fryer. Fryer was stationed in England during the second world war. He returned to Canada before Eric was born, and Patricia was just sixteen years old when she gave birth to him. It was challenging for his mother to raise a child at that tender age, and she was a single mother in the mid-1940s. Therefore, her mother, Rose Clapp, and her stepfather Jack stood up and raised Clapton as their son.
Although Clapton's grandparents never adopted him legally, they were his guardian until he was eighteen. While growing up with his grandparents, he believed that his mother, Patricia, was his sister and his grandparents were his birth parents. Clapton's last name comes from his biological maternal grandfather, Reginald Cecil Clapton, who died in 1933. Reginald was Rose's husband before Jack Clapp and the birth father of Patricia Molly Clapton. 
Clapton was a quiet and polite student. He was an above-average student with a keen interest in the arts. From the beginning of his school years, he questioned why his last name was Clapton, and his parents were Mr. and Mrs. Clapp. He came to know about his birth parents at nine. It happened when his mother, Patricia, returned to England from Germany with his six-year-old half-brother to visit him. That moment of revelation affected Clapton deeply. From quiet and polite, he became moody and distant. It also left an emotional scar in his life. 
Clapton was sent to St. Bede's Secondary Modern School in 1956 after failing the eleven-plus. Two years after the enrollment, he went to Holyfield Road School in the art faculty. In 1961, he started studying at the Kingston College of Art. However, he was expelled from the college as he could not submit enough work, and there was no sign of improvement in him.          
Since Clapton was not interested in his formal education, there was one thing he grew very fond of, music. It was exploring the roots of rock in American Blues. His self-perception also matched the genre Blues because he thought of himself as an outsider and different from other people. So, in 1962, he sought help from his grandparents to buy him a guitar. It was a £100 electric double cutaway Kay, a clone of a Gibson ES-335 guitar. This purchase was highly inspired by Freddie King, B.B. King, Muddy Waters, Buddy Guy's music. 
A Beginning of a Musical Journey
Clapton's musical journey began as a busker. He would play around Richmond and Kingston and eventually reached London and the West End. He joined his first music band, The Roosters when he was 17 years old. The band demised in August 1963 after a few months of his joining. Clapton then supported himself as a laborer at building sites. He would work alongside his grandfather, who was a master bricklayer and plasterer. He traveled through all these paths before choosing music as his full-time career. 
Career
Clapton has had many accomplishments throughout his career. In his career, he was in a band, and later, he also performed solo. He received much praise and recognition from his audience. He was part of The Yardbirds and Cream band, inducted in the Rock and Roll Hall of Fame in 1992 and 1993. He also played and sang along with renowned artists like Bob Dylan, John Elton, George Harrison, B.B. King, and many more.
Journey with The Yardbirds  
Clapton's musical career began with Keith Relf and Paul Samwell-Smith. Then, in October 1963, they recruited him as a member of The Yardbirds. As Clapton was the most talked-about guitar player on the R&B pub circuit, picking him to be the band member was not a hard decision for them. He recorded his first albums with The Yardbirds: Five Live Yardbirds and Sonny Boy Williamson and The Yardbirds. He earned his nickname "Slowhand" while he was in the band. 
Although things were going smooth with the band, Clapton had not abandoned his true purpose of choosing music. He used to do his serious research into the American Blues whenever he had time. After eighteen months, Clapton parted ways with The Yardbirds as they wanted different things in music. The Yardbirds started working with commercial music while he chose to stick with Blues.  
Making Music with Cream
Later in 1966, Clapton formed a band Cream along with Jack Bruce as bassist and drummer, Ginger Baker. Clapton could break out the standard forms of rock and blues to create something new through this band. The band received worldwide acclaim with extensive touring in the United States and three good albums- Fresh Cream, Disraeli Gears, and Wheel of Fire. 'White Room,' 'Sunshine of Your Love,' and 'Crossroads' are some of the legendary rock hits from these albums.
After making music together for two years, the band parted ways in 1968. There was a conflict in the band because all three of them had solid and creative personalities. The use of drugs by all three band members intensified the feud and resulted in the band's breaking up. Yet, before breaking up the band, they went for the farewell tour and released their last album, Goodbye, together in 1969.  
'Wonderful Tonight' and Pattie Boyd
Clapton married Pattie Boyd on 27 March 1979. Boyd was first married to George Harrison, the lead guitarist of the Beatles and best friend of Clapton. She is a former fashion model and photographer. After ending her marriage with Harrison, Boyd tied the knot with Clapton. The song 'Wonderful Tonight' came to him while he was waiting for her to dress up for a night out, and it was taking her forever. In her biography 'Wonderful Tonight: George Harrison, Eric Clapton, and Me,' which was published in 2007, she mentions, "It was such a simple song but so beautiful and for years it tore at me. To have inspired Eric, and George before him, to write such music was so flattering. Yet I came to believe that although something about me might have made them put pen to paper, it was really all about them."
His infidelities and domestic violence, however, ruined their marriage. Clapton acknowledged raping and assaulting her while they were married in a 1999 interview with The Sunday Times, and he was a "full-blown" drunk.
Tragedy and 'Tears in Heaven' 
He admitted to having an affair with Italian model Lory Del Santo and getting her pregnant. They divorced on 24 June 1989. On 21 August 1986, Del Santo gave birth to their son, Conor. On 20 March 1991, he bid his last farewell to his four-year-old son Conor Clapton. Clapton was on his way to pick Conor for lunch when he received the news that his son fell from a fifty-third-story window of a Manhattan high-rise apartment of his wife, Lory Del Santo. He responded to that tragedy by writing and composing a song 'Tears in Heaven,' as a tribute to his son. 
The song was in the acoustic album Unplugged, which was released in 1992. The album was his biggest-selling album, which sold over 26 million copies worldwide during that time. In 1993, he was awarded 'The Grammy Awards' for Album of the Year for the same album. 
The success of Unplugged boosted Clapton's confidence and gave him the courage to return to the genre which he was passionate about. In 1994, he released a blues album From the Cradle. The album got critically acclaimed and was a commercial success too. 
Later In The Career
At the end of the 90s, Clapton invested more time in Blues and recorded 'Riding With the King' in June 2000. He recorded this album along with the American blues legend B.B. King. The album was a tremendous success, and it was certified gold within three weeks of its release. 
In 2005, Clapton, Jack Bruce, and Ginger Baker revived Cream by putting aside their differences. They planned for four reunion concerts in May at Royal Albert Hall in London. They later added three more shows in October at Madison Square Garden in New York, USA.
Clapton released The Road to Escondido in November 2007. It received critical acclaim and won the 'Grammy Awards' for Best Contemporary Blues Album at the 50th Annual Awards Ceremony in Los Angeles. He collaborated with a producer, J.J. Cale, from 'Tulsa Sounds' whom he admired for this album. He wanted to work with him after recording versions of 'After Midnight,' 'Cocaine,' and 'Travelin' Light.' 
Clapton recorded his nineteenth studio album, Clapton, in September 2009. One track from the album, 'Run Back To Your Side,' received the Grammy Awards nomination for Best Solo Rock Vocal Performance. After that album, Clapton did not release albums actively. However, in 2013, he released Old Sock, in 2016, I Still Do, and Happy Xmas in 2018.
New Album and Collaboration
On 12 November 2021, Clapton released his new album, The Lady In The Balcony: Lockdown Sessions. The 17-track album features longtime bandmates bassist and vocalist Nathan East, drummer Steve Gadd, and keyboardist Chris Stainton. They recorded live at Cowdray House in West Sussex, England, revisiting Clapton's timeless classics, including 'Layla,' 'Bell Bottom Blues,' 'Tears in Heaven,' and 'Nobody Knows You When You're Down And Out.'
Clapton will make a cameo on Ozzy Osbourne's upcoming LP.
Donating Anti-Vax Band
In October 2021, Clapton reportedly donated more than $1,300 on a GoFundMe campaign for a British anti-vaccine band Jam for Freedom. He even lent the members of the band his family's van to tour in. The band regularly features anti-vaccine slogans like 'You can stick your poison vaccine up your a**' in their lyrics. 
Clapton shared anti-vaccine and anti-lockdown statements throughout 2020. He participated in Van Morrison's anti-lockdown songs in 2020 and had said he experienced negative effects from taking the Covid-19 vaccine. In July 2020, he even declared he would not perform at venues that require medical reports of Covid-19 vaccination.
Achievements and Accolades
Clapton has received many awards, accolades, and titles throughout his journey of music. His first award was for 'Best International Musician' in Melody Maker's Pop Poll in 1969. Throughout his musical endeavor, he has won 18 Grammy Awards for various titles and a BAFTA for his work on the 'Edge of Darkness' soundtrack in 2010. 
Clapton is the only person to be inducted three times into the Rock & Roll Hall of Fame. He was inducted as a band member of The Yardbird (1992), with Cream (1993), and in 2000 as a solo artist. On June 14, 2001, he was inducted into the 'Songwriters Hall of Fame.' In September 2018, Clapton was honored with one of the first stars on the Royal Albert Hall's "Walk of Fame." Clapton was also the recipient of the title of 'Officer of the Order of the British Empire' in 1994, given to him by Queen Elizabeth II. Later, in 2004, he was honored as a 'Commander of the Order of the British Empire' by the Queen.   
Keeping the Music in Him Alive
Clapton celebrated his 70th birthday in 2015 with concerts in the Royal Albert Hall and Madison Square Garden. In 2016, he performed at Nippon Budokan in Tokyo, Japan. The recording of that concert was released on DVD and Blu-Rays as Planes, Trains and Eric. He performed a series of concerts in Los Angeles, New York, and London in 2017. In 2018, Clapton performed in front of a 65,000 audience at London's Hyde Park. He also did a concert in Germany and then in Madison Square Garden in October.
Wife and Daughters
Clapton tied the knot with model and photographer Pattie Boyd Harrison on 27 March 1979, but they divorced in 1989. Boyd was previously married to his friend musician George Harrison from 1966 to 1977. 
Later, Clapton married philanthropist and socialist Melia McEnery on 1 January 2002. They shared three daughters. Their first daughter, Julie Rose was born in June 2001. The couple welcomed their second daughter, Ella Mae, in January 2003, and their third daughter, Sophie, in February 2005.
Where does Eric Clapton Own Homes?
Clapton has owned various houses across the world, including England, France, Columbus, and Antigua. In 2000, he built his Antigua villa called 'Standfast Point' for $14 million. He started to rent out his Antigua property for $50,000 per week in 2009. Before that, he also purchased a beach house in Venice, California, in 1999 for $1.195 million, which he sold in 2004 for $41.415 million.
Car Collection
Clapton is a classic car collector. He has owned and owns dozens of cars, primarily of the Ferrari brand. He has at least 13 classic and rare Ferraris, including 1964 Ferrari 250 GT Lusso, Ferrari 612 Scaglietti, Ferrari Enzo, Ferrari 365 GTC, 1991 Ferrari F40. Ferrari 275 GTB, and Ferrari 599 GTB Fiorano. 
He also owns Ferrari SPC-12 EC, a one-off sports car that is specially created for Clapton. SPC-12 EC stands for 'Special Project Car #12 Eric Clapton.' It is a bespoke car that Clapton also helped design.
Net Worth and Height
As of 2020, Clapton has a net worth of $450 million, according to Celebrity Net Worth. He accumulated his wealth through his decades-long musical career.
Clapton stands at the height of 5 feet 9 inches that is equivalent to 1.77 meters.