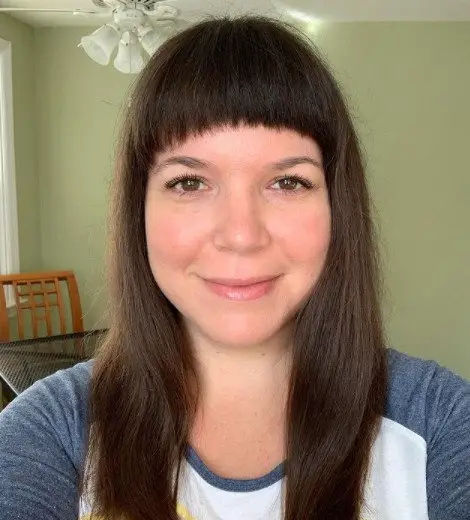 Quick Wiki
Full Name

Ellen Hamilton Latzen

Occupation

Former Actress, Voice-over Artist, Consultant, Sales Manager

Nationality

American

Birthplace

New York, USA

Birth Date

Jul 26, 1980

Age

43 Years, 1 Months

Nickname

Beano

Zodiac Sign

Leo

First On-screen Debut

In 1987 film 'Fatal Attraction'

Parents

Anne Hamilton, Bob Latzen

Height

5 Feet 2 Inches (1.57 Meter)
Former American Actress Known For 'National Lampoon's Christmas Vacation'
Ellen Hamilton Latzen | Biography
Voice-over artist for over three decades at SAG-AFTRA
In 1987, Ellen Hamilton Latzen made her acting debut in the suspense film 'Fatal Attraction' representing the child character Ellen Gallagher. She was just seven years old at that time. The same year, she guest-starred as Michelle Davis in the episode titled 'Miracle in Columbus' of the TV series 'Family Ties.' Subsequently, she appeared in the 1988 comedy film, 'Mr. North' as Ada.
---
Ellen Hamilton Latzen is a former actress famous for her role as Ruby Sue in the movie 'National Lampoon's Christmas Vacation.'
Who Is Ellen Hamilton Latzen?
Ellen Hamilton Latzen is a former actress who played in a few TV features as a child. She is prominently known for starring in the films Fatal Attraction (1987), Mr. North (1988), and National Lampoon's Christmas Vacation (1989). However, when she was about to leave a prominent imprint in the entertainment industry, she deviated to a mainstream academic and career pathway. After pursuing Fine Arts from California College of the Arts, she worked in sales, eventually climbing up to the executive position of the discipline.
She Had A Brief Career As A Child Star
Ellen Hamilton Latzen was born in New York, the United States, on 26 July 1980 to Anne Hamilton and Bob Latzen. She held a successful reputation as a child actress. However, she swiftly faded from the public's sight after attaining a successful child celebrity status to pursue a mainstream career pathway.
She Made Her On-screen Debut At Seven On 'Fatal Attraction'
In 1986, Latzen's mother learned about an open casting call for a new untitled Adrian Lyne film while reading an article in the paper. Casting agents were looking for young girls aged six to eight years old without requiring prior acting experience. Though Latzen's parents had never considered getting Latzen into acting, they got their daughter into it, believing it to be a fun thing to try. Latzen was just about six at the time, and she competed against over a thousand other girls. However, Latzen's natural talent ultimately won her the part.
In 1987, Latzen made her acting debut in the suspense film Fatal Attraction representing the child character Ellen Gallagher. She was seven years old at that time. 
Released on 18 September 1987, Fatal Attraction is a psychological thriller film adapted from James Dearden's 1980 British short film Diversion. Dearden also wrote the screenplay of Fatal Attraction, and Adrian Lyne directed the film. 
The film follows the story of a successful, happily married New York lawyer Dan Gallagher (played by Michael Douglas), whose work leads him to meet an editor Alexandra "Alex" Forrest (Glenn Close), at a party. The two enjoy a weekend affair while Dan's wife Beth (Anne Archer) and daughter Ellen (Ellen Latzen) are out of town. 
Both Dan and Alex initially understood their one-night stand as just a fling. However, Alex soon develops an obsession with Dan. When Dan tries to leave her, she attempts suicide by cutting her wrists. He helps her bandage the cuts and stays with her overnight to ensure she is right. After leaving her in the morning, Dan believes they can forget their affair. Though Alex apologizes to Dan for her behavior the next day, her behavior escalates from aggressive pursuit to obsessive stalking. 
Alex even starts to haunt Dan's family members. At one point, Alex breaks into Dan's house when the Gallaghers are not home. She kills Ellen's pet rabbit and unceremoniously puts it on their stove to boil. Beth screams in terror after finding the pot. After that, Dan admits to Beth about his affair with Alex. Outraged, Beth demands Dan leave, but Dan calls Alex to tell her that Beth knows everything before leaving. Beth gets on the phone and threatens to kill Alex if she persists. 
Later, Alex picks up Ellen from school without Dan and Beth's knowledge. Alex takes Ellen to an amusement park, where Alex buys her ice cream and takes her for a ride on the roller coaster. Beth panics when she cannot find Ellen. While looking for Ellen, Beth gets injured in a car accident and is hospitalized. Alex then drops Ellen off at home safely. After being asked for a kiss on the cheek, Ellen kisses Alex before heading inside.
After knowing Alex had kidnapped Ellen, Dan breaks into Alex's apartment and violently attacks her. However, he leaves and then tells the police about the kidnapping. Later, Alex tries to kill Beth, but Dan saves his wife and kills Alex.
In one scene, Ellen was supposed to cry when her parents were fighting in their suburban home. "I was instructed not to speak. I was standing there with Uni, my own stuffed animal. Michael came up to me and said: 'Look at that stupid unicorn. I'm going to throw it in the garbage.' As you watch the scene, you can see I'm trying really hard to fight back tears," Latzen told The New York Times in September 2017. 
Latzen further said that Douglas even yelled at her until she broke down in tears. She said that director Lyne immediately said "Cut" after the scene, and Douglas came to her to apologize. Douglas also told the newspaper that he felt guilty for yelling at Latzen. However, he further said, "But you've got to do what you've got to do."
Fatal Attraction spent eight weeks at No. 1 in the U.S. It made $320 million worldwide, becoming the second highest-grossing film of 1987. The film garnered six Oscar nominations.
Later, on 7 April 2016, Latzen reunited with Douglas at the Motion Picture and Television Fund event Reel Stories Real Lives at Milk Studios in Los Angeles. Latzen took to Instagram the next day to share the news with her fans. "Last night I worked an event for @mptf that just so happened to be honoring my former on-screen dad #MichaelDouglas. We were able to reconnect for the first time in 27 years. He was just as sweet as he was when I was a kid," Latzen wrote.
Douglas also shared the news on his Facebook on 14 April 2016, writing, "Reunited with Ellen Hamilton Latzen at the Motion Picture and Television Fund "Reel Stories" event last week. Ellen was volunteering for the event and played my 10-year-old daughter in "Fatal Attraction" in 1987. How time flies!"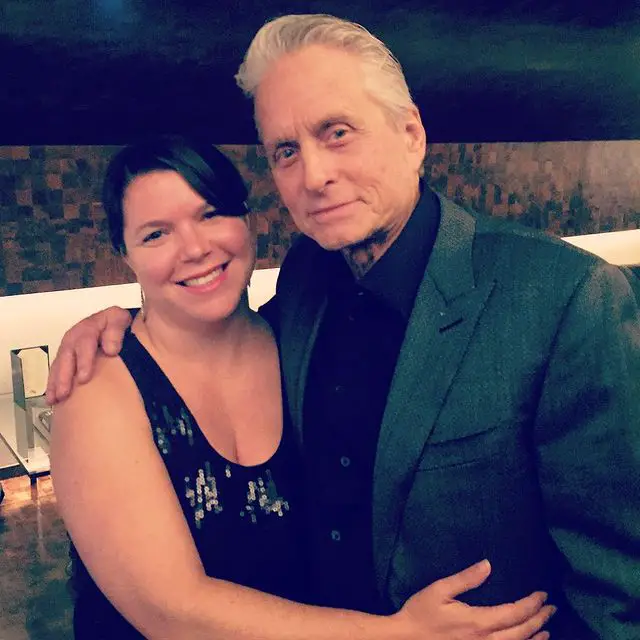 She Has Appeared In Several Other Movies And TV Shows
After appearing in Fatal Attraction, Latzen's career started to take off. In 1987, Latzen also guest-starred as Michelle Davis in the episode titled 'Miracle in Columbus' of the TV series Family Ties. Subsequently, she appeared in the 1988 comedy film Mr. North as Ada. The following year, she made a cameo appearance in the TV series The Equalizer as Mindy Morrison in the episode 'Lullaby of Darkness.' 
Furthermore, Latzen played Ruby Sue in the 1989 film National Lampoon's Christmas Vacation and went to guest-star as Casey Walsh in the TV series ABC Afterschool Specials the same year. She was featured in the episode titled 'Over the Limit,' dedicated to drunk driving. In 1995, she played Carol in the short film Alkali, Iowa, and in 1997, she reprised her role as Carol in Boys Life 2. 
In addition, Latzen was also one of the performers in the Broadway adaptation of the play Four Baboons Adoring the Sun in 1992.
Also Read: Zachary Mabry - The Little Rascals, Age, Now
She Famously Played Ruby Sue In The Christmas Comedy 'National Lampoon's Christmas Vacation'
National Lampoon's Christmas Vacation premiered on 1 December 1989. The movie is based on a short story dubbed 'Christmas '59' penned by John Hughes. Moreover, National Lampoon's Christmas Vacation is the third sequel of the Vacation series; the first one being National Lampoon's Vacation (1983) and the second one being National Lampoon's European Vacation (1985).
The movie encircled the Clark Griswold (played by Chevy Chase) family's preparation for a perfectly huge family Christmas which predictably devolved into a major disaster. Latzen portrayed Ruby Sue, the daughter of Catherine Flynn and Eddie Quaid and niece of Clark Griswold in the movie.
Latzen told HuffPost in 2020 that she was excited to film her inaugural scene for Christmas Vacation in the RV then, which she termed a huge camper. She also spoke about the wig she donned for the film. She had to wear a wig for the movie since she had a mullet as a child. She also added onto her favorite cast story from the movie, which was the Christmas dinner.
She Retired From Acting To Focus On Her Study
Latzen left acting after attending Putney School in Vermont in 1995, figuring that she would be out of the acting profession for four years by the time she graduated. However, she was unsure if her return to the entertainment industry would be worthwhile. Then, in 2001, Latzen enrolled at California College of the Arts and graduated with a bachelor's degree in fine arts in Glass in 2003.
What Is Ellen Hamilton Latzen Doing Now?
Upon graduating from California College of the Arts, she barely thought of returning to the acting profession. Instead, she started a career path in sales and eventually prospered to executive positions in the domain.
In 2005, she became the diary and sales coordinator at Marriott International and continued the work until 2006. In 2007, she was recruited by Trafalgar Tours as group sales manager and operations specialist, and she worked in the position till 2008. After that, she got employed as a group sales and catering coordinator at Ace Hotel from 2008 to 2009. Then, from 2009 to 2011, she worked as an operations manager and account executive at San Francisco Bay Guardian. 
From 2011 to 2012, she held the designation of director of operations at MogoTix, and from 2013 to 2014, she worked as a customer engagement manager at TrueAccord. Successively, she became office manager at Noozcard Inc. in 2015, and after just two months stint, she left the position to work as a freelance photo editor at Getty Images (2015 -2016). Additionally, from 2017 to 2018, she was the event director at Otus Supply. Then in 2019 (May-August), she worked as a contract intern in the business development and partnerships director position at Astrohaus. 
Furthermore, from 2019 to 2020, she became a full-time manager at Campbell's Place. Besides, she has also been working as a voice-over artist for over three decades, from 1987 until now, at SAG-AFTRA. She is also self-employed as a Small Business Support consultant from 2014 to the present.
Latzen currently lives in Los Angeles. In her LinkedIn profile, she has mentioned that she is in the middle of producing her own podcast. According to IMDb, Latzen is creating a podcast called Watched about her experiences as a child star. Her podcast would also look behind the curtain of the child acting industry. Latzen has been featured as a guest in various podcast shows for being a child star. Additionally, she has appeared in podcasts such as The Chad Taylor Show, The Odd Podcast with Joe Parisi, GravityBread, and Fred Stoller.
Latzen also has a profile on Cameo. She has mentioned on her Twitter bio that she is now taking bookings on Cameo. Furthermore, on her Cameo profile, she writes, "Best known as Ruby Sue from National Lampoon's Christmas Vacation and the cute daughter whose bunny got boiled from Fatal Attraction. I'm thrilled to answer your questions or make someone's day!"
Is Ellen Hamilton Latzen Married? 
Latzen is not married yet and does not have a husband. However, according to her Instagram post dated 21 June 2021, she is dating Edward Campbell.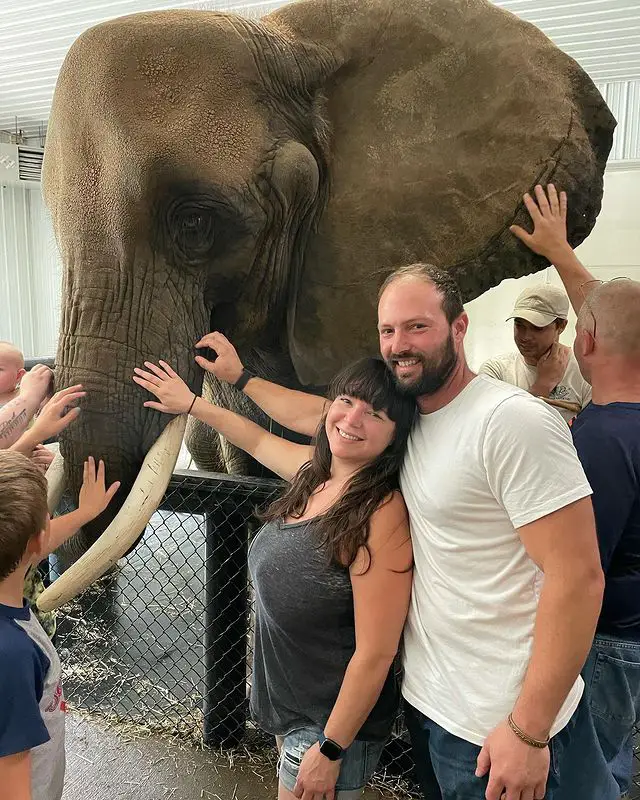 Did You Know?
She owns a dog named Griffin, which is all over her Insta feed.
Latzen does not have a Wikipedia page as of April 2022.