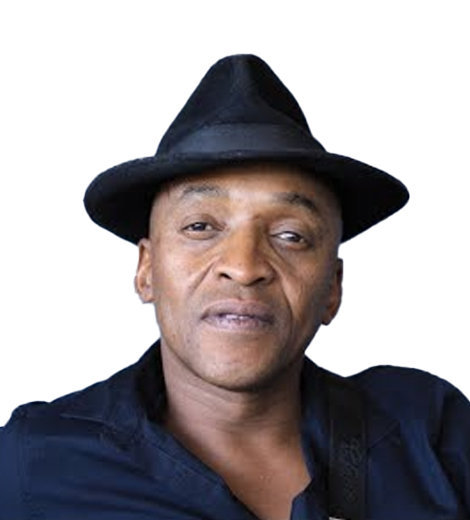 Quick Wiki
Full Name

Dumisani Dlamini

Occupation

Actor

Nationality

South African

Birthplace

Durban, South Africa

Birth Date

Oct 23, 1963

Age

60 Years, 1 Months
Father of American Rapper Doja Cat
Dumisani Dlamini | Biography 2021
Cast on South African television drama 'Yizo Yizo'
Dumisani Dlamini from South Africa came to America to cast in the movie and stage play 'Sarafina!' and settled in the USA. He met American and Jewish painter Deborah Elizabeth Sawyer, fell in love, and both exchanged wedding vows in the 1990s. After fathering two children, he left for South Africa, planning to bring his family. But, the plan did not work out. Currently, the father and daughter, who is an award-winning rapper Amala Zandile Dlamini, aka Doja Cat, has been giving interviews, claiming and denying that Dumisani is in touch with the family.
---
Dumisani Dlamini is a South African actor prominently known for his role as Crocodile in the musical drama and stage play 'Sarafina!.' He is the father of an award-winning American rapper and songwriter, Doja Cat.
Who Is Dumisani Dlamini? 
Dumisani Dlamini is a South African actor, movie producer, and composer. He was born on 23 October 1963 in the town of Umlazi, Durban, South Africa. He stayed back in the United States when he came to star in the movie Sarafina! in 1992.
The actor's remarkable works include movies, Sarafina! (1992), and Stander (2003), and TV miniseries, Entabeni (2008), among many others. Over three decades of his career, Dumisani played other iconic characters in South African TV series, such as Chester in the Yizo Yizo and Mbodla on Isibaya. However, Dumisani had never been recognized with an award for his work. 
He had also produced TV miniseries, Homecoming (2004), Drum (2004), and documentary Of Journey, Home and Treasure (2008).
Dumisani shares an estranged relationship with his daughter Doja Cat, who claimed that she had never met her father. But, Dumisani had denied the claim.
'Sarafina!'
Dumisani Dlamini is a veteran actor who portrayed Crocodile in the musical drama film and stage play Sarafina! in 1992.  
Sarafina! is based on the same-named musical by Mbongeni Ngema from 1988. The movie cast included Leleti Khumalo, Miriam Makeba, John Kani, Ngema, and Whoopi Goldberg. It was directed by Darrell Roodt and written by Ngema and William Nicholson.
Although it is one of South Africa's most well-known stage plays and movies, Dlamini believed that Mzansi Magic, the South African digital satellite and general entertainment channel, which aired the drama, does not give enough credit to the act that brought many accolades during the 1980s.
In an interview with Times Live, Dumisani shared about how his crew suffered when they came to enact the play in America, "We found ourselves in America. If I remember correctly, we were supposed to be there for six months, but that wasn't the case. The show was extended to a year. You must remember we were very young and some of the girls were crying to go back home."
He also revealed that the show was then renewed for another six years with no "appropriate answers" to what was causing the delay in returning home. Despite the bravery they display while away from their families and friends for years, Dumisani believed South African actors were not given the credit they deserve.
'Yizo Yizo'
Yizo Yizo is a South African television drama that aired on SABC 1 from 1999 to 2004. It began as a contentious and successful TV show about an all-black high school in Johannesburg. In the drama, Dumisani portrayed a ghetto character named Chester. 
The series followed a young victim of rape who is tormented by nightmares and the culprits adjusting to prison while also awaiting their trial. It also shows the conservatism of school culture, an opportunistic teacher-student love affair, and a professor who cannot overcome regional diversity between herself and the students. 
Personal Life
Dumisani Dlamini is married to an American and Jewish painter, Deborah Elizabeth Sawyer. He first met Sawyer when he flew to the United States for Sarafina!. Dumisani chose to settle in the USA after the completion of the movie, and this allowed him to know more about Sawyer. They ultimately got into a romantic relationship and exchanged wedding vows in the early 1990s. 
The couple has two children, and one of them is Amala Zandile Dlamini, aka Doja Cat. 
After 15 years of life in the US, Dumisani felt homesick and returned to South Africa with plans to bring his family over. However, things didn't go according to the plans. 
Relationship between Dumisani Dlamini and His Daughter Doja Cat
Doja Cat is a singer, rapper, composer, and record producer from the United States. She is recognized for her captivating and witty compositions with unconventional lyrics, inspired by deep hip-hop and electronic R&B. She released her debut EP Purrr! in 2014. Her goofy viral hit 'Mooo!' catapulted her to fame in 2018. 
In a 2019 interaction with Fader, Doja revealed that her father was not engaged in her upbringing and remained absent throughout her childhood. He, however, actively responds to her social media messages. About the strange long-distance social media connection with her biological father, she said, "I don't hold grudges against him or anything in any way, but obviously it's a little weird."
However, Dumisani Dlamini had denied the allegations, claiming that he and his daughter have a "healthy relationship," as he revealed to POWER talk, The Profile, in November 2019.
In 2020, Doja made headlines in her interview with the Sarafina! actress Whoopi Goldberg, when she revealed she had never met her father, Dlamini. Whoopi was taken aback by the news and nodded in grief. "Yeah isn't that crazy. And I didn't get to meet him but you did," Doja stated.
In response to the video, Dumisani informed Metro FM's Mo Flava, "I have been looking for my daughter as well. You mustn't forget these Americans. Americans will always want to have something to cause a stir so that she stays in the media and is talked about around the world."
He also claimed Doja's team had obstructed all his attempts to contact her, implying they were afraid of losing her. However, he later seemed to contradict his own remarks.
"She got hold of me. We spoke. We connected. Now, at this time when she is there and on top, she has to grab the whole world['s attention], especially in SA because she is a South African and her daddy is here. It's a made-up thing," he added.