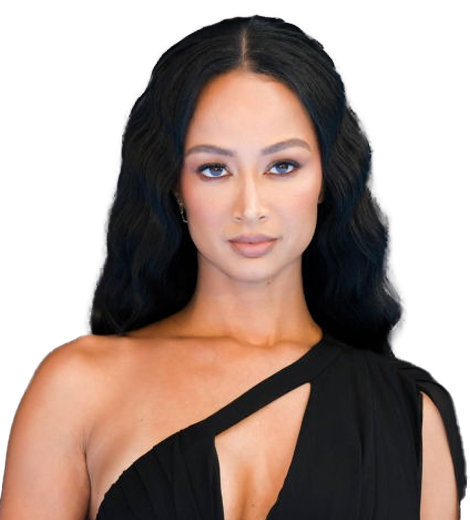 Quick Wiki
Full Name

Draya Michele

Occupation

Actress, Model, Fashion Designer

Nationality

American

Birthplace

Pennsylvania, USA

Birth Date

Jan 23, 1985

Age

38 Years, 4 Months
Cast of 'Basketball Wives LA'
Draya Michele | Biography 2021
Owner of Mint Swim, Fine Ass Girls, Beige and Cocoa, 8 Other Reasons
Draya Michele was a freshman cast member of the VH1 series 'Basketball Wives LA' that premiered on 29 August 2011. It was a spin-off of 'Basketball Wives.' The show follows the lives of a group of women who are all romantically linked to professional basketball athletes. She quickly rose from shy newcomer to fan favorite.
---
Draya Michele rose to prominence as a cast member of the VH1 series Basketball Wives LA. 
Who Is Draya Michele? 
Draya Michele is an American media personality, model, actress, and fashion designer. 
In 2011, Michele was cast as a member of the rookie cast of the VH1 series Basketball Wives LA. In the same year, she made her scripted acting debut in TV One's Will to Love, opposite Keshia Knight-Pulliam and Marques Houston. She starred in the Basketball Wives LA until the show's fourth season in 2015. 
She is the owner of three clothing lines: Mint Swim, a swimsuit line launched in 2011; Fine Ass Girls, an urban girl's fashion line launched in 2013; and Beige and Cocoa, her latest brand, launched in 2016.
Draya is in a relationship with LA Chargers quarterback Tyrod Taylor. She was formerly in a relationship with NFL star Orlando Scandrick from 2011 until 2019, and the two have a son. Draya has another son from a previous relationship during her teenage days.
Early Life 
Draya Michele, full name, Andraya Michele Howard, was born on 23 January 1985 in Reading, Pennsylvania. She was born to an African-American father and an Italian mother.
Television Career 
Besides being known as the reality television star, Michele had showcased her acting skills in many projects, including Will to Love (2011), True to the Game (2016), The Perfect Match (2016), and Bring Out the Lady (2016), Belong Together (2018), LAs Finest (2019) and Be Someone (2021).
'Basketball Wives LA'
Basketball Wives LA was a reality television program that first premiered on 29 August 2011, on VH1. It was a spin-off from Basketball Wives. The show follows the lives of a group of women who are all romantically linked to professional basketball athletes.
In 2011, she appeared in the VH1 series Basketball Wives LA as a freshman cast member. While many viewers were unsure of her role, Michele quickly rose from shy newcomer to fan favorite. 
Soon, the reality show made her a breakout sensation and a controversial figure, showcasing her party-girl demeanor. She appeared in 54 episodes from 2011 to 2015. 
Later, the show was renamed to its original title, Basketball Wives. The casts from both the series were included, and the show went on until the tenth season.
'Doses of Draya'
Michele signed a deal to feature in Doses of Dray, a docu-series that follows her life. The show premiered on subscription streaming service Zeus, owned by an African-American owner. She is the executive producer of the series. 
Doses of Draya is a 10-part series that shows a behind-the-scenes peek at Michele's life as an actor, model, entrepreneur, and social media influencer as she runs her enterprises and hangs out with her close pals. The series has aired 7 episodes as of November 2021.
"I've been on a pretty incredible journey over the past decade, and I'm grateful to my fans who have been with me through the ups and downs," Michele stated and added, "As a woman of color, I couldn't be more excited to be working with Zeus, a Black-owned streaming service, to share my story, and to let people into my daily life in a way I never really have before."
'California Love' 
California Love, a film based on a true story, was released on 18 October 2021. This movie explores a stressful situation emerging out of a love interest between a Jewish woman and a gang boss while confronting racial injustice in the heels of the 1992 riots in Los Angeles. Draya Michele plays Beverly Williams in the movie.
The LA-based production firm, Electric Entertainment owns the production and distribution rights of California Love.
'Be Someone'
Michele made a brief appearance as Mia in about three episodes of the TV series Be Someone in 2021. The episodes inclusive of her feature include 'Bills', 'Nuisances', and 'Perfect Storm'.
Be Someone follows Lavelle Sanders (Jamal Dennis), a former high school football star, as he struggles to maintain his family in a difficult economy. As the storyline proceeds, he is forced to make a decision that may affect his life forever only days before his house is auctioned on.
'L.A.'s Finest'
Michele played Charlotte Hume in two episodes, namely, 'Deliver Us from Evil' and 'Rafferty and the Gold Dust Twins' of the TV series L.A.'s Finest in 2020.
The series is a sequel of the Bad Boys films and follows the narcotics enforcement agent Sydney Burnett (played by Gabrielle Union), the protagonist who gets hired by the Los Angeles Police Department.
'All In'
Michele played Gina in the movie All In in 2018.
The plot centers on an everyday poker night that gets overtaken by an uninvited guest in quest of his lost money. As the night turns violent and the stakes are upped to life or death, five friends divulge secrets of treachery in the movie.
'We Belong Together'
We Belong Together, a movie released in 2018, tells the tale of a former alcoholic college professor who gets captivated by a young, attractive student, only to later discover that she is mentally ill and obsessed. 
Michele stars as Tracy, the captivating college student in this film.
Draya Michele's Clothing Line
In 2011, Michele began her career as an entrepreneur by establishing her first business, Mint Swim, an e-commerce swimwear label. In 2015, Mint made a revenue of over $1 million through its sales. This American swimwear line targets women of all sizes and shapes. 
On the occasion of the 10th anniversary of the brand, she said, "At the time, there weren't a lot of swimwear options, especially online, and I wanted to design a high-quality product at an affordable price point, with styles that could accommodate women with all body types."
In 2013, she launched her second business, Fine Ass Girls, featuring activewear and sleepwear. Then, in November 2016, she launched the third clothing line and luxury lifestyle brand, Beige & Coco. 
In April 2021, with her first foray into fashion accessories, Draya launched the jewelry collection 8 Other Reasons designed by herself.  
Who Is Draya Michele Dating?
As of July 2021, Michele is dating LA Chargers quarterback Tyrod Taylor. In July 2020, Michele's Instagram account featured several images featuring the quarterback, sparking speculation about their new connection.
Her Dating History
Michele first came to the limelight as the girlfriend of a well-known singer and musician, Chris Brown. 
She then dated former NFL star Orlando Scandrick, with whom she had an on-again, off-again relationship from 2011 until 2019. After dating for over two years, the two broke up in May 2015. 
But just a month later, Orlando proposed to Michele with a $400,000 engagement ring when they were out on a date. Remembering the moment, the reality star revealed to People saying, "He got down on one knee and as soon as he started to talk I got nervous and couldn't help but to laugh hysterically. I was laughing and crying at the same time."
In January 2016, she revealed her pregnancy news with Orlando. However, the pair called off their engagement the following month when she was six months pregnant. Talking about the separation, she wrote, "I've been hurt, abandoned, lied on, and disrespected. I've realized you can't change people. And the thing about rough times is, I've survived every single one." A few months later, the couple reconciled. But, unfortunately, they parted ways again in 2019.
Michele welcomed her second son Jru Scandrick on 8 April 2016 in Burbank. Her first son, Kniko, was born in 2002, whom she shares with her teenage love Kniko Sr.
Getting Acting Advice
In an interview with The Undefeated in 2017, Michele answered a few questions on her personal life. In the interview, she said that she tried her hand at acting because she lived in Los Angeles and acting is what people living in LA try at least once. "If you're good at it, you keep doing it, and if not, you move on from it", she stated. 
She also revealed that she took a big piece of acting advice from Jill Scott. "I asked her about acting classes, and she told me how important they've been for her", she said. Additionally, she spoke about her realization of self-empowerment in the interview. To her, it means "being your own boss and making decisions for yourself".