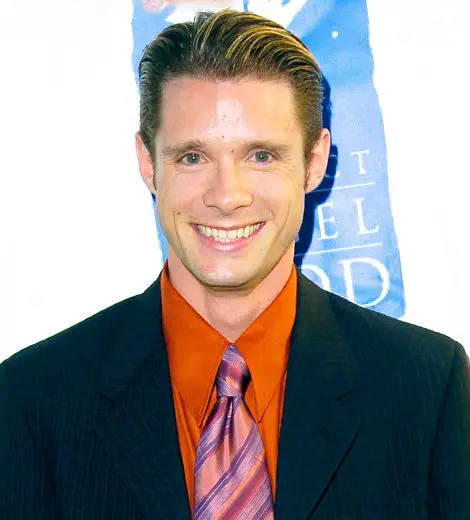 Quick Wiki
Full Name

Daniel John Pintauro

Occupation

Actor

Nationality

American

Birthplace

New Jersey, USA

Birth Date

Jan 06, 1976

Age

47 Years, 10 Months
Cast of the ABC sitcom 'Who's the Boss?'
Danny Pintauro | Biography
Pintauro appeared in the Zoom-based comedy web series, 'The Quarantine Bunch,' in 2020
Pintauro came out publicly as HIV-Positive while appearing in an episode of 'Oprah Winfrey: Where Are They Now?' in September 2015
---
Danny Pintauro is an American actor best known for his role, Jonathan Bower in the romantic comedy sitcom Who's the Boss? 
Who is Danny Pintauro?
Daniel John Pintauro was born on 6 January 1976 in Milltown, New Jersey, to Margaret L. (née Sillcocks) and John J. Pintauro. 
He kicked off his professional acting career as a teenager. Pintauro made his acting debut in the guest role of Paul Stenbeck in the CBS romantic drama television series As the World Turns in the year 1983. The same year, he appeared as Tad Trenton in the 1983 horror thriller film Cujo, based on Stephen King's 1981 novel of the same name. 
Pintauro then portrayed his breakthrough role as Jonathan Bower in the ABC romantic comedy sitcom Who's the Boss? from 1984 to 1992. During that time, he also appeared in the film The Beniker Gang (1984), the television series Highway to Heaven (1987), and the television movies Timestalkers (1987) and Jury Duty; The Comedy (1990). 
In 1994, he took a break from his professional acting to attend Middlesex County College in Edison, New Jersey. He also graduated with a degree in English and Theater from Stanford University in June 1998. 
In July 1999, he performed in the role of a young street hustler Gary in the solo-actor drama The Velocity of Gary (Not His Real Name) at The Duplex Cabaret Theater in Greenwich Village. He also performed in the theatre production of Mommie Queerest. 
Later, he was seen in the 2006 film The Still Life and also guest-starred in a couple of television series in 2010. 
In addition to his acting career, Pintauro worked as a sales representative for the multinational multi-level marketing company Tupperware. He also worked as a manager of a restaurant in Las Vegas.
In 2020, he appeared in The Quarantine Bunch, a Zoom-based comedy web series that featured former child actors.
As of 2021, Pintauro works as a technician for the veterinary clinic Firehouse Animal Health Center in Austin, Texas. He also teaches acting at the Georgetown Palace Academy.
Wedding
In 1997, Pintauro publicly came out as gay during an interview with the National Enquirer tabloid, according to People. Pintauro dated Spanish singer Wil Tabares for a year before getting engaged in 2013 in Palm Springs. The two got married on 3 April 2014 in a small beach ceremony at Dana Point, California. 
Tabares had intended to live stream their wedding but failed due to technical troubles. The couple lived in Las Vegas when they got wedded, as per Pintauro's Facebook page. As of August 2021, they live in Austin, Texas.
Coming Out as HIV-Positive
Pintauro came out publicly as HIV-Positive while appearing in an episode of Oprah Winfrey: Where Are They Now? in September 2015. Later, in People's series of videos titled Stories of Positivity, Pintauro shared the struggles he faced with his health condition just before the show. 
"That half hour before the interview I was on the verge of vomit, tears, sweating; it was a moment," he said. Pintauro also credited Winfrey for encouraging him to confidently open up as an HIV-Positive. 
He also shared that he was nervous during the initial days of the diagnosis that people would connect his name with the virus, but he enjoyed going public with his condition later. 
After disclosing about being HIV-Positive, he received "wonderful" responses from people. Many people even called him "brave" for being open about his journey, as per the August 2021 article by People. 
"All of that was nothing but positive, so I'm happy about that, for sure," he said to People.
Pintauro noted he contracted HIV in February 2003 through a sexual encounter when he got addicted to methamphetamine. His experiences of sexuality and crystal meth abuse led him to launch a campaign to raise awareness about the problem in the gay community.
In June 2016, Pintauro participated in Stonewall Celebration in Austin, Texas, with his partner, Tabares. 
Net Worth
According to Celebrity Net Worth, Pintauro has a net worth of $600 thousand.