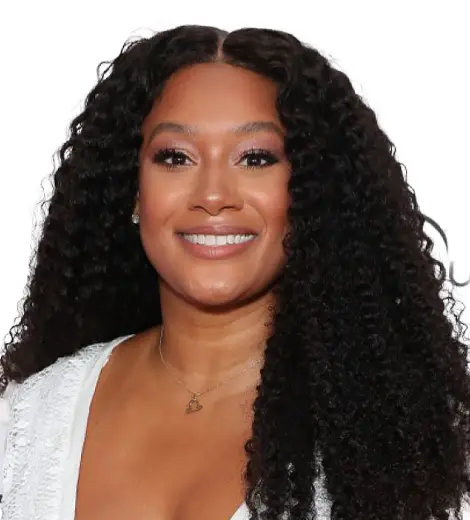 Quick Wiki
Full Name

Crystal Hayslett

Occupation

Former Musician, Former Production Assistant, Costume Designer, Actress

Nationality

American

Birthplace

Tennessee, USA

Birth Date

Oct 18, 1981

Age

41 Years, 7 Months
Quotes
"It was a goal to go from styling to acting. I got to a point where I had to decide if I [wanted to] pursue acting or be a costume designer and Tyler's stylist because I couldn't do both."
Cast of the TV series 'Sistas'
Crystal Hayslett | Biography
Hayslett owns a YouTube channel 'Crystal Renee'
Crystal Hayslett joined as a recurring role in season 1 of the BET's series 'Sistas,' in 2019. She became the regular cast and portrayed Fatima, a paralegal at a prominent law office in season 2. She also appeared as a regular in season 3. Throughout the three seasons, Hayslett had appeared in 37 episodes as of August 2021. Hayslett also worked as a stylist for season 1.
---
Crystal Hayslett is an actress best recognized for her role as Fatima in the BET series 'Sistas.'
Who Is Crystal Hayslett?
Crystal Hayslett is an American actress and costume designer. She began her on-screen career in 2010, appearing in a minor role in the short film The Time. Hayslett rose to fame after the portrayal of Fatima in Tyler Perry's BET sitcom Sistas in 2019. She was also featured on BET's The Game and Stomp The Yard 2.
Before landing a major role in Sistas, she worked at Tyler Perry Studios as a production assistant. In a couple of years, Crystal swiftly rose through the ranks, from assistant to costume designer to Perry's stylist. Hayslett also has a YouTube channel where she posts beauty and health videos.
Early Life & Education 
Crystal Hayslett was born on 18 October 1981. She grew up in the small town of Martin, Tennessee. She earned a Bachelor's degree in Mass Communications/Public Relations from the University of Tennessee at Martin. 
Hayslett was passionate about fashion from a young age. She used to ask her parents to drive two hours to Memphis to go shopping. To keep her updated on the latest styles and trends, Crystal used to accompany her mother to the grocery store and pick up fashion magazines like InStyle, Elle, Ebony, Vogue, Essence, and Vibe.
Early Career
While studying at the University of Tennessee, Crystal landed a job at a local boutique. There, she gained experience as a stylist and learned about clothing and styling.
Post-graduation, she relocated to Washington, D.C., to serve for the Capitol Hill, United States Senate for a while. There, she got a chance to work for then-Senator Barack Obama during his first presidential campaign. However, in an interview with Essence, she revealed that she wasn't interested in politics, so she left the job and D.C. in 2019. She soon moved to Atlanta to pursue a career in music and acting. 
However, after some time, Hayslett faced difficulties working in the musical field. "Music went pretty well for me at first. But I started hitting roadblocks–trouble finding a good production team, trying to get closer to a deal, etcetera," she explained. 
While Hayslett performed shows across the city, her friend and stylist complimented her for her fashion sense. She soon began looking for an opportunity to become a stylist and eventually earned a production assistant position at Tyler Perry Studios (TPS) in 2012. 
Within a few years, Crystal gradually moved to the studio's costume design department before getting appointed as Tyler Perry's stylist. Though she auditioned for different roles at TPS, Perry had never seen her act and was unaware that Hayslett was interested in acting. She was even rejected at the TPS auditions. 
Crystal Hayslett had spent seven years at the TPS working in different positions before she got the role of Fatima in Sistas. 
On-Screen Career
Hayslett first appeared on screen as a Waitress (as Crystal Renee) in a 2010 short film titled This Time. In 2018, she also appeared in the movie The Choir Director as Gale. She was also featured on BET's The Game and Stomp The Yard 2. As a costume designer, she had worked in the movies like Young Dylan (2020) and Nobody's Fool (2018).
'Sistas'
Created, written, and executive produced by Tyler Perry, Sistas, is an American comedy-drama television series aired on BET. The first season premiered on 23 October 2019, and the second was on 14 October 2020. Unlike season 1, season 2 was viewed by a larger audience on BET. It witnessed a 14% increase in total viewers when compared to its season 1 premiere. BET renewed the series for a third season in January 2021, and the same was premiered on 9 June 2021.
Hayslett portrays the role of Fatima in Sistas. Fatima is a paralegal at a prominent law office. Her devotion to Andy Barnes (played by KJ Smith) leads to stronger connections in personal and professional life. 
She had a recurring role in Season 1 and was promoted as a series regular from Season 2. Throughout the three seasons, Hayslett had appeared in 37 episodes as of August 2021. Hayslett also worked as a stylist for season 1. 
In an interview with Page Six, she revealed, "It was a goal to go from styling to acting." Hayslett further explained she had reached a point where she had to choose between acting and costume designing. From 2015 to 2019, she did not audition for any roles. She had kept acting on the back foot until Sistas in 2019.  
The wish to act, which Hayslett had left untried, came out while discussing the Atlanta dating scene of the series in the writer's room. "I started seeing the scripts and said, 'I want to do this.' Tyler called me and said, 'I got something for you,' and he offered me the role. And it came back full circle," she shared.
YouTube Channel 
Hayslett has a YouTube channel titled 'Crystal Renee,' in memory of her first on-screen role. In her channel, Hayslett makes videos about makeup, hair styling and shares health tips. She has 2000 subscribers as of 12 August 2021.