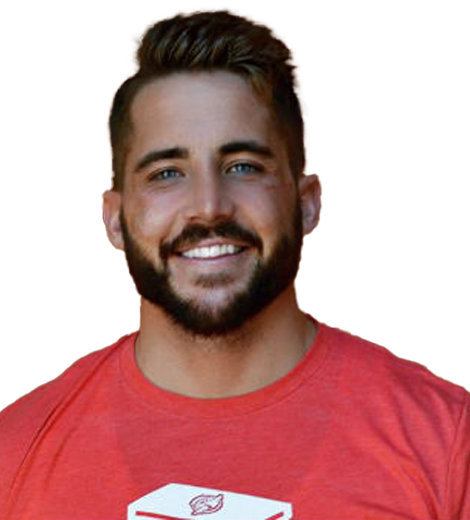 Quick Wiki
Full Name

Clayton Jennings

Nationality

American

Birthplace

Indiana, USA

Birth Date

Dec 05, 1987

Age

35 Years, 9 Months

Occupation

Evangelist, Author, Musician
Quotes
"I have battles I wouldn't want you to see. And I always want people to see the best in me, but if you see the real me, you see something inside that's been festering. For 10 years, it's been eating me alive."
Evangelist, Author, Poet, Founder of Clayton Jennings Ministries
Clayton Jennings | Biography 2021
Jennings owns a merchandise line Clayton Jennings Apparel
Clayton Jennings established his ministry in 2008 as an evangelist. He then began preaching Gospel teachings at public events, and in two years, he joined YouTube and posted videos on the same. This new generation gospel preacher takes on digital media to spread the message and words of Jesus Christ. Jennings has millions of people following him on Facebook, Instagram, and YouTube. He has also written several books, released albums, produced and directed a superhit Christian feature film 'Strayland.'
---
Clayton Jennings is an evangelist and actor who came to prominence after releasing his self-produced film 'Strayland' in 2011.
Who Is Clayton Jennings?
Clayton Jennings is an American evangelist, author, poet, public speaker, YouTuber, and actor. 
Jennings began his ministry in 2008 and performed at various public events, and preached Gospel teachings. He is a visionary among the next generation of Gospel preachers who is particularly known for using digital media and public gatherings to spread the message and teachings of Jesus Christ. He has millions of followers across social media platforms, like Facebook, Instagram, and YouTube.
He is best recognized as the author of several books, including 'Twenty Tales,' and 'Willow Trees in Warfare.' Jennings is also known for starring in his self-produced and directed movie, Strayland, released in 2011.
Jennings has been married to his long-time girlfriend, Jamie Jennings, since March 2016. The couple has a three-year-old daughter, Arabelle Rose Jennings, who suffers from Type 1 Diabetes.
Early Life
Clayton Jennings was born on 5 December 1987 in Indiana, the United States of America. His father, Don Jennings, serves as a senior pastor. Jennings is the fifth generation of preachers and missionaries in his family.
Career
In 2008, he established his ministry as an evangelist. He then began preaching Gospel teachings at public events, and in two years, he joined YouTube and posted videos on the same. He has over 778 thousand subscribers on the platform as of 9 August 2021. With millions of people following him on Facebook, Instagram, and YouTube, Jennings eventually became a social media sensation.
Some of his popular videos include 'Please Don't Kill Yourself || Spoken Word,' 'Dear Anxiety || Spoken Word,' 'JESUS IS || Spoken Word,' 'Goodbye Ava || Spoken Word,' 'PLEASE DIE || Spoken Word,' 'Talking to Walls || Spoken Word,' 'Get This Off My Chest || Spoken Word,' and 'Dear Anxiety Lyric Video.' 
In 2011, he starred in his self-produced and directed Christian feature film, Strayland, which became a hit. From early 2014, Jennings has been giving speeches in churches, colleges, and conferences worldwide and hosting his own crusade and resurrection meetings. On a daily basis, he receives around twenty booking requests from all over the world.
Jennings also owns a merchandise line called Clayton Jennings Apparel, where he sells different kinds of clothing and accessories with a religious message. According to the official website, the amount received from selling every item is used to help the people in Uganda through The Vine Ministries.
Career as an Author 
Jennings is also an author of novels like Twenty Tales and Willow Trees of the Warfare. Jennings' Willow Trees in Warfare is a 290-page novel about a family's effort to stay together, preserve their faith, and live to tell the tale after foreign armies invade America. His Twenty Tales is a 283-page book about a man who has suicidal thoughts and has an unexpected experience with an angel.
He has also written books like Mystery of Handshake: The Rest of My Story, Blessings from "The School of Hard Knocks," Handshake: Code of the West, and Jesus Over Everything: Letting Go of What You Cannot Keep to Gain What You Cannot Lose.
Music Career
Jennings is a musical artist who has released songs and albums related to Christianity and Jesus Christ. In 2018, Jennings released three albums titled 30 at Thousand, Goodbye Religion, and Reflections. In 2019, he launched his new album titled King Nothing. Most recently, his 9 track poetry album titled Unread Letters was released in 2021.
He has also sung popular singles including 'Jesus Is,' 'Till We Die,' 'Treasure Chest,' 'Begin Again,' 'Help Me Jesus,' 'Mental Illness,' 'Living Hell,' and many more. 
Sex Scandal/ License Revoked
In November 2016, Jennings announced that he would cancel all his speaking tours and step down from his ministry responsibilities to focus on marriage, renewal, and spiritual formation.
After multiple women came up with allegations that Jennings had engaged in illicit sexual contact with them, he stood down from his ministry in December 2016. At the time, his team told The Christian Post that the only crime he had committed was fornication, and Jennings had openly accepted committing it while in ministry.
Jennings confessed in a video posted to his Facebook page. "I wish you all didn't have to see me right now here at my lowest, but I wanted you to know this. I've sinned a lot, and I could tell you the stories of my past sins but I wouldn't know when to stop. I had sex before marriage and I broke a lot of hearts. But that's not even the worst part. Sometimes it was during seasons of ministry."
According to the Christian News Network, as many as six women complained that they had a romantic involvement with Jennings. They stated that Jennings duped them into committing sexual sin. According to reports, Jennings gave drinks to the women and used his position as a pastor to seduce them. His ministerial license was also withdrawn by his home church, Harbour Shores, where his father, Don Jennings, serves as senior pastor.
The Comeback
A month later, in January 2017, he said in a YouTube video that he has "so much planned for next year." Jennings disclosed that his publisher would soon release his new book. He is now working on another "big reveal."
The elders of Jennings' church, Harbour Shores Church in Cicero, Indiana sent an email to the congregation, expressing their unhappiness with Jennings' choice. "Clayton has chosen to reject instruction from God's Word regarding spiritual leaders and repentance, as well as the counsel of HSC yet intends to continue in ministry,"
The elders also stated that they attempted to rebuke Jennings on several occasions, but he refused to agree to their authority and left the church. They advised the church to stay away from Jenning's actions and pray for his forgiveness and realization.