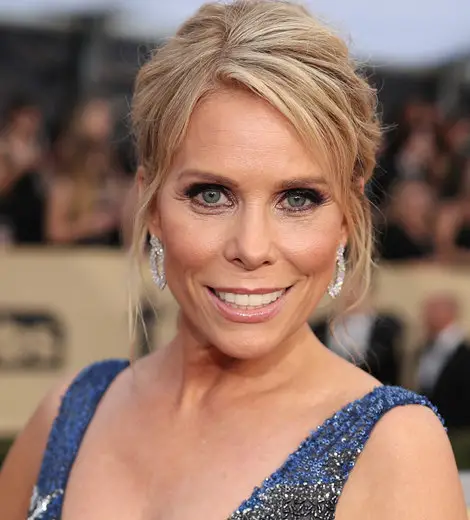 Quick Wiki
Full Name

Cheryl Hines

Occupation

Actress, Producer, Director

Nationality

American

Birthplace

Florida, USA

Birth Date

Sep 21, 1965

Age

58 Years, 0 Months
Cast of HBO series 'Curb Your Enthusiasm'
Cheryl Hines | Biography
Cheryl Hines received the 'Gracie Allen Awards' in 2005, 'Walk of Fame,' awards in 2014 and 'Women's Image Network Awards' in 2010
During the Covid pandemic, Hines' second husband Kennedy stood as a figurehead of anti-vaccine sentiments. He repeatedly posted content against vaccinations and spread false information regarding Covid vaccination.
---
Cheryl Hines is an American actress best known for playing Cheryl on the HBO series 'Curb Your Enthusiasm.'
Who is Cheryl Hines?
Hines is an actor, producer, and director. She waited tables, worked as a television reporter, telephone operator, and also served as the personal assistant to American actor and filmmaker Rob Reiner before establishing a successful reputation in the film industry. All this was after she moved to Los Angeles to pursue a career in acting.
At Los Angeles, she studied at the Groundlings Theater and got introduced to comedy. Lisa Kudrow, who played Phoebe from the sitcom Friends, was her first acting instructor. She also learned how to improvise and produce funny sketches.
Early Life
Cheryl Hines was born on 21 September 1965 in Miami Beach, Florida, to parents Rosemary (Graham) and James Hines. She was raised in Tallahassee, Florida, under the heel of a Catholic household with two brothers and a sister. She is 56 years as of October 2021.
Education
Hines was a member of the Young Actors Theatre throughout her high school years at Tallahassee. Furthermore, she is an alumnus of Tallahassee Community College and Lively Technical Center in Tallahassee. 
She went on to graduate from West Virginia University, studied theater, radio, and television from Florida State University, and obtained Bachelor's degree in Communication with a minor in Theatre Performance from the University of Central Florida.
As an Actor
Hines has been a part of the film industry for over two decades. She is credited for her cameo appearances in the TV series Swamp Thing (1993), Suddenly Susan (1998, 1999), Friends (2000), So Little Time (2002), Everybody Loves Raymond (2002), Wanda at Large (2003), Hannah Montana (2009), Young & Hungry (2016), Nobodies (2016, 2018), The Conners (2020), and more. 
She was also seen in the TV movies Larry David: Curb Your Enthusiasm (1999), A Tale of Two Wives (2003), Herbie Fully Loaded (2005), Waitress (2007), Henry Poole Is Here (2008), Labor Pains (2009), and Turkey Drop (2019), among others.
Hines has also done plenty of TV series as a recurring cast, including Father of the Pride (2004-2005), In the Motherhood (2009), Suburgatory (2011-2014), Son of Zorn (2016-2017), 3Below: Tales of Arcadia (2018-2019), and This Close (2018-2019). She is famous for portraying Cheryl David in the TV series Curb Your Enthusiasm from 2000 until 2021.
As a Producer 
Hines executive produced 8 episodes of the TV series Campus Ladies (2006-2007), three episodes of Hollywood Residential (2008), and the TV series Hollywood Help (2013).
As a Director
She directed one episode each of four TV series, namely, Campus Ladies (2006), Serious Moonlight (2009), Hollywood Help (21013), and Curb Your Enthusiasm (2020).
Awards
Hines was nominated for a 'Primetime Emmy Award' under the 'Outstanding Supporting Actress in a Comedy Series' category for Curb Your Enthusiasm (2000) twice, in 2003 and 2006. She was also nominated for a 'Critics' Choice TV Award' in 2012 and three 'Screen Actors Guild Awards' in 2006, 2010, and 2018. 
She received the 'Gracie Allen Awards' in 2005, including the 'Walk of Fame,' awards in 2014 and the 'Women's Image Network Awards' in 2010.
Net Worth
According to Celebrity Net Worth, Hines has amassed a net worth of $16 million as an actor, director, and producer. 
Who is Cheryl Hines married to?
Hines shared marital vows with ex-husband Paul Young, the founder of the management firm Principato-Young, on 30 December 2002. They have a daughter Catherine Rose Young, born on 8 March 2004. The couple filed for divorce on 20 July 2010.
Shortly after the divorce, Hines started dating environmental attorney and anti-vaccine activist Robert F. Kennedy Jr. in 2011. They got engaged in late April 2014 and married on 2 August 2014.  
Vaccine-skeptic husband
During the Covid pandemic, Kennedy stood as a figurehead of anti-vaccine sentiments. He repeatedly posted content against vaccinations and spread false information regarding Covid vaccination.
According to a spokesman from Facebook, Kennedy was suspended from Instagram in February 2021 for regularly spreading wrong information about Coronavirus and vaccinations. 
Cheryl Hines Plastic Surgery
Hines' cosmetic surgery accusations have been a matter of talk since her debut appearance on TV. After the images of her adolescent age and her thirties were released on the internet, media began comparing her before and after photographs. The media soon pointed out significant differences in wrinkles, facial lines, eyelids, and lips and claimed the actress might have been under the knife.
However, Hines has not openly come up and clarified about it.