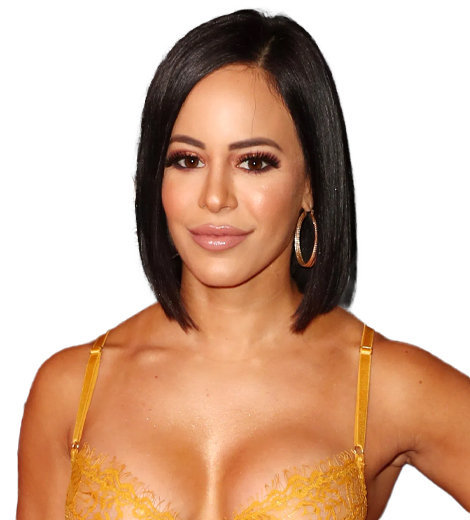 Quick Wiki
Full Name

Charly Arnolt

Occupation

Sports Broadcaster, Podcast host

Nationality

American

Birthplace

Indiana, USA

Birth Date

Jul 14, 1987

Age

36 Years, 4 Months
Reporter and Moderator of ESPN shows
Charly Arnolt | Biography 2021
Her ring name was Charly Caruso when she worked at WWE as a backstage interviewer.
Arnolt joined ESPN in September 2018 as a part-time employee and has hosted select episodes of SportsCenter updates and SportsCenter on Snapchat. She is currently a backup host and a moderator for ESPN's traditional show 'First Take.' Arnolt, Kimberley A. Martin, and Elle Duncan debuted the weekly ESPN podcast 'First TakeHer Take,' in January 2021. The podcast concept is similar to the television show, but it enables them to talk about other aspects of their lives and cultures.
---
Charly Arnolt is a sports reporter and moderator on ESPN's signature shows, including 'First Take' and 'SportsCenter.' 
Who Is Charly Arnolt?
Charly Arnolt is a well-known American sports reporter and television personality. Arnolt joined ESPN in September 2018 and has since hosted several editions of First Take, SportsCenter updates, and SportsCenter on Snapchat. She is also prominently recognized for her time as a sportscaster and backstage commentator with WWE (World Wrestling Entertainment), where she worked under the ring name Charly Caruso from 2016 until April 2021.
Arnolt has worked as a reporter in many environments and has dabbled in various fields, including news reporting and criminal justice coverage, while working at WSAZ-TV in West Virginia and WDAF-TV in Kansas. 
She finally discovered sports journalism was her favorite ground. During her career at ESPN, she has covered top leagues, including NFL and NBA. She has also tried her hands on comedy and is a social media sensation. Arnolt's free-time activities include CrossFit, training in Muay Thai, and playing flag football and sand volleyball.
Early Life and Education
Charly Arnolt was born on 14 July 1987 in Indianapolis. Arnolt was highly interested in sports since her childhood. She was raised with the perfect combination to become a sports journalist, as her father was a newspaper reporter and her mother was a pathologist. 
Her parents divorced, and her mother did most of the parenting when she was young, becoming an inspiration to Arnolt. She was not only interested in sports journalism, but she was also an athlete. 
During her school and college days, Arnolt was involved in a variety of sports, including soccer, basketball, volleyball, weightlifting, gymnastics, and softball. She wanted to become a professional volleyball athlete, but her dreams shattered when she failed to grow taller than 5'2".
Arnolt went to North Central High School in 2002 and graduated in 2006. After graduating from high school, she attended the American University in Washington, D.C. In 2010, she graduated with distinction in Broadcast Journalism with minors in Criminal Justice and Spanish.
Career Beginnings
After graduating, Arnolt worked at local stations around the country and planned to quit broadcasting for a career in public relations or the law. However, job offers continuously enticed her back. 
In May 2008, she started working as a News Intern for CBS Owned and Operated WFOR-TV. During the four-month internship, Arnolt backed the reporters in the field, produced and edited news packages using creative scripts and stand-ups, did interviews, and pitched story ideas.
Between 2008 and 2009, Arnolt did a couple more intern jobs as a Sports Intern and News Intern at FOX Owned and Operated WTTG-TV, and as a Production Intern at VIVA VIDEO. After gaining knowledge and skills, she joined WSAZ-TV in September 2010 in West Virginia as a Multimedia Journalist and worked there for nine months. She also worked as a freelance reporter for a few months after quitting the job.
In November 2011, Arnolt joined FOX Network as Morning Live Reporter for WDAF-TV, Kansas. During her two years tenure, she reported live from the field twice an hour from 4:30-10 am.
Arnolt also tried her hand at covering criminal justice-related stories before deciding it wasn't her cup of tea. She then gained a career in entertainment journalism. Arnolt co-hosted the nationally syndicated radio show The Bob and Tom Show, doing a comical discussion on news and sports. After that, she became the presenter of her own web show, BackTalk Ball, which blends sports, entertainment, and comedy.
Career at WWE
In 2016, the reporter made her WWE debut. Her curriculum vitae were given to the WWE Senior Director of Talent Relations by a close friend who provided her backstage ticket to a WWE event in her hometown. When a role became available, she auditioned and was hired as the backstage presenter and reporter. 
Arnolt was widely popular as Charly Caruso, her ring name, back then. She became a backstage interviewer of WWE's greatest moments, including WrestleMania, RAW, and Summer Slams, and so on. 
"The spectacle that you witness watching WWE as a fan is what it's like when you work there," Arnolt stated about the excitement of her job. "It's insane. There were many times I would be at work and go, 'Wait, is this really my job? This is crazy.' It really is just as wild working there as you would expect it to be as a fan," she added.
As much as she loved her job there, she quit WWE in April 2021 for a better reason, to join ESPN as a full-time reporter.
Career at ESPN
Arnolt joined ESPN in September 2018 as a part-time employee and has hosted select episodes of SportsCenter updates and SportsCenter on Snapchat. After a couple of months, when someone in the talent department questioned her about what she wanted to do at the network if she had a choice, Arnolt offered to host First Take and worked as the presenter for the first time.
She is also a fixture on ESPN+'s SportsNation daily morning show and other digital broadcasts on the industry-leading sports streaming platform. In January 2021, Arnolt and co-hosts Kimberley A. Martin and Elle Duncan debuted the weekly ESPN podcast First Take Her Take. The weekly presentation follows the same concept as the television program but enables the trio to talk about other aspects of their lives and cultures.
In April 2021, she landed a full-time job at the ESPN Network and served as a multi-platform presenter and reporter contributing to several of ESPN's trademark shows.