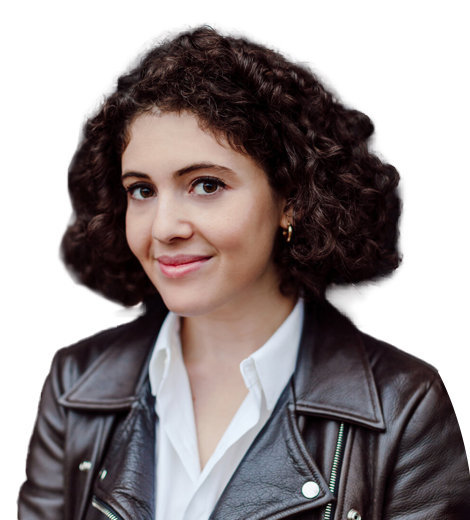 Quick Wiki
Full Name

Charlotte Alter

Occupation

Journalist

Nationality

American

Birthplace

USA

Birth Date

1990 (Exact birthday undisclosed)

Mother

Emily Lazar

Father

Jonathan Alter

Parent's Occupation

Former journalists

University

Harvard University

Education

Graduated

Relationship Status

Married

Husband

Mark Chiusano

Wedding Date

18 May 2019
National Correspondent for TIME Magazine
Charlotte Alter | Biography
Alter published a political book 'The Ones We've Been Waiting For: How a New Generation of Leaders Will Transform America,' in 2020
Charlotte Alter has been surrounded by journalists throughout her life. Her father, Jonathan Alter, was a correspondent, political analyst at NBC News, MSNBC, co-produced and co-directed HBO documentary, and had penned a few New York Times best-selling books. Her mother, Emily Jane Lazar, was a Co-Executive Producer at The Colbert Report, producer in CNN. She has been employed as a Special Projects Producer at CBS Sunday Morning since 2017. Her husband, Mark Chiusano, a writer and journalist, is the editorial board member and an occasional podcast producer at Newsday.
---
Charlotte Alter is a National Correspondent for TIME magazine.
Who is Charlotte Alter?
Charlotte Alter is a journalist and writer. She has been serving as a National Correspondent for TIME magazine since 2017. Before this, she worked in media firms such as Superfine Picture Company, HBO, and Sirius XM Radio Inc. 
Alter graduated from Harvard University with a degree in English Language and Literature/Letters in 2012. She was a part of The Crimson Newspaper, the Advocate Literary Magazine, and Harvard Radcliffe Dramatic Club at Harvard.
Alter worked as an assistant to the Showrunner/Girls at HBO from 2012 to 2013. She was then recruited as Production Secretary Intern by Superfine Picture Company for three months in 2013, from April to June. After that, she co-hosted Sirius XM Radio Inc. in 2015 and has been continuing the job to date. 
Furthermore, she has been an employee at TIME since 2014. She joined as the Staff Writer and retained the position until 2017, when she became TIME's National Correspondent in October 2017. 
As a National Correspondent, Alter concentrates on content-writing, magazine features and coordinates with the video team to create impactful video content. She has also written editorials on the 2016 presidential election, 2018 election, and the 2020 Democratic primary and general election. 
 Alter usually writes on female political participation, women's march, anti-Trump resistance, youth engagement in social movements, including activism against gun crime and climate change, and false propaganda. Her writings have been published in the Wall Street Journal, The Washington Post, and the New York Times.
She has also authored the 2020 political book, 'The Ones We've Been Waiting For: How a New Generation of Leaders Will Transform America.'
She Followed Her Parents' Footsteps
Charlotte Alter is the daughter of journalist parents Jonathan H. Alter and Emily Jane Lazar. Her parents got married on 18 October 1986.
Jonathan Alter, her father, worked as a correspondent and political analyst at NBC News and MSNBC since 1996. He is also active in television production. In 2019, he co-directed the Emmy award-winning HBO documentary, Breslin and Hamill: Deadline Artists. 
Emily Jane Lazar, Charlotte's mother, was a Co-Executive Producer at The Colbert Report from 2005 until 2014. She also worked as a producer in CNN from 2000 to 2005 and Associate Producer from 1982 to 1995. In addition, she has been employed as a Special Projects Producer at CBS Sunday Morning since 2017.
Alter and her Father, Jonathan Alter, was Featured in 'Fridays with Frank'
Jonathan Alter is a best-selling author, political commentator, documentary filmmaker, columnist, television producer, and radio host.
Jonathan has worked for NBC News and MSNBC as a contributing correspondent and political analyst since 1996. He won the 2020 'Emmy for Best Historical Documentary' for his work on the HBO documentary Breslin and Hamill: Deadline Artists, which he co-produced and directed. 
Moreover, Jonathan has interviewed several presidents and heads of state. He also covered the 2020 presidential campaign for the tenth time in print, television, and the internet. He has penned a few New York Times best-selling books, 'The Center Holds: Obama and His Enemies,' 'The Promise: President Obama, Year One,' and 'The Defining Moment: FDR's Hundred Days and the Triumph of Hope.'
In 2021, The Frank Church Institute hosted the virtual program Fridays with Frank, a series of lectures on timely topics featuring Alter and his father, Jonathan Alter, in discussion with Bob Kustra, former Boise State President.
'The Ones We've Been Waiting For: How a New Generation of Leaders Will Transform America.'
Alter is the author of the 2020 political book, 'The Ones We've Been Waiting For: How a New Generation of Leaders Will Transform America,' published on 18 February. In her book, she looks at how young political leaders govern differently than their predecessors and how they could lead the public out of the current state of political hopelessness. She offers a ray of hope for a brilliant new generation of political leaders and what America would potentially look like when they take power.
In 'The Ones We've Been Waiting For,' Alter also explains how dealing with 9/11 as teenagers, occupying Wall Street and protesting with Black Lives Matter, supporting in Iraq and Afghanistan, and making their way into a financially flawed political system has molded the people who will govern the future.
Moreover, according to the book description, Alter provides a detailed look at how this generation governs differently than their elders, from progressive firebrand Alexandria Ocasio-Cortez to Democratic presidential hopeful Pete Buttigieg to Republican up-and-comer Elise Stefanik.
She shows how millennials have already revolutionized technology, commerce, and media and empowered this generation's major social movements.
Alter Met her Husband in the Harvard Freshmen Dorm's Laundry Room
Alter is married to Mark Chiusano, a writer and journalist with whom she has one daughter named Rose Jane Chiusano. The book 'Marine Park,' written by Mark Chiusano, received a nomination for the 'PEN/Hemingway Award.' Chiusano is also the editorial board member and an occasional podcast producer at Newsday.
Chiusano is the son of Brooklyn residents Mary and Ken Chiusano. His mother is an adjunct math instructor at Brooklyn College and works as the program manager for Star, an Early College High School. When he retired, his father was the English department chair at Bishop Ford Central Catholic High School in Brooklyn.
Alter, and Chiusano exchanged vows on 18 May 2019 in the backyard of her parent's home in Montclair, New Jersey. Amanda Claybaugh, who had recently become a Universal Life minister, officiated the ceremony, including Jewish traditions.
The couple met in the laundry room of their freshman dorm at Harvard in 2008. However, they didn't start dating until their senior year of 2011, when they both enrolled in a coming-of-age novel seminar taught by the same professor. Moreover, they graduated with honors, Alter with a cum laude, and Chiusano with a magna cum laude.
On 18 May 2021, Alter shared a picture with her husband on their second wedding anniversary. She captioned the post, "Happy anniversary @mjchiusano. As of today, we've been married for YEARS (2).
The pair currently lives in New York City. 
Alter got the COVID-19 Vaccine While Pregnant
Alter explained on the Time website in 2021 that when President Biden announced in March 2021 that COVID-19 vaccines would soon be accessible to all Americans, she and her husband, Mark Chiusano, decided to put their plans to start a family on hold. 
The couple decided to get their vaccines first, then return to being pregnant once the COVID situation had passed. However, it was too late, and Alter had already become pregnant.
Alter was both thrilled and anxious. She had made up her mind to get the vaccine, but getting it while pregnant was different. 
The CDC had not yet granted full-throated advice that pregnant women get the vaccine. Instead, the agency essentially told her, "it's up to you," urging women to discuss it with their health care providers. Moreover, Alter's doctor was also not pushing her one way or the other. When she asked her, she said, "sure, if you want!"
Alter was concerned that pregnant women had been excluded from the vaccine's early clinical trials. However, she also believed she was at low risk of contracting COVID-19 because she had it the year before and found it easy to distance herself from others while working from home socially.
However, she knew well that reinfection can occur and that contracting COVID-19 while pregnant is extremely dangerous. Pregnant women with COVID-19 are more likely to develop serious illness, leading to critical complications for mothers and babies, such as preterm birth and other negative pregnancy outcomes.
Alter hesitated and was surprised at herself during those perplexing months in the early stages of her pregnancy and the beginning of the vaccine deployment. However, she was not against vaccines as she had received every childhood vaccine available and planned to fully vaccinate her child when she was born.
She didn't believe the hoaxes about vaccines that circulated in some corners of the internet. Instead, alter felt in vaccines because children have been treated against polio, measles, mumps, and other diseases for generations, and the results have been positive.
Her fear of taking the COVID-19 vaccine while pregnant stemmed from her "faith in the tried-and-true nature of older, more familiar vaccines." Nonetheless, Alter began to consider, "What if there were unforeseen effects down the line? What if, for example, I got the vaccine and our daughter developed birth defects as a result?," even though there is no evidence that the vaccine increases the risk of congenital disabilities.
Alter eventually called her family, friends, and relatives to get their advice. However, her first call was to a close friend, a health reporter, and editor who has written extensively about COVID-19. 
Alter's friend claimed that all of the studies concluded the vaccines were safe and effective for pregnant women and that the research revealed nothing alarming. Her friend forwarded Alter links from credible researchers, explaining that pregnant women were not included in the early vaccine trials. Moreover, the pregnant healthcare workers had received the vaccine, experienced no side effects, and passed at least some immunity to their children. As a result, her friend's recommendation was to get the vaccine. Alter then dialed her uncle's number, a doctor who had spent decades working in public hospitals in the Bay Area and had pioneered the field of social emergency medicine. 
According to her uncle, the vaccine doesn't even get close to the baby and mostly stays near the injection site, in the arm, and then flushes out of the system in a few days.
He also stated that pregnant women receive a variety of vaccines regularly and that he could not think of a particular occurrence in which a vaccine had been proven to cause problems with the pregnancy or harm the baby. Therefore, his advice was also to get the vaccine.
After that, Alter called her mother's oldest friend, an obstetric ultrasound specialist. She explained it was unrealistic to prove a negative: for scientists, the absence of evidence is the closest thing to proof of absence. 
Alter demanded a study that stated, "we have proof this won't happen," but her mother's friend explained that is not how science works. She said that when researchers say they have no evidence of negative effects, it's the best language they have to rule out something.
Despite this, she advised Alter to wait until the end of the first trimester for her reassurance, as most miscarriages and congenital disabilities occur during the first trimester. Her suggestion was to take vaccines after waiting for a couple of weeks.
Eventually, Alter received her first dose of the Pfizer vaccine in May 2021, in the last week of her first trimester, and the second dose a few weeks later. However, the CDC had not yet announced its recommendation that all pregnant women get vaccinated at the time.
She mentioned she was more nervous than she expected to be on the shot day. But then she remembered that the smartest. Alter realized her mind was torn between her "irrational fears, rooted in science-fiction paranoia, and the sound advice of trusted, experienced medical professionals and health experts," whose recommendations were based on research by some of the world's leading scientists.
Since then, her pregnancy has been eventful, and her baby appears to be healthy. In addition, she could see friends and family who had been vaccinated and were even exposed to COVID-19 at least once but did not contract the virus. 
Alter said she was relieved when the CDC updated their guidance to encourage more pregnant women to get vaccinated.
Alter explained, "It wasn't an easy decision. But every day since I got that first shot, I've been secure in the knowledge that getting vaccinated during my pregnancy was the right choice, for me and for my baby."
On 1 December 2021, Alter shared a photo of her newborn baby, Rose Jane Chiusano, on Twitter and wrote, "A week ago, @mjchiusano and I welcomed Rose Jane Chiusano into the world, the best Thanksgiving gift ever. Meet our little Rosie."