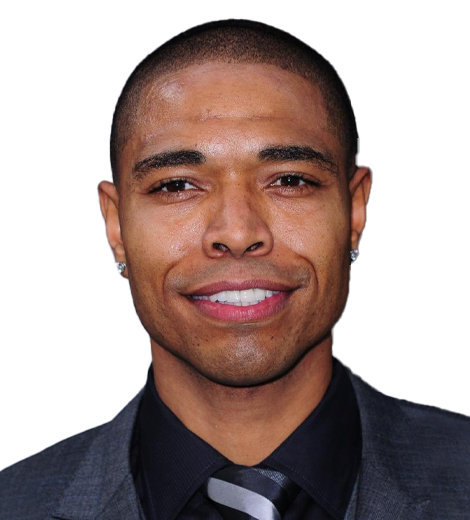 Quick Wiki
Full Name

Caleeb Pinkett

Occupation

Actor, Producer

Nationality

American

Birthplace

California, USA

Birth Date

Jan 03, 1980

Age

43 Years, 10 Months
Quotes
"... the filmmakers wanted to be honest about both positive sides to dirt bikes, as represented by Mill's character Blax, and the negative side, as represented by the Midnight Clique."
Producer of the film 'Charm City Kings,' Netflix series 'Cobra Kai'
Caleeb Pinkett | Biography
Pinkett is the President of film and TV in the production house and record label company Overbrook Entertainment
Pinkett made his television debut in 2003 with a fantasy drama series 'Charmed.' He played the role of Virgil in one episode titled 'Little Monsters.' Since then, he has been featured in several television shows like 'Hawthorne,' and 'All of Us.' He also appeared in movies, including 'Lakeview Terrace,' 'The Human Contract,' and 'The Heart Specialist.' From 2013 to 2019, he had produced three movies, 'After Earth,' 'Annie,' and 'Hala.' 
---
Caleeb Pinkett is an actor and producer prominently known for his work in the movies 'Lakeview Terrace,' 'The Human Contract,' and 'The Heart Specialist.'
Who Is Caleeb Pinkett?
Caleeb Pinkett is an American actor and producer. He is also the President of film and TV in the production house and record label company Overbrook Entertainment. 
Pinkett made his television debut in 2003, appearing in an episode of the fantasy series Charmed. His other notable television shows include Hawthorne (2011), All Of Us (2006-2008), and Cuts (2005).
Pinkett had produced films like Charm City Kings (2020), Life in a Year (2020), Hala (2019), After Earth (2013), and television shows like Cobra Kai (2018-2021) and Urban Youth Racing School (2019).
His upcoming projects as a producer include a limited series titled Queen of The Negro Leagues and a movie titled Bounce. It is a movie about a teenage girl who hopes to exchange her family for a new one on Christmas Eve.
Early Life
Caleeb Pinkett was born on 3 January 1980 in Orange County, California, USA. His parents divorced when he was just 2 years old. He met his father, Robsol Pinkett Jr., again at the age of 12. His father passed away at 57 years in February 2010 due to a drug overdose. Pinkett has a half-sister, Jada Pinkett Smith, from his father's side. Jada is a well-known American actress and a television host. 
Pinkett and Jada had a rough upbringing because of their father, Robsol, who was a drug addict, most of his lifetime. According to USA Today, Jada asked Pinkett to join Willow Smith and Adrienne Banfield-Jones on Red Table Talk in 2018 to talk about their family's past difficulties. 
During the talk, Jada claimed she and her brother shared a common source of anguish because of their father's drug addiction. "We had a lot of resentment," Jada stated and added, "We had that feeling like we had to be responsible for him, but he never had to be responsible for us, and that was a hard pill for me to swallow."
Early Career
When Pinkett was 21 years old, he moved from Moreno Valley to New York and talked to his sister, Jada, and brother-in-law, American actor Will Smith about a new project called 'Cain.' He expressed his wish to work in the entertainment industry. His brother-in-law liked his idea and the way he presented the story. He soon asked Pinkett to work on his physique if he wanted to join the industry. So, Pinkett worked on his body with a trainer, Darryl Foster, and got in good shape. 
Five years later, Will offered him a job at his company, Overbrook Entertainment, where he had to initially work as a driver yet, he was not involved in the story writing process. Presently, Pinkett is the President of film and TV in Overbrook Entertainment. It is an American production house and record label established in 1998 by Will Smith and James Lassiter.
As an Actor 
Pinkett made his television debut in 2003 with a fantasy drama series, Charmed. He played the role of Virgil in one episode titled 'Little Monsters.' 
Since then, he has been featured in several television shows like Hawthorne as Det. Antoine Ajayi in five episodes in 2011, and All of Us as Kenny in three episodes between 2006 and 2007. He also appeared in movies, including Lakeview Terrace as Damon Richards in 2008, The Human Contract as Ricky the Bartender in 2008, and The Heart Specialist as Urologist in 2006. 
As a Producer
As a producer, Pinkett has worked on several projects, but he started it with a television drama, Hawthorne featuring his sister Jada, where he co-produced 10 episodes in 2011. From 2013 to 2019, he produced three movies, After Earth, Annie and Hala. 
In 2020, he worked as a producer in two movies titled Charm City Kings and Life in a Year. Since 2018, he has also been working on the television series Cobra Kai.
'Hala' 
Caleeb Pinkett contributed as an executive producer of the film Hala, which premiered on 6 December 2019. 
The film follows the titular character Hala (portrayed by Geraldine Viswanathan), a seventeen-year-old Pakistani American adolescent girl, and her struggles to reconcile her desires with her familial, cultural, and religious duties. Raised in a devout Muslim family, she develops feelings for a classmate that goes against her religious background. Besides, as she grows up, she also has to deal with a secret that threatens to tear her family apart. 
Hala was selected to be featured at the 2019 Sundance Film Festival and the 2019 Toronto International Film Festival. In addition, Apple network acquired the global rights to Hala at the 2019 Sundance Film Festival, marking the company's first deal.
'Annie'  
Pinkett served as a co-producer of the comedy, drama, family, and musical amalgam Annie, released in 2014. The movie revolves around a foster girl Annie (played by Quvenzhané Wallis), who gets adopted by a cruel foster mother, Miss Colleen Hannigan (played by Cameron Diaz). Later, the girl's life gets altered when she meets a local businessman and New York City mayoral candidate, Will Stacks (played by Jamie Foxx).
Stacks' election campaign was not going well until he crossed paths with Annie. He accidentally saved Annie from a road accident, and the rescue video had gone viral on the Internet. Following this, Stacks invited Annie to his home to utilize his media image to support his election race. Meanwhile, what started as a publicity ploy to sway hesitant voters turns into something far more personal as Stacks learns his tiny companion was more than just a good-luck charm along with the plot.
'Life in a Year' 
Pinkett served as a producer on the film Life in a Year, which was released in 2020. Daryn (played by Jaden Smith), a 17-year-old, learns about the terminal disease of his girlfriend Isabelle (Cara Delevingne) in this romance-drama mix. In her final moments, he sets out to offer her a full existence.
Overbrook Entertainment produced the film. It was directed by European director Mitja Okorn and written by Jeffrey Addiss and Will Matthews.
'Cobra Kai'
Cobra Kai is a martial arts comedy-drama television series created by Jon Hurwitz, Josh Heald, and Hayden Schlossberg. It is a sequel to Robert Mark Kamen's The Karate Kid (1984) movie. The lead actors of the 1984 movie, Ralph Macchio and William Zabka, reprised their roles as Daniel LaRusso and Johnny Lawrence.
The Cobra Kai premiered on YouTube Red in 2018, followed by the second season in 2019. The platform discontinued creating originally scripted shows after the third season. Netflix then purchased the rights of Cobra Kai to stream the series in June 2020. The third season was streamed in January 2021, and the show's fourth season was renewed in October 2020. The fourth season is expected to be released in December 2021.
The Netflix series is executively produced by Pinkett, his brother-in-law Will Smith, James Lassiter, Susan Ekins, Josh Heald, Jon Hurwitz, Hayden Schlossberg, Ralph Macchio, and William Zabka. 
Overbrook Entertainment took over the original rights of The Karate Kid franchise from Columbia Pictures/Sony Entertainment after the release of The Karate Kid reboot in 2010 that featured Jackie Chan and Jaden Smith. 
'Charm City Kings'
Charm City Kings is a 2020 drama movie about a fourteen-year-old boy Mouse who is keen to join a notorious group of Baltimore dirt-bike riders, the Midnight Clique, that dominate the city during the summer. 
The movie was co-produced by Pinkett, Clarence Hammond, and Marc Bienstock. It was executively produced by Overbrook Entertainment and premiered in HBO Max original. 
Talking about the film, Pinkett said, "The movie is not about dirt bike culture. The movie is about a kid and which way he's going to go as a man." He also explained that it was a film about young Black children growing up in poor communities and the decisions they make in comparison to kids growing up in non-poor neighborhoods with resources.
Announced yet not premiered
A few of Pinkett's production credits have been announced, but they were not released to date.
'Dunbar Robbery' 
According to a news article released by Variety on 1 September 2020, Pinkett was revealed to have joined forces with the production firm Rebel Maverick for a real-life film, Dunbar Robbery. 
The film is based on an article written by Alyssa Keli Rose on her Medium page, 'The Dunbar Heist,' which is a real-life story of five guys who committed the largest cash heist in American history on 12 September 1997. 
In 1997, five men robbed the LA Dunbar Armored facility and robbed $18.9 million in just 30 minutes. Allen Pace III, a former Dunbar depot employee, was the brain behind the crime, which he had plotted for two years in aid of four of his closest pals. The plot crumbled apart after one of the perpetrators, Eugene Lamar Hill, offered a real estate broker ample cash tied together by the original currency bands four years past the crime. Allen Pace was found guilty and sentenced to 24 years in federal prison in 2001.
Pinkett, alongside Clarence Hammond, Dougie Cash, Rebel Maverick's Matt Nicholas, and Nastassja Kayln, were the names listed in the production unit of Dunbar Robbery.
'Urban Youth Racing School' 
According to a Deadline report in 2019, Overbrook Entertainment, in collaboration with the production and management business MoJo, was poised to produce Urban Youth Racing School, a TV docu-series centered on a real-life racing school in Philadelphia. 
The Urban Youth Racing School was founded in 1998 and directs supplementary science, technology, engineering, and mathematics abilities to children aged 8 to 18, with the final result being genuine motorsports racing.
Caleeb Pinkett will serve as the film's executive producer alongside Overbrook's founder Will Smith and James Lassiter, MoJo founder Morris Ruskin, and The Visit director Jordan Walker-Pearlman, as reported by Deadline.
However, there is no definite premiere date for the film, and it does not appear to be affiliated with any television network or streaming provider.
Upcoming Projects
Pinkett is working on a few projects, the release dates of which are not yet announced. Children of the Fire and Bounce, both under pre-production as of September 2021, have Pinkett listed as a producer. Pinkett's two more producing projects, Uptown Saturday Night and Selling Time, also wait for the release date. 
'Bounce'
Bounce, a Megan Shull YA novel adaption, will star YouTube personality JoJo Siwa. It will be directed by the director of Netflix's dramedy To All The Boys I've Loved Before, Susan Johnson, and produced by Paramount Players. Only after a heated bidding fight between Westbrook's Will Smith and Paramount, could the latter secure the rights to Bounce in 2020.
Bounce follows the story of an adolescent girl who wants to exchange her family for a new one. It is her Christmas wish. Surprisingly, her desire gets granted, and she bounces around the familial lives of other girls and experiencing Christmas Day on repeat. Eventually, she learns the importance of family and love.
Caleeb Pinkett is on the production team of this upcoming feature.
'Queen of The Negro Leagues'
Queen of the Negro Leagues: Effa Manley and the Newark Eagles is the adaptation of the non-fictional work by the baseball historian James Overmyer. The adaptation rights belong to the Alcon Television Group. 
Queen of The Negro Leagues recounts the efforts of the persistent civil rights crusader Effa Manley and her husband Abe as they embark on a hazardous economic endeavor of establishing their ball club, the Newark Eagles, in the boisterous world of the Negro Baseball Leagues.  
The limited series will be executive produced by Adams, Motley, Miiller, Josh Green, Dougie Cash, and Caleeb Pinkett.
Awards and Nominations
Pinkett was nominated for the 2021 'Primetime Emmy Awards,' under the 'Outstanding Comedy Series,' category, for Cobra Kai (2018). He shared the nominations with other executive producers and producers of the show.