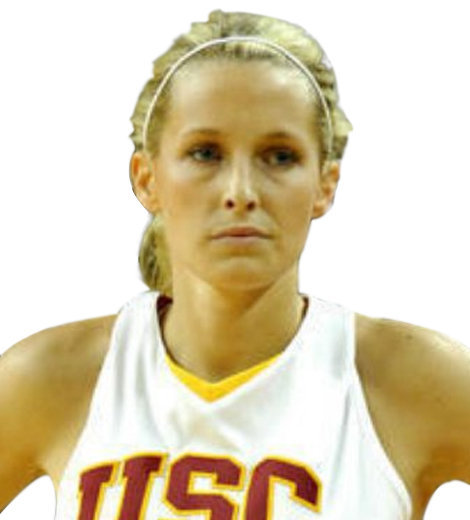 Quick Wiki
Full Name

Brynn Cameron

Occupation

Former Basketball Player

Nationality

American

Birthplace

California, USA

Birth Date

Jul 08, 1986

Age

37 Years, 4 Months
Ex-Fiancée of NBA Star Blake Griffin
Brynn Cameron | Biography
Cameron was ranked No.5 all-time with a 34.5% three-point shooting percentage in her final 2008-2009 season
Brynn Cameron dated NBA Star Blake Griffin, and they have two children together. They planned to get married in July 2017. However, Griffin called off the marriage after Cameron disagreed to sign the prenuptial agreement. Cameron filed a lawsuit against the NBA star for palimony in February 2018, but the duo entered into amicable terms of co-parenting their children.
---
Brynn Cameron is mainly recognized as the ex-fiancée of NBA star Blake Griffin.
Who is Brynn Cameron?
Brynn Cameron is a former basketball player. She has an impressive basketball career during her high school and college years. 
She is the former fiancée of American professional basketball player and NBA star Blake Griffin. She came to the limelight during her custody battle of her two children with Griffin.
Early Bio, Family, and Education
Brynn Elaine Cameron was born on 8 July 1986 in Van Nuys, California, to Stan and Cathy Cameron. She has three siblings, one sister named Emily and two brothers named Jordan and Colby. Her grandfather, Jack Cravens, played basketball and baseball during his college years. It inspired Cameron to pursue her career in sports.
Cameron graduated from Newbury Park High School in 2004. She then graduated with a Bachelor of Arts degree in Sociology from the University of Southern California (USC) in 2009.
High School Sports Career
Cameron was a four-year letter winner in basketball at guard/forward and a three-year letter winner in volleyball at outside hitter during her high school years. She made a school record for both boys and girls, accounting for 1,754 points and 632 rebounds in her prep career. She averaged 23.5 points, 7.9 rebounds, 5.0 steals, and 3.5 assists per game during her senior season. 
Cameron received multiple honors and awards for her outstanding high school sports career. She was honored as a '2004 Adidas/EA Sports Superstar.' She was also nominated for McDonald[apos]s All-American and was chosen to the Ventura County Sports Hall of Fame. She was named the 2004 'CIF Division 3A Player of the Year,' 'Ventura County Star Player of the Year,' 'Ventura County Basketball Coaches Association Player of the Year,' and 'Los Angeles Times Ventura/North Coast Player of the Year.' She was named 'Marmonte League Most Valuable Player (MVP)' three years in a row, from 2002 to 2004. She was also a three-time All-CIF Southern Section first-team pick in 2002, 2003, and 2004. Furthermore, Cameron earned conference MVP and All-CIF Southern Section first-team honors in volleyball as a senior. She played Amateur Athletic Union (AAU) basketball with California Elite, Santa Barbara Storm, Utah Avalanche, and West Coast Waves.
College Sports Career
Cameron continued playing basketball in her college. She made her collegiate debut in USC [apos]s opener vs. Massachusetts and scored nine points, two steals, and shot 40 percent from the floor. Later, Cameron did a top-scoring performance on 11 December 2004 with 20 points against South Dakota State. She had her first career double-double with 17 points and a season-high 10 rebounds on 20 February 2005. During her 2004-05 freshman season, Cameron emerged as the top scorer with 9.8 points per game. She was the top scorer in nine games during her freshman season.
During her 2005-06 sophomore season, Cameron appeared in 13 games, averaging 5.5 points per game. She also secured a career-high six three-pointers on 6 December 2005 against the Oregon States. However, Cameron could not play most of the games during her sophomore season due to her nagging hip injury. She endured a second surgery at the end of the season.
She took a break from her career during the 2006-07 junior season to give birth to her first child. In an interview with People, Cameron shared that she felt like her life ended when she learned that she was about to have a child. She said, "I thought, 'Why me?' I thought, 'You've just ruined your life.' I thought my life was over, school was over, basketball was over. I just thought I was done. I kept saying, 'This is horrible' and 'This is the worst thing that ever happened. You're supposed to graduate from college and then get married and then start a family.' I thought the baby and I were done for."
However, she regained her confidence and made her comeback in the 2007-08 senior season, hitting a team-high 40 three-pointers. She averaged 5.8 points per game, appearing in 28 matches. She set a new career-high with five steals against Virginia Tech. During her final 2008-09 season, she became the third all-time three-point shooter with 131 career threes. She was also ranked No.5 all-time with a 34.5% three-point shooting percentage.
Personal Life
At USC, Cameron dated athlete Matt Leinart, who also studied at USC and played college football. However, the couple broke up after dating for less than a year. Shortly after their breakup, Cameron learned that she was pregnant with Leinart's child. In 2006, she gave birth to her first son, Cole, during her junior year of high school. TMZ reported in September 2013 that Cameron would get child support of $15k per month from Leinart.
Relationship and Children with Blake Griffin
After breaking up with Leinart, Cameron started dating the NBA star, Blake Griffin. Cameron and Griffin welcomed their first child, son, Ford Wilson, on 1 August 2013. The couple welcomed their second child and first daughter, Finley Elaine, in September 2016. 
Cameron said in an interview that she and Griffin had planned to get married on 28 July 2017, but Griffin blindsided her with a prenuptial agreement a month before their wedding day. Griffin then called off their marriage a week before their wedding as Cameron did not agree to sign a prenuptial agreement, as per TMZ. Cameron said that Griffin "immediately embarked on a high-profile affair with [Kendall Jenner]. The next weekend, on what would have been his wedding day, he was partying in Las Vegas."
Custody Battle
Later, Griffin filed a petition on 23 October 2017 seeking legal paternity for child support and custody rights of his two children with Cameron, as per Rader Online. On 14 February 2018, Cameron filed a lawsuit against Griffin for palimony, alleging that he abandoned her and their two children for Keeping Up With The Kardashians reality television star Kendall Jenner. Griffin responded to the lawsuit in April. He denied the allegations and requested Cameron's complaint "be dismissed, with prejudice and in its entirety." 
Lawsuit Settlement
The Blast reported on 1 August 2018 that Cameron and Griffin settled their custody battle during private negotiations just hours before they were supposed to appear in the courtroom. They told People via a joint statement that "Both sides have settled amicably and are moving forward with co-parenting their two children." On 18 December 2018, the request for dismissal of Cameron's complaint with prejudice was granted.