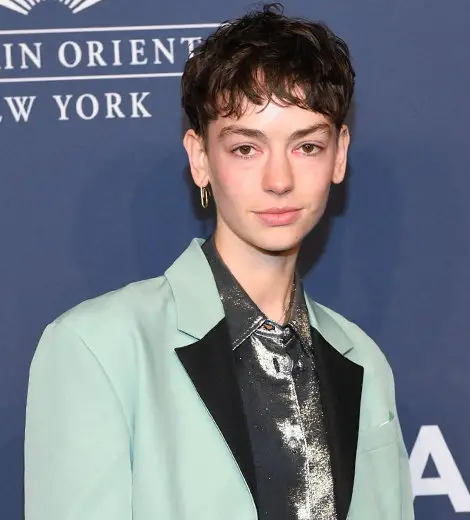 Quick Wiki
Full Name

Brigette Lundy-Paine

Occupation

Actor

Nationality

American

Birthplace

Texas, USA

Birth Date

Aug 10, 1994

Age

29 Years, 3 Months
Cast of the Netflix dramedy series 'Atypical'
Brigette Lundy-Paine | Biography
Brigette Lundy-Paine defines their gender as non-binary
Paine appeared on several stage shows before finally making their film debut in 2015 with a minor role in the crime mystery film 'Irrational Man.'
---
Brigette Lundy-Paine is an American fashion icon and actor who gained prominence in the industry after her role as Casey Gardner on the Netflix dramedy series 'Atypical.'
Who is Brigette Lundy-Paine?
The American actor Brigette Lundy-Paine prefers the pronoun "they." They are an American pop star, actor, entrepreneur, and fashion icon. They first earned fame and recognition with their leading role on the Netflix series, Atypical. Brigette appeared on the series from its premiere on 11 August 2017 to its last season's final episode on 9 July 2021.
Paine started acting and performing on stages from a very early age. They appeared on several stage shows before finally making their film debut in 2015 with a minor role in the crime mystery film Irrational Man. They went on to appear in similar minor roles on the 2015 MTV series One Bad Choice and the 2016 web series Margot vs. Lily. 
Since then, Brigette has starred in the 2017 film The Glass Castle, 2018 comedy movie Action Point, 2017 drama film Bombshell, among many others. Their most recent appearance is Billie Logan in the 2020 American sci-fi movie Bill & Ted Face the Music.
How old is Brigette Lundy-Paine?
Brigette Renee Lundy-Paine was born on 10 August 1994 in Dallas, Texas, in a family of celebrities. Their father, Robert Paine, is an actor, and their mother, Laura Lundy-Paine, is a film producer and director. Thus, Brigette got acting and stage exposure from an early age. They have one sibling, Benjamin Lundy-Paine.
Though Brigette was born in Dallas, their family relocated to Alameda, California, in 1996. They attended Encinal High School and passed out in 2012. Later they joined New York University for higher education and graduated in 2015.
Is Brigette Lundy-Paine Gay?
Actor Brigette Lundy-Paine defines their gender as non-binary, meaning they do not belong to either male or female gender classifications. 
Though Brigette's family knew about it earlier, they first came out publicly with an Instagram post stating, "I'm non-binary, always felt a lil bit boy, lil bit girl, lil bit neither. Using they/them as of late n it feels right."
However, later Brigette deleted their Instagram ID, and thus the post was not available. In another Instagram post dated 3 January 2021, Brigette reminded everyone about their gender. They wrote, "it's summer where i live so v excited abt that lol here r some friendly reminders:
-brig is non-binary
-brig uses they/them pronouns -body hair is normal
-what's between their legs is none of ur f business !!!!!!!!!!"
Height and Dating
Brigette Lundy-Paine stands at the height of 5 feet 6.5 inches and is not dating anybody as of 2021.