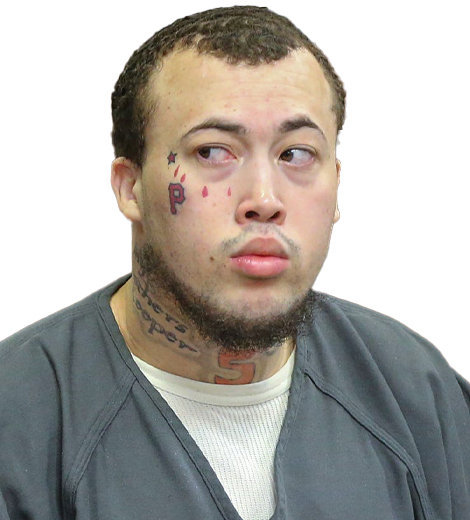 Quick Wiki
Full Name

Brice Rhodes

Occupation

Convicted criminal, Primary suspect in three homicide cases in 2020

Nationality

American

Birth Date

Nov 29, 1971

Age

52 Years, 0 Months

Nickname

Brice Rambo Rhodes

Zodiac Sign

Sagittarius

Mother's Occupation

Not Disclosed

Relationship Status

Not Disclosed

Parents

Not disclosed
Primary Suspect in Three Homicide Cases in 2020
Brice Rhodes | Biography
At the time, Rhodes was Serving Probation for Domestic Assault and was also Previously Convicted as a Sex Offender
At the time, Rhodes was serving probation for domestic assault for two incidents that occured in 2013 and 2014. Later, he was again charged for another 2014 incident in which his mother alleged that he grasped her by the neck and hit her in the temple. He was also previously convicted as a sex offender. In total, he had already been "convicted twice for assault, four times for domestic violence, and twice for violating terms for his probation."pect in three homicide cases.
---
Brice Rhodes is a murder suspect in three homicide cases of 2020.
Who is Brice Rhodes?
Brice 'Rambo' Rhodes is suspected of shooting and murdering Christopher Jones in May 2016. Later the same month was charged with the murder of 14-year-old Larry Ordway and 16-year-old Maurice "Reece" Gordon.
Additionally, he is well-known for his boisterous demeanor in the courtroom. For example, during one of his hearings, he accused the presiding judge of his case of having a sexual affair with the prosecuting attorney and implied that the judge was a hidden Ku Klux Klan member. He also fired multiple lawyers and mostly looked after his case by himself.
Moreover, during the time of the murder, Rhodes was serving probation for domestic assault for two incidents that occurred in 2013 and 2014. Later in 2014, he was again charged by his mother, who alleged that he grasped her by the neck and hit her in the temple. 
He was also previously convicted as a sex offender. In total, he had already been "convicted twice for assault, four times for domestic violence, and twice for violating terms for his probation," according to TrueCrimeGarage.
Murder and Cleaning of Crime Scene
The 2016 homicide victim brothers Larry Ordway and Maurice Gordon were last seen alive on 21 May 2016 in their own neighborhood. They left their mother's house on the same evening and never returned. 
According to witnesses' statements to police, they saw the brothers leaving with Brice Rhodes and two other teenage boys.
The next day, police discovered two dead bodies behind an abandoned house east of Shawnee Park in the 4000 block of River Park Drive. Those bodies were later confirmed as Larry's and Maurice's. 
According to the courier-journal, it was evident to the police from the crime scene that the two brothers were stabbed with sharp objects and beaten to death. Moreover, the killer also attempted to burn their dead bodies.
Police Arrested Rhodes Two Days After The Dead Bodies Were Found
Immediately after the bodies were discovered, police made Brice Rhodes their main suspect. Homicide detectives in the case brought in one of the teenage boys named Anjuan Carter and began interviewing him about the murder. They also soon arrested Jacorey Taylor, the other teen boy who accompanied Rhodes.
During the interviews, both Anjuan and Jacorey claimed that Rhodes murdered the boys, forcing them to participate and wipe off pieces of evidence from the crime scene. 
Later, on 24 May 2016, police spotted Rhodes on Preston Highway and arrested him using the warrant from his domestic abuse case from Indiana. Thus, after police took him off the streets, detectives worked on gathering more solid evidence against him.
Rhodes Faced Numerous Crime Charges
After around 7 hours of his arrest, police put double murder charges on him for brutally killing teen brothers Larry and Maurice. The investigators found evidence of blood at his house in Clifton Heights. It suggests that he killed them at his home and later dumped the bodies in the Shawnee neighborhood.
The double murder charges also brought to light another crime Rhodes committed previously the same month. He had killed 40-year-old Christopher Jones by shooting. After the investigation, authorities found that both Larry and Maurice were in his car when he killed Christopher in the street. 
And, to erase off the witness of his crime, i.e., murdering Christopher, Rhodes killed the teen boys days later at his own house. Thus, Rhodes was also charged with fatally shooting Christopher Jones in May 2016.
Furthermore, since his arrest in 2016, Rhodes has faced several other criminal charges. As per WDRB.com's report, in September 2016, he gave life threats to Judge Amber Wolf. He told her that he would find her place of residence and get to her. As a result, he was indicted for intimidating a legal process and giving a terroristic threat to a legal officer after the threat.
In January 2017, he tried to escape from his cell by digging a hole using a sharp metal object. The correctional officers noticed the spot and immediately took him under control. However, they could not retrieve the metal object as he allegedly flushed it in the toilet.
Later in November 2018, Rhodes faced another charge for blowing kisses to the victim's mother. When confronted by Jefferson Circuit Court's Judge, he said, "I'll do what I want to do, let's get that understood."
Wren's statements
Marie Wren, the teen's mother, stated to WAVE 3 News in 2016 that she knew Rhodes and was aware that her children were hanging out with him. She claimed Rhodes was looking to persuade her children to perform his criminal planning on Jones, but they were slain when the teens learned about his plans.
The mother also stated that her sons had witnessed Christopher Jones' murder and were killed next. 
The teen brothers who were brutally killed had a picture of them holding a gun in their social media profiles. However, the teen's mother, Wren, claimed that the image was merely a cover for other thugs who had previously tried to jump on them.
Also Read About - Drew Findling - Wife, Bio & Attorney
Furthermore, she told WAVE 3 News that she wanted her late sons to be known for their laughter and good grades and not gang alliances because of those mere pictures. Wren also told Wave 3 that her sons were good students and didn't associate with the gangs. Previously, she had described to WDRB that her sons were aspiring to be members of the "blood gang."
The teen's grandmother also denied that her grandsons were part of any gangs and claimed they were posing with the same weapons they got as gifts from her.  
"Everybody wants to be tough and a gangster these days when they're teenagers, everybody wants to show what weapon they got, that's just what it is," she told the news portal, WAVE 3, in 2016.
She also put forth a warning to other parents through the news portal. "Before you start judging somebody, take a look at your kids' drawers, and their internet, and I bet you'll be surprised."
Conviction
Anjuan Carter, a teenage co-defendant in the triple murder case, eventually gave Louisville Metro Police a detailed description of the killings in 2016 in exchange for a plea deal. In his plea deal, Carter said that Rhodes shot Jones after he mistook the latter for an individual who had a price on his head.
He also claimed that Rhodes killed the teen brothers because they saw Rhodes shooting Jones.
Furthermore, 20-year-old Tieren Coleman also took a plea deal and pleaded guilty to complicity to murder in the case of the 2016 murders of the teen brothers.
Intemperate demeanors
Rhodes eventually brought more media coverage to the case after he had a series of courtroom outbursts and other intemperate demeanors. 
In a court hearing in 2016, Rhodes had spit on and threatened one of his attorneys. But the lawyer didn't file charges, equating Rhodes' actions to that of a "temper tantrum by a brat." He was also accused of assaulting a Louisville Metro Corrections prisoner and a nurse at the Louisville Metro Department of Corrections. 
Later, a spit mask was placed over Rhodes,' and he was wheeled into court for a hearing in 2019. That hearing added to his guilty charges as he threatened the presiding judge and her family with killing.
Courtroom outburst on denial of a motion
Rhodes tried to file a motion on his behalf and claimed that the police fabricated blood evidence presented in his case. "It's sad that they have to try to cheat just to beat me," Rhodes said in Jefferson Circuit Court as reported by WAVE 3 in 2020. Upon denying his motion, Rhodes accused the then presiding Judge, Charles Cunningham Jr., of favoritism and accused him of racism.
"Are you a secret Ku Klux Klan Member?" Then, Rhodes made a statement against Cunningham. "I don't know if y'all got some type of sexual relationship going on or what y'all got going on, but I'm definitely going to speak my mind," Rhodes added, insinuating the judge's affair with the prosecuting attorney.
Making a reply, Judge Cunningham then replied that he was not a racist and denied the accusation of sexual interaction. He further stated that Rhodes was wrong about everything in his request and should give his lawyers time to manage his argument. 
Rhodes's Case Verdict Is Still On Hold
Rhodes's trial for triple murder was first set for February 2021, which was later rescheduled to be held on January 2022. However, it was again delayed after defense attorneys demanded his competency evaluation. The defense attorneys claimed that Rhodes had a condition called intellectual disability.
Although the case has been pending since 2016, the court again ordered Rhodes's competency evaluation and the trial to be held afterward. The prosecutors objected to it and noted to the court that there is more than a year backlog at the evaluation center, Kentucky Correctional Psychiatric Center.
However, in this case, the judge had no other choice but to go on with his order of competency test. So, unfortunately, the triple-murder trial will be pushed further until 2023, and the victim's family will have to wait at least another year for the verdict.
Did You Know?
In an interview with the police, Rhodes' only parents, his mother, said her son had "mental issues" and had not been on his medication. She said she was out of town and didn't know about the murders.
And after searching the apartment Brice shared with his mother Shawna, the police later presented evidence, including blood samples, to the court. The police alleged that Brice dumped the teens' body in a nearby abandoned apartment and "returned to his residence and assisted in the cleaning of the scene in order to conceal the crime."