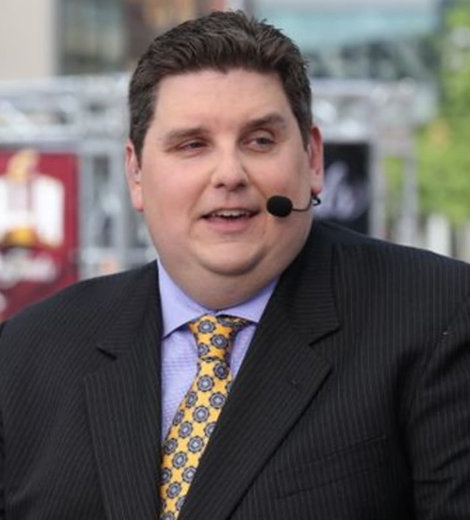 Quick Wiki
Full Name

Brian Windhorst

Occupation

Sportswriter, Author

Nationality

American

Birthplace

Ohio, USA

Birth Date

Jan 29, 1978

Age

45 Years, 9 Months
Sportswriter at ESPN.com
Brian Windhorst | Biography
To show his love for Windhorst, LeBron James named his son Brian Windhorst James
Windhorst and professional basketball player LeBron James first met in 1999, when Windhorst interviewed James for the Akron Beacon Journal. Windhorst was also attending Kent State University and working weekend shifts for the Journal. From 2003 to 2008, Windhorst worked as the beat writer of the Cleveland Cavaliers team for the journal.
---
Brian Windhorst is an American sportswriter.
Who is Brian Windhorst?
Brian Windhorst is the ESPN.com sportswriter who covers the National Basketball Association (NBA). He was born on 29 January 1978 in Akron, Ohio. As of December 2021, he is 43 years old.
Windhorst attended St. Vincent-St. Mary High School in Akron, Ohio. He then graduated from Kent State University with a journalism degree in 2000.
Since 2009, Windhorst has covered the basketball team Cleveland Cavaliers for the newspaper The Plain Dealer. He had previously worked at the Akron Beacon Journal for eight years. In 2009, Windhorst was honored by the Professional Basketball Writers Association and Associated Press for writing the Best Game Story for his account of the Cleveland Cavaliers' 96-95 victory over the Orlando Magic in the Eastern Conference finals. 
In 2010, Windhorst joined ESPN to cover the NBA for ESPN.com. He regularly appeared on ESPN's shows such as Hoop Streams, The Jump Get Up, First Take, and SportsCenter.
On 10 October 2014, Windhorst announced that he would join ESPN Cleveland on WKNR AM 850 in Cleveland as a Cavaliers beat reporter and analyst, and host his own weekly show on its sister station WWGK AM 1540. 
Besides writing for ESPN, Windhorst is also the host of the Brian Windhorst & The Hoop Collective podcast, which has aired over 200 episodes.
Brian Windhorst and LeBron James 
Windhorst and the professional basketball player LeBron attended the same high school.
They first met in 1999, while Windhorst was attending the Kent State University and working weekend shifts at the Beacon Journal. He interviewed James for the Akron Beacon Journal. From 2003 to 2008, Windhorst worked as the Cleveland Cavaliers beat writer for the Journal before joining Cleveland newspaper The Plain Dealer in October 2008. After LeBron James left the Cleveland Cavaliers for the Miami Heat in 2010, Windhorst also moved to ESPN.
Windhorst is also a two-time New York Times best-selling author. He has written several books about James, including 'Return of the King' (2017) and 'LeBron James: The Making of an MVP' (2009). In addition, Windhorst and the sports columnist Terry Pluto co-wrote the book 'The Franchise: LeBron James' in 2007. James, in return, to show his love and to thank him has named his son Brian Windhorst James. He was born when James was just 19.
Wife
Windhorst married Maureen Ellen Fulton, a privacy attorney at Koley Jessen, on 19 August 2012 at Omaha's Lauritzen Gardens. 
Maureen earned a bachelor's degree from the University of Missouri and a law degree from Ohio State University.