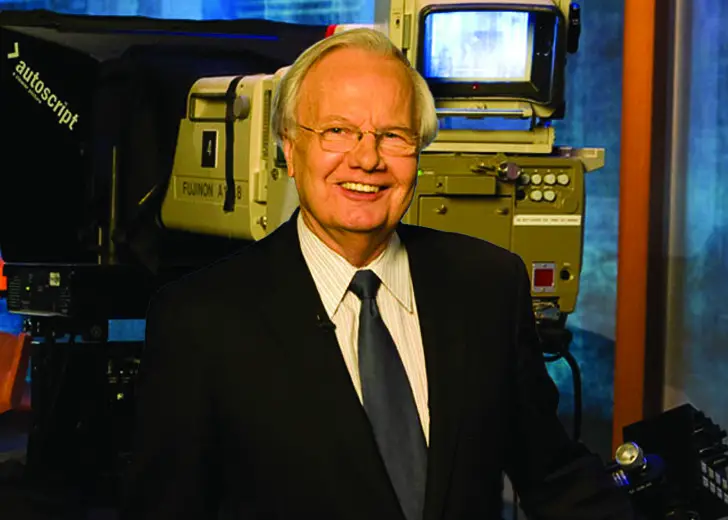 Quick Wiki
Full Name

Bill Don Moyers

Nickname

Bill Moyers

Birth Date

Jun 05, 1934

Age

89 Years, 6 Months

Nationality

American

Birthplace

Hugo, Oklahoma, USA

Religious Affiliation

Christian

Occupation

Baptist Minister and Journalist

University

University of Texas and Southwestern Baptist Theological Seminary

Education

B.A. Journalism (1956) and Master of Divinity Degree (1959)

Relationship Status

Married

Wife

Judith Moyers
Writer of 'Secret Government'
Bill Moyers | Biography
Host of 'Power of Myth'
Bill Moyers is an American journalist best known for his television shows on the Public Broadcasting Service (PBS).
---
Who is Bill Moyers?
Bill Don Moyers was born on 5 June 1934 in Hugo, Oklahoma. He received training for the Baptist ministry and got ordained in 1954. 
During that period, he also studied B.A. Journalism at the University of Texas, graduating in 1956. Then in 1959, he earned a master of divinity degree from Southwestern Baptist Theological Seminary.
Subsequently, in 1961, Moyers joined the Peace Corps and rose to the position of deputy director, staying from 1962 to 1963. However, following the killing of U.S. President John F. Kennedy in 1963, Moyers became special assistant to President Lyndon B. Johnson, and he served as Johnson's press secretary from 1965 to 1967.
After politics, he turned to journalism. In the 1970s, he began producing and presenting the Public Affairs Show, Bill Moyers Journal, which aired on and off from 1972 to 2010. In addition to that, he worked as a news commentator for CBS News from 1981 to 1986. 
Also Read About - Colleen Kelly - 'Family Travel,' Daughters, Bio
Then in 1987, Moyers founded Public Affairs T.V., Inc., where he produced television specials and series. It included A World of Ideas, Healing and the Mind airing in 1993, Genesis in 1996, Now with Bill Moyers from 2002 to 2004, Bill Moyers on Faith and Reason in 2006, and Moyers & Company from 2012 to 2014.
In his over four decades of journalism, Moyers garnered almost 30 'Emmy Awards' two distinguished 'Alfred I. Dupont-Columbia University Awards', nine 'Peabody Awards,' and three 'George Polk Awards for his work. 
Furthermore, he was also awarded the coveted Honorary Doctor of Fine Arts degree by the American Film Institute. He remained a member of the American Academy of Arts and Sciences and has earned the International Documentary Association's Career Accomplishment Award and the Television Critics Association's award for excellent career achievement.
Moyers was inducted into the 'Television Hall of Fame' in 1995. Then, a year later, he earned the 'National Endowment for the Humanities' Charles Frankel Prize, now known as the National Humanities Medal. He also received the PEN USA Courageous Advocacy Award in 2005 for his sincere, outspoken commitment to free expression and journalistic integrity.
'The Secret Government'
In addition to his television productions, Moyers created and produced the 1987 documentary film The Secret Government: The Constitution in Crisis. 
In addition, he also co-wrote the essay book related to the documentary, 'The Secret Government: The Constitution in Crisis: With Excerpts from An Essay on Watergate.' He published the book in 1988 with Henry Steele Commager. 
Joseph Campbell and Bill Moyers
The television series, The Power of Myth, released in 1988, was a talk series where Moyers sat down with mythologist Joseph Campbell. Their conversation was regarded as the timeless exchanges of history, time, and patterns of literature, life, and Star War films. 
It is considered a classical portion of the television era that encapsulates every generation.
Wife and Children
Moyer has been married to Judith for over fifty years. She is the CEO of Public Affairs Television. They had three children and now have five grandchildren.