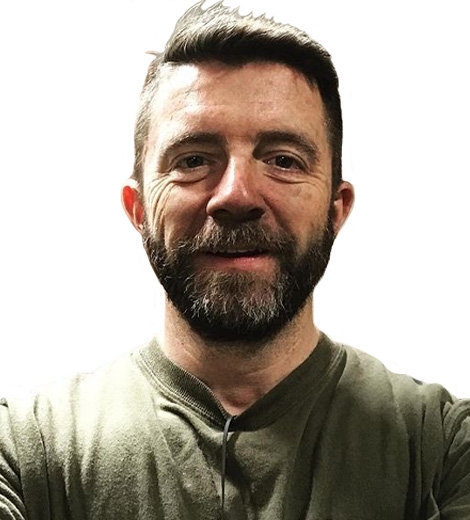 Quick Wiki
Full Name

Ben Abbott

Occupation

Blacksmith, Bladesmith, Jeweler, Founder of customer manufacturing company Ashgrove Forger

Nationality

British

Birthplace

England, UK

Birth Date

Jan 18, 1972

Age

51 Years, 10 Months

Net Worth

Undisclosed
Former Cast & Judge of TV competition series 'Forged in Fire'
Ben Abbott | Biography
Self-taught blacksmith, bladesmith, and jeweler
Blacksmith, Bladesmith, and Jeweler, Ben Abbott competed in the ninth episode of the second season of the 'Forger in Fire' in 2016 for the 'The Khadha Sword Challenge.' He won the championship and participated in the third season for the 'Forged in Fire: Champions Edition.' He again won, competing against the previous champions. Abbott appeared on the show as a guest judge and replacement judge in the next seasons before becoming the full-time judge of the show.
---
Ben Abbott is the winner of the second and third season of the American competition series Forged in Fire. He is also the founder of Ashgrove Forger.
Who is Ben Abbott?
Abbott is a self-taught blacksmith, bladesmith, and jeweler. He wanted to have his own sword at the age of 13 and decided to make one by himself. After many failed attempts, he began to try making easy and simple things before going to forging blades.
By the age of 17, Abbott mastered forging quality knives and ornaments. But, still, he was practicing forging as a hobby and did it in his spare time. He studied electrical engineering at the California Institute of Technology (Caltech) and worked in the field for many years.
On a suggestion from his friends, Abbott applied to compete in the second season of Forged in Fire. The show was a reality TV championship, where blacksmiths competed against each other in forging historical weapons for the prize money of $10,000.
Abbott got selected to compete in the ninth episode, 'The Khanda Sword Challenge.' He forged his first sword and won the challenge in 2016. He also won the third season, Forged in Fire: Champions Edition, in which the previous champions contested.
Later, Abbott appeared as a guest judge and replacement judge for a couple of episodes of seasons four, five, and six. Eventually, he was hired as a full-time judge of the show, after which he moved to Virginia. He established a custom manufacturing company in Virginia called Ashgrove Forger.
Age & Early Bio
Abbott was born on 18 January 1972 in the United Kingdom. He got fascinated with weaponry and armor after visiting museums and castles around England. At the age of 13, when he did not have money to buy a sword, he decided to make one himself. But, he failed to make one, and instead, he wasted the materials. Then, he chose to start small and began creating blades.
Eventually, by the age of 17, Abbott was skilled in making knives, tools, beautiful ironwork, jewelry, furniture, and everything else he could think of, but still not a sword for himself.
The majority of his knowledge on forging was self-taught. He had mentioned that he did not have any role models to look up to while growing up, and he was the only blacksmith he knew. And so, he had to go to the library to get books on forging and learned by himself.
Abbott never thought of becoming a professional blacksmith, and he did not care much to invest in equipment and materials. He had bought an anvil when he was 14 years old at a yard sale and took it wherever he went. He worked on small-scaled weapons like blades, ornaments and often used his porch as his workshop.
Abbott went on to graduate from the California Institute of Technology (Caltech) with a degree in electrical engineering. Then, he moved to Pasadena, California, and worked for the Laser Interferometer Gravitational-Wave Observatory (LIGO) Project.
He later returned to Caltech and worked under the George W. Housner Student Discovery Fund. He taught students the art and technique of blacksmithing to make materials for the college shop.
'Forged in Fire'
One day Abbott got an email from his friend about a casting call for the second season of a show called Forged in Fire.
Forged in Fire was a prize-winning competition where modern aged bladesmiths compete in an intense environment to re-create historical edged weapons. The reality show first aired in 2015. Being aired on History Channel, the show is running on its eighth season in 2021. Ever since the first episode, the show had garnered immense popularity and was ranked on 25th position on IMDb's 'List of Most Popular Game Shows.'
Abbott was also one of the fans of the show, and he had watched all the episodes of the first season. He then applied for the call and soon got selected for the ninth episode of the second season titled 'The Khanda Sword Challenge.' He went on to win the challenge, fulfilling his 13-year old self's desire, and forged his first-ever sword. Along with the championship, he took home $10,000.
A couple of months after his win, Abbott was called back by the creators of the show for the third season which was, the Forged in Fire: Champions Edition. In that season, the previous champions competed against each other to find out the best among the best.
In the final round, Abbott battled against three other winners and went on to win against them. He took home the third season championship along with the prize money of $10,000, becoming a two-time Forged in Fire champion.
Judging 'Forged in Fire' and Ashgrove Forge
With his collective prize money, Abbott splurged on heavy equipment, tools, materials, and workspace. He began pursuing forging, more than his hobby. He even started taking orders, worked on his weekends, and balanced his day job as an electrical engineer. 
The creators of the Forged in Fire offered him a full-time position as a judge on the show. Before that, Abbott had frequented some episodes as a replacement and guest judge. He appeared as a judge in an episode of the fourth season. He then replaced the veteran judge Neilson for a couple of episodes in the fifth and sixth seasons.
Abbott then quit his job in California and moved to East Coast, Richmond, Virginia. He founded a custom manufacturing business named Ashgrove Forge. While he is not working for the show, he spends his time at his workshop, taking orders and working as a blacksmith, bladesmith, and jeweler.
A proud Abbott shared about his life and achievements as a forger, "…and it's I wake up every morning grinning I couldn't have imagined this as being a future you know where I am now. And my art it's come from a long time of playing and it's come from a lot of different sources that have all come together which is fun right, I do a lot of jewelry work, I do a lot of woodworking and obviously, knife making blacksmithing. But all of those things like they come together and knife making I can do engraving, I can do I've inlaid gold in swords you know I mean it's been things that have come from all sorts of different sources and come together you know there's no substitute for experience and it really is an interesting journey that I've gone through to get to where I am today…"
Wife
Abbott is married to dancer, choreographer, and artist Heather Rabun. The couple has a son, Alden, born on 22 October 2020.