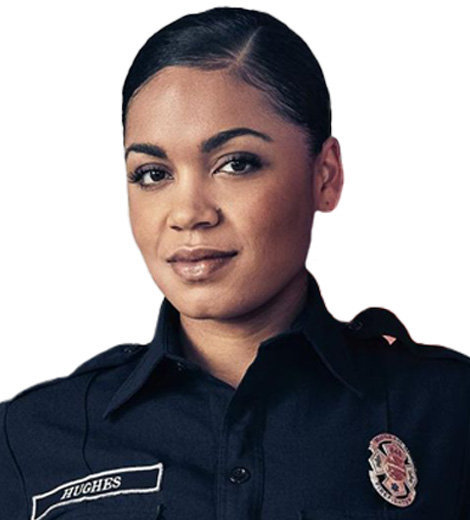 Quick Wiki
Full Name

Barrett Doss

Occupation

Actress, Singer

Nationality

American

Birthplace

Minnesota, USA

Birth Date

Mar 20, 1989

Age

34 Years, 6 Months
Cast of 'Station 19'
Barrett Doss | Biography 2021
Barrett Doss portrays Victoria Hughes in the ABC action drama series 'Station 19.' The series follows the story of a squad of brave fire-fighters from Seattle Fire Station 19. She first guest-appeared on its original medical drama, 'Grey's Anatomy.'
---
Barrett Doss is an American actress and singer best known for the portrayal of Victoria Hughes in the ABC action drama series Station 19 and Grey's Anatomy. 
Who Is Barrett Doss?
Barrett Doss was popularly known as a Broadway star who performed in Groundhog Day as the lead female character, Rita, before securing the role of Victoria in Station 19. In 2017, the actress was among the six actresses to win a 'Theatre World Award for Outstanding Broadway Debut Performance.'
Well known in the theatre scene, she starred alongside James Earl Jones and Rose Byrne in the Broadway revival, You Can't Take It With You. Doss also featured off-Broadway in The New Group's Burning, Strom Thurmond Is Not A Racist/Cleansed (The Brick), and Orestes 2.0.
The actress had also worked in some regional projects, including Comedy of Errors, The Real Thing, and Jamaica. Her television appearances include a few episodes of Bull, Girls, 30 Rock, and Person of Interest and a recurring part on the Netflix show Kick.
Early Life and Education
Barrett Doss was born in Minneapolis, Minnesota, on 20 March 1989 to a Caucasian mother and an African American father and was raised in a non-traditional and blended family. Her parents divorced when she was very young.
Doss grew up with her mother, Kelly Skalicky, who subsequently married her partner, Veronica, and shared parental involvement. Karl Doss, her father, married again and moved to Virginia with his new family. She has three half-siblings from her father's second marriage: an 18-year-old brother and two sisters, 16 and 12-year-old. 
Doss spent the first two years of her life in Albuquerque, New Mexico. She then grew up in Chicago before moving to New York City. After relocating, she joined Professional Children's School (PCS) to finish her high school education. 
She graduated from New York University's Gallatin School of Individualized Study with a Bachelor of Arts degree. Despite aiming for a career as an actor, her dreams got crashed by the time she finished her degree. 
As a result, Doss gave up performing and went on to work as a cheesemonger. Fortunately, she received a call from a playwright asking her to speak with a play director, and her acting career continued.
A Born Performer 
Doss got her start in musical theater at a young age, and she became a member of the famed Chicago Children's Choir for four years. She auditioned for her first stage musical at the University of Chicago Lab School's theatre department when she was in middle school. It was then, Doss found her genuine passion and fell in love with the idea of embracing another person's personality on stage. 
She then took part in theatre-related and musical theatre programs all across town. Later, she worked with a private acting coach in Chicago, Janet Louer. Louer, who Doss described as one of her most supporting mentors, believed in her acting skills, constantly encouraged her to do a progressional course in performing arts, and pushed her beyond her comfort zone.
Broadway Career
Doss made her Broadway debut in the 2014 production of You Can't Take It With You as an alternative to several actresses, including Rose Byrne and Annaleigh Ashford. Over the years, she had appeared in other notable shows like Strom Thurmond Is Not A Racist/Cleansed (The Brick), Orestes 2.0., and Groundhog Day.
'Groundhog Day'
Doss made her Broadway debut as a leading performer Rita Hanson in the seven-time Tony Award-winning musical Groundhog Day, which is currently being played at the August Wilson Theatre. She is cast opposite the award-winning actor, Andy Karl, who portrays Phil Connors.
The program is based on Bill Murray and Andie MacDowell's 1993 comedy film of the same name. The film is one of the finest comedies of all time, grossing more than $70 million in the United States. 
In 2016, the Old Vic Theatre in London hosted the world premiere of Groundhog Day. The musical was nominated for eight 'Laurence Olivier Awards' in 2017, winning the 'Best New Musical,' and Karl for 'Best Actor in a Musical.' 
Her Character
The actress portrays Rita, a 36-year-old bright, self-aware lady with a great deal of respect and empathy for life, in Groundhog Day. She goes through a journey of self-discovery who has come to terms with the fact that she might never find the right romantic partner and is content with that. However, Rita changes her mind about Connors and reopens herself to the prospect of a romance by the end of the show.
Television Career 
Doss earned her on-screen start in 2013 in the Emmy Award-winning program 30 Rock, where she played Eliza Lemon for a brief. She continued to land minor roles in critically regarded shows such as Person Of Interest (2014), The Pioneers (2015), Bull (2016), The Family (2016), and Girls (2017).
The same year, she was featured as a series regular on ABC's crime drama Station 19, the second spin-off of Grey's Anatomy, after Private Practice. Doss had her first recurring appearance on Grey's Anatomy during the fifteenth season of the series in 2019.
'Station 19'
The show follows the story of a squad of brave fire-fighters from Seattle Fire Station 19, from the captain to the newest recruit, as they put their lives at risk and emotions both on the job and off.
The American action-drama series, created by Stacy McKee for ABC, launched in March 2018 and is still ongoing as of 2021. Doss had featured in 59 episodes of Station 19 in three years. The series was renewed for the fifth season in May 2021.
Doss portrays one of the main characters, Victoria Hughes, in the ABC action drama series. She first appeared on its original medical drama, Grey's Anatomy, in season 15 as Chief Lucas Ripley's love interest in 'What I Did For Love.'
Who Is Barrett Doss Dating? 
Doss is dating actor Austin Durant. He had appeared in multiple films, including Nurse Jackie (2011), Person Of Interest (2012), and Succession (2018).