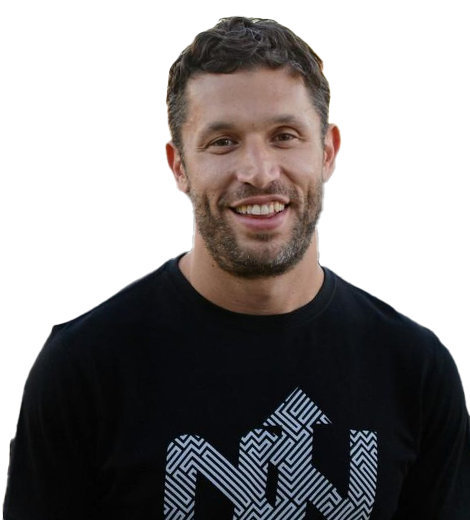 Quick Wiki
Full Name

Aubrey Marcus

Occupation

Fitness Expert, Human Optimiser, Podcast Host

Nationality

American

Birthplace

California, USA

Birth Date

Feb 28, 1981

Age

42 Years, 3 Months
Unconventional Fitness Enthusiast, CEO of the Human Optimization Firm, Onnit
Aubrey Marcus | Biography
Aubrey's second book, 'Master Your Mind, Master Your Life,' is expected to release on 15 September 2022
At 18, Aubrey Marcus advanced to vision quest and encountered an immersive interaction with spirituality. He referred to it as a psilocybin excursion in the mountains. His body seemed to vanish, but his awareness remained. Marcus then realized that his duty was to refine rather than eliminate the myth of God and talk about what is real.
---
Aubrey Marcus is the founder and CEO of the human optimization firm, Onnit.
Who is Aubrey Marcus?
Marcus is a professional human optimizer, an adept experimentalist, an atypical fitness addict, and an author. He is the founder and CEO of Onnit, a lifestyle branding that emphasizes optimizing human functioning and performances through services and products ranging from diet supplements, nutrition, and workouts.
Furthermore, he is the host of The Aubrey Marcus Podcast, a podcast program on Youtube. He is also the author of the New York Times best-selling book 'Own The Day, Own Your Life' (2018).
Early Life and Education
Michael Aubrey Christopher, registered name Aubrey Marcus, was born on 28 February 1981 in Santa Monica, Los Angeles, to mother Kathleen Harter and father Michael P. Marcus. In 2004, he became a magna cum laude graduate from the University of Richmond, where he acquired a double major in Philosophy and Classics.
Changing Name
As Marcus had the same name as his father, people referred to him by his middle name, Chris, when he was in school. However, after Marcus's 30th birthday and his first Ayahuasca experience, intake of a psychoactive brew with mind-altering psychedelic effects, he chose to formally change his name to distinguish between his old life and the new one that lay ahead. He selected Aubrey, his grandfather's name, as his first name and went through formal proceedings with the state of Texas for its registration.
At Austin
Marcus's family relocated to Austin from Los Angeles in 1995. Moving to Austin, Marcus felt the new place was quite religious. He witnessed many people suffering from dread, guilt, and shame as a result of superstitious beliefs. He thought that by dispelling myths, he might persuade people to quit being superstitious. But, after advancing to vision quest, a mystical experience in which a person seeks to interact with ancestors and guardian spirit, at the age of 18, he encountered an immersive interaction with spirituality. He referred to it as a psilocybin excursion in the mountains in an interview with Men's Health in 2020. His body seemed to vanish, but his awareness remained. After that, he realized that his duty was to refine rather than eliminate the myth of God and talk about what is real. 
He continued his spiritual awakening into a career path.
Onnit
Onnit aspires to empower as many people as possible via a comprehensive, physical, mental, and spiritual health approach. The company's objective can be summed in three words, Total Human Optimization (THO). As human optimization is conducive to correct diet, fitness, and supplements, Onnit supplies these cornerstones to support people's journey to health and optimal living.
Black Label, one of their products, is a formula for improving brain processing and increasing productivity in emergency conditions. Total Human, another product, supports immunological, cognitive, emotional, and general vigor. The company also has a supplement named Alpha Brain to help clients with memory, attention, and intellectual processing speed. They also offer paid workout routines.
Onnit caters its services to millions of people worldwide, including many top professional athletes, and is a leading market in the American industry.
Appearances and Features
Marcus' spiritual zeal has led him to discover a novel approach to healing and mindfulness. Marcus spoke about his healing path with plant medicine rites and his life-changing experience during a six-day meditation in darkness on an episode of Open Minds, a podcast produced by Gaia, a spiritual media company. In that episode dated 29 July 2021, he also shared his takeaways from his poly relationships and put forth a fresh perspective conducive to spiritual growth in open relationships.
Marcus appears on a few podcast programs, namely Tim Ferris Show and The Joe Rogan Experience. He is also a regular contributor to publications such as Entrepreneur, and Forbes alongside featuring on the cover of Men's Health.
Fit For Service Fellowship
Marcus also contributes as the host of the Fit For Service Fellowship.
Fit For Service is a tailored fellowship program inclusive of the world's finest instructors and specialists, intending to help people become physically, intellectually, emotionally, economically, romantically, and spiritually fit to serve the greater good. Everyone, who enrolls in the program, is expected to depart better able to face life's difficulties with complete confidence.
Podcast
Marcus hosts the podcast program named The Aubrey Marcus Podcast on Youtube. The program features insightful discussions with experts in mental health, relationships, health, business, and spirituality. It is a stimulating gateway for logical and philosophical discussion with personas from various backgrounds on the mentioned domains. The program has amassed the attention of 50 million listeners.  
He has garnered over 197k subscribers on his Youtube channel as of September 2021. 
Book
Marcus has authored 'Own The Day, Own Your Life,' a New York Times best-selling book. The book was released on 19 April 2018. The book presents handy tips, dietary advice, brain enhancements, and exercise routines based on the latest findings and traditional practices worldwide. The book delves into the intersection of best practices for waking, commuting, learning, eating, exercising, playing, relaxing, and libido.
His second book, 'Master Your Mind, Master Your Life,' is expected to release on 15 September 2022. He sets to transforms his accent from optimizing physiology to mentality and leads readers through a series of 12 fundamental steps to transcend disease and live a life with meaning, harmony, and high efficiency, in the book.
Personal Life
A cold shower kicks off a successful day for Marcus. In an interview with muscleandfitness.com, he stated that taking a cold shower strengthens his perseverance and mental toughness, allowing him to be the sort of person who can do something painful for their good.