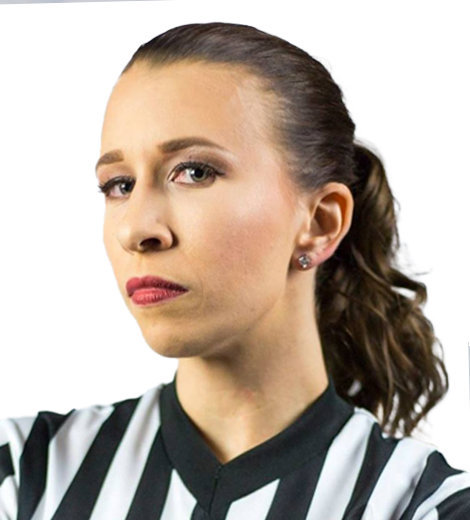 Quick Wiki
Full Name

Aubrey Edwards

Occupation

Professional Wrestling Referee, Podcast Host, Game Developer

Nationality

American

Birthplace

Washington, D.C., USA

Birth Date

Mar 09, 1987

Age

36 Years, 6 Months
Quotes
"One of the first things I noticed on the Indies is, anytime I work with a promotion, they'll throw me in a women's match because there's people who don't think women should ref men's matches or they like the image of only women in the ring. I thought, 'I'm probably going to cross paths with Britt Baker, I should probably come up with a different name, just to limit confusion."
Professional Wrestling Referee of AEW Dynamite
Aubrey Edwards | Biography 2021
Former Ballet Dancer
Aubrey Edwards made history at AEW's All Out on 31 August 2019 by becoming the first female referee to ref the professional wrestling world championship match on pay-per-view. She is currently the full-time referee for All Elite Wrestling (AEW) Dynamite, co-host of the 'AEW Unrestricted' podcast, and game developer for AEW games.
---
Aubrey Edwards is a professional referee on All Elite Wrestling Dynamite and a podcast co-host of 'AEW Unrestricted.'
Who is Aubrey Edwards?
Once a ballet dancer and a game developer, Edwards surprisingly changed her career trajectory into a full-time referee on AEW Dynamite.
Aubrey was also engaged in non-profit work, where she taught dance to underprivileged kids. In addition, she spent decades as a ballet dancer and a professional video game developer at companies like Nintendo and XBOX. She had worked on the Scribblenauts franchise.
Reffing her first wrestling match in July 2017 in 3-2-1 Seattle, she was first approached by Chris Samuels, who motivated her to train for a referee. Samuels, along with Steve West, trained Aubrey in Washington.
Aubrey also worked for World Wrestling Entertainment for a short period. 
In 2019 Aubrey became the first female official in AEW ALL OUT and the full-time referee on AEW.
Early Life and Education
Brittany Aubert, famously known as Aubrey Edwards, was born on 9 March 1987 in Seattle, Washington. Edwards grew up playing a lot of video games. She took up to study Bachelor of Science in Real-Time Interactive Simulation and graduated in the year 2009 from the DigiPen Institute of Technology, Washington. Her father, Edward Aubert, passed away when she was 12.
Real Name
Edwards changed her name from Brittany Aubert to her ring name Aubrey Edwards to avoid confusion with wrestler Britt Baker, in case the two ever crossed their path in any independent scene. Her pseudonym was inspired by the real name of her late father, Edward Aubert. 
Early Career
Aubrey spent her decades as a classically trained ballet dancer. She also helped run a non-profit dance organization that provided dance lessons to underprivileged children during her initial days. 
As a second-year student in college, she served in the junior and senior DigiPen game team. During Edward's internship as a tools programmer at 5th Cell, a video game developing company, she helped ship 3 Nintendo tiles. After completing her graduation, she pursued a decade–long production career serving on the video game Scribblenauts franchise, mobile games, MMOs, and a social VR streaming platform. 
She worked in video game companies like Nintendo and XBOX for 10 years making professional video games. Then, she got laid off from the video game company, which she was aware of ahead of time.
Wrestling Career
Soon, Aubrey started watching wrestling matches in Seattle, where she was approached by the senior referee Chris Samuels at 3-2-1 BATTLE, a professional wrestling organization in Seattle. Samuels discussed with her about becoming a referee, and then she auditioned for it. 
She was trained at a school in Washington by Chris Samuels, a referee, and Steve West, a wrestler that made her clearly understand reffing and head-to-head working with wrestlers.
Aubrey Edwards had a tough time transforming herself from a fan to a referee during the initial days. "It's sort of like if you don't know how to swim, but you're thrown into water," Edwards told Bellevue Reporter and added, "But I kept at it and two months later I made my debut." 
Soon after her first debut in July 2017, Aubrey began to ref an average of two wrestling shows every weekend. She didn't limit herself in Seattle but also reffed around Oregon and British Columbia. Aubrey also began extending her Pacific Northwest appearances by flying to ref Indie matches in Louisiana, California, New York, Colorado, and New Jersey consolidating her skills even further. 
Aubrey also worked with wrestling referee Jessika Carr, the first full-time female referee on WWE. They came in contact through a mutual friend, Brutal Bob. Carr used to watch Aubrey's videotape and provided feedback and suggestions. She had also offered Aubrey to work for the Mae Young Classic. Aubrey worked for them just for 16 days. But, to Aubrey, it was a ground of precious experience from WWE.
In an interview with WrestleZone.com, Aubrey shared about attaining this place and female in reffing, "Female referees are still very, very new, especially at this higher level. There's a lot more coming up on the indies. A lot of my students, all of my students are female. I train refs up in Seattle. I've got a few students, I have trans, male-to-female, and then two other girls, and they're all fantastic. So it's nice, it's literally representation matters, and I'm seeing it every day because one of my students actually drives up from Portland, three hours from Portland to Seattle, to train with me because she's saw me at Double or Nothing."
AEW Dynamite
Aubrey Edwards is the full-time referee for All Elite Wrestling Dynamite, co-host of the AEW Unrestricted podcast, and game developer for AEW games. She made history at AEW's All Out on 31 August 2019 by becoming the first female referee to ref the professional wrestling world championship match on pay-per-view. She then shared that AEW had hired her as a full-time referee. Expressing her happiness on Twitter, she wrote, "Yesterday was huge, but today is too! Today I'm officially a full-time referee for @AEWrestling. This was a long time coming, but I needed to close the doors on my previous job before saying anything. Now I yell at people to pay my bills. What is life?"