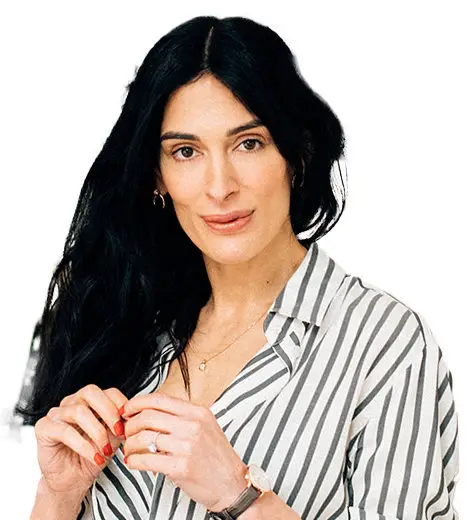 Quick Wiki
Full Name

Athena Calderone?

Occupation

Businesswoman, Entrepreneur, Fashion Designer, Blogger, Author

Nationality

American

Birth Date

Nov 14, 1974

Age

49 Years, 0 Months
Founder of the Lifestyle Website EyeSwoon
Athena Calderone | Biography
Author of 'Cook Beautiful' (2017) and 'Live Beautiful' (2020).
Calderone's lifestyle website EyeSwoon was launched in the summer of 2011. Before that, she was working as an interior designer and was in the middle of a project. She says that EyeSwoon was born out of a pause in her creativity. Her website defines her aesthetic by layered textures and patterns, accumulated old pieces, and stark contrasts.
---
Athena Calderone is the founder of the lifestyle website EyeSwoon and the author of a James Beard Award-winning cookbook titled 'Cook Beautiful.' 
Who Is Athena Calderone?
Athena Calderone is an entrepreneur, interior designer, author, and blogger (fashion, lifestyle, and food). She says she began the lifestyle website EyeSwoon to showcase her interior design work and explore the beauty and delicacy of everyday living. 
She has written two books: 'Cook Beautiful' (2017) and 'Live Beautiful' (2020). The books expand on the culinary and design information she often shares on Eyeswoon. While 'Cook Beautiful,' her cookbook, won the 'James Beard Award' for photography, he another book, 'Live Beautiful,' has remained as one of the bestsellers on Amazon's coveted home decor list.
She has also been dubbed "the modern girl's Martha Stewart" by the New York Times for her versatility in the lifestyle and fashion world. 
In addition to working on her own culinary recipes and designs, Calderone also collaborates with other influencers, such as prominent designers, chefs, bloggers, editors, actors, and models, to provide insight into the creative processes while creating recipes and designs.
Her work has also featured in notable publications such as Vogue, Architectural Digest, Harper's Bazaar, Food & Wine, Bon Appétit, Martha Stewart, Goop, and Elle Decor. 
Early Life & Education
Born on 14 November 1974, Calderone grew up in a little suburban town in Long Island, New York. Her town is about 30 minutes from Manhattan. Both of her parents were hairdressers. She says she grew up in a hair salon. "Sweeping the hair was a favorite pastime. We always had great hair products and I definitely experimented with perms and straighteners over the years," she shares.
She studied dance in college, and she said there are certain similarities between dance and design that she could perceive. "They are both wordless expressions of the self that trigger an emotional response from the viewer, and involve interacting with space and form," Calderone said in an interview with Vogue Australia. 
She also explained that she developed an early appreciation for designing as she grew up in a humble ranch-style home on Long Island. Every week, her mother would reorganize the furnishings and she would walk into a room to find if the arrangements had been flipped. She was fascinated by being a bystander to these alterations and witnessing how a layout, a color, or a piece of furniture could radically transform a space. She even credited her mother for her "reverence for beauty."
She also pursued modeling, acting, as well as singing. Later, she studied interior designing and graduated from New York's Parsons School of Design. Calderone also took some culinary classes.
Career
Calderone has remodeled and lived in eight houses in the last two decades. She believes each property has given her the opportunity to hone her architectural and design skills. "I love to reinvent a space. I get silly excited by the all-encompassing research. I find the scavenging and collecting of objects downright thrilling," she revealed in an interview with Vogue Australia.
The Story Of EyeSwoon
When Calderone had a child in her mid-twenties, she found herself secluded at home with a newborn. Because her husband Victor traveled frequently, she spent most of the days in their Brooklyn apartment with a newborn. It was then she started her journey to do something creative. She said, "I was bursting with this creative energy and I didn't know where to put it."
Calderone explained her house became her playground — a place to create, design, and express herself. Furthermore, she elaborated she started channeling her artistic eye into her home, which brought her interests in design, cuisine, and creative things.
Calderone's lifestyle website EyeSwoon was launched in the summer of 2011. Before that, she was working as an interior designer and was in the middle of a project. She says that EyeSwoon was born out of a pause in her creativity. Her website defines her aesthetic by layered textures and patterns, accumulated old pieces, and stark contrasts.
In an interview with Heymama, she talked about her initial journey of launching her website. She said that she enjoyed making things beautiful, whether it was her direct personal surroundings or the meals she prepared. As a result, she wanted to share her work via EyeSwoon to see what adventures they would inspire in others. "When I'm designing a space, I can always trace the inspiration back to a singular moment or image that gave me the vision for the complete room. The same thing happens with an amazing bite of food," she added.
She explained that Eye-swoon became a method for bringing all of those fragmented instances together and empowering her to speak to all of her sides, including design addicts, fashionists, food lovers, her mother, and the wife. 
Calderone further noted that she was losing money for the first few years because all the shoots, food, photography, and decorations with props were costly. As a result, she couldn't transform her passion project into a company until she started collaborating with other businesses. 
'Cook Beautiful'
'Cool Beautiful' is her debut cookbook. It includes 100 recipes, along with step-by-step instructions. Each book section is organized by a distinct season and concludes with a tablescape inspired by nature and specific table decor and entertaining advice. 
Some of the popular recipes from the book include Charred Eggplant with Zaatar and Yogurt Tahini, Grilled Zucchini Flatbread with Ramp-Pistachio Pesto, Stewed Pork with Squash, and Walnut Gremolata, Mezzi Rigatoni with Radicchio and Guanciale, Blood Orange Bundt Cake with Orange Bitters Glaze. 
'Live Beautiful'
A student of interior designing, Calderone's second book 'Live Beautiful,' is about interior designing.
The book delves into her global network of interior decorators, fashion designers, and tastemakers to illustrate how carefully constructed environments come together.
It also shares the initial spark of inspiration that began her design journey with each homeowner in the book. Similarly, the book offers advice on how to incorporate elevated design features and incorporates photographs clicked by Nicole Franzen. 
Podcast 'More Than One Thing'
As the host of a podcast show titled More Than One Thing, Calderone interviews "multi-hyphenates who are open enough to share their grit." While conversing with the host Calderone, the participants explain their personal experiences, including their highs and lows, and force themselves to pursue various professional interests.
Her podcast has been featured for two seasons as of August 2021 and is available on the platforms such as Spotify, Apple Podcasts, Anchor, Google Podcasts, Pocket Casts, Breaker, and Radio Public. With over 445K downloads in her first and second seasons, MTOT has consistently been in the top 100 Apple podcasts till now. Some of the popular celebrities who have appeared on the show include fashion designer and activist Aurora James, fashion designer Jason Wu, culinary expert Sophia Roe, best-selling author Cleo Wade and many more. 
Collaboration
Calderone has collaborated with renowned brands like The Wooden Palate, Beau Rush Ceramics, and Simone Bodmer-Turner. She has a long-standing relationship with these brands and has come up with several products and pieces together. Moreover, she has also partnered with Zara Home.
She launched handcrafted ceramic bowls in collaboration with BeauRush Ceramics in October 2020. Calderone announced the launch of the product on her Instagram handle with a caption, "This collaboration was build organically through a 10-year friendship with Cameron. A reminder that our relationships are everything."
Her Collection
In an April 2021 interview with Cultured Magazine, when asked about her personalized collection, she responded that earthenware, ceramics, and patinated terracotta with unusual shapes and textures have long piqued her interest. 
She explained that ceramics might be used as both home decor and abstract art, which is how she initially became interested in collecting pots and ceramics. Calderone also revealed that the majority of the items in her home are old and were purchased at the Paris Flea Market or online.
"Poring over Chairish and 1stDibs is one of my favorite pastimes—I can spend hours getting lost in the hunt for unique vintage vases, vessels, even lamps. The exploration often leads to an education in design history, too!" She stated.
Calderone also mentioned that she had added a few more works to the collection by FAINA artists Jeremy Anderson and Victoria Yakusha. 
Awards and Nomination 
Her cookbook titled 'Cook Beautiful,' won the James Beard Award for photography in 2018. The award is recognized as the highest culinary prize. The photographs were taken by New York-based photographer, Johnny Miller. 
Calderone has also won Saveur magazine's 2016 Readers' Choice Award for Best Style & Design Blog for her blog EyeSwoon.
Personal Life
Calderone lives in Brooklyn with her husband, son, and a puppy. Her husband's name is Viktor, and her son's name is Jivan. Viktor is a DJ who specializes in techno house music. The couple also has a shared passion for real estate.
Husband & Son
Victor and Calderone first met in 1996 in a New York nightclub called The Limelight. During that time, she was working as a young bartender. Two years later, the two were engaged and touring Dumbo. The place at the time was a largely underdeveloped neighborhood lacking even a grocery store. 
The Calderone Wedding
After a year-long engagement, the couple got married at Whitefield Estate, Southampton on 11 September 1999. She and Victor penned their own vows and exchanged them on the mansion's grounds' long brick path. The wedding decor consisted of big candelabras, lace tablecloths, velvet cushions, zebra-print rugs, and antique ceramic vases for the flowers. There was a live performance by a Cuban band at their wedding. Four years later, they welcomed their first and only child, Jivan in 2003.
Calderone's Home Aesthetic 
When it comes to interior designing, she loves "all of the rule-breaking." She likes to embrace one's own unique style rather than sticking to a formula. Calderone shares her home with her husband, Victor, and son, Jivan. The property at Cobble Hill, Brooklyn is a 25-foot-wide late-1800s Greek Revival townhouse and the eighth home they have done together. It took them three years of a full renovation to complete the look. 
The interior is largely made up of antiques from the 1940s to the 1970s. While it consists mostly of Italian and French furnishings, the townhouse also has some pieces from the 18th century. The interior is completed by a neutral but tactile palette. Ninety percent of the furnishings in her house are vintage, which was done on purpose. In terms of decor, she preferred a clash of cultures. 
Calderone collaborated with Elizabeth Roberts Architects to look after her family's individual choices and needs. Her first step was to make a detailed floor-by-floor, room-by-room inventory of the collective and individual requirements. The program included all the details including the best location for each room and its function in the residence. She also looked for the items on websites like 1stdibs, Chairish, auction sites, and eBay.
"Every piece in a room, even the room itself, has a story, and people feel that as soon as they step into the space. Design is an emotional thing," she said in the Vogue Australia interaction.
The Master Suite and Other Rooms
The couple gave the master suite a whole level upstairs. It has double doors leading from the bedroom to Calderone's walk-in closet and a pink-veined white marble bath. In addition, Victor's recording studio is located across the landing. The top floor includes her son Jivan's room, a library/family room, her office, and a guest room.
Heart Of the House: The Townhouse Kitchen
Calderone describes the kitchen as "the star of the show." It comprises Calacatta Paonazzo marble worktops, chalky gray cabinetry, Parisian-style open shelves, and a square island. The space also has an installed wall of bifold glass doors to the terrace beyond, creating an indoor/outdoor area. 
The furniture has a mix of new pieces like Apparatus coffee table and horsehair sconces and old pieces, including a 1970s Mario Bellini sofa and 1950s French chairs. Moreover, the western wall has a pantry and a refrigerator. The pieces like a range, a sink, and lower cupboards are along the longer eastern wall, with a powder room at the far end. It also has decorative items like vintage sculptures, the petit rattan lamp, artwork, and a gilded mirror.
Victor Calderone Was Diagnosed with Cancer
Victor was diagnosed with cancer in May 2021. He could detect it early with the help of his pet dog, Tuco. He revealed the news on Instagram after his dog, Tuco could identify his illness and trigger a symptom, prompting him to seek medical help. He stated on Instagram, "I never imagined the immense love I would develop for Tuco and how he would change my world as I know it."
Victor also revealed that he was opposed to getting a dog for years while his son and wife wanted one. "Call it coincidence or divine intervention, but what I do know is this little guy came into my life for a reason. And although we rescued him, I believe he saved me," he added.
He explained that because of Tuco's intervention, his diagnosis wasn't life-threatening and there wasn't anything to be concerned about. Victor concluded by stating, "In the words of the ER doctor "your dog saved your life" Thank you Tuco — I love you more than you know. You are our miracle pup."
Did You Know?
Athena Calderone doesn't have her bio on a Wikipedia page.