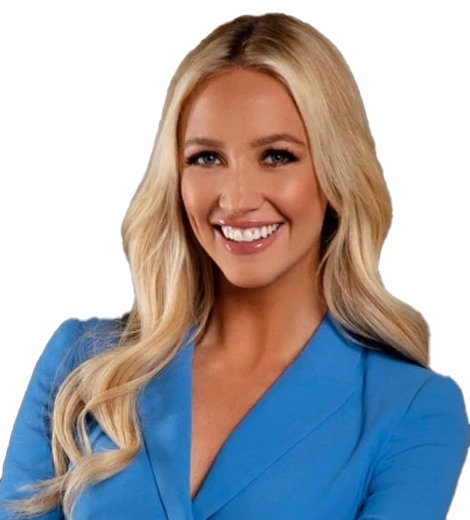 Quick Wiki
Full Name

Ashley Brewer

Occupation

Sports Journalist

Nationality

American

Birthplace

Arizona, USA

Birth Date

Dec 13, 1991

Age

31 Years, 9 Months
Sports Anchor, Reporter, Host for ESPN
Ashley Brewer | Biography
During her freshman year at Texas in 2011, Brewer was a C[apos] finalist in the 100y and 200y back at the Big 12 Championships
In March 2020, ESPN hired Brewer as a co-host of a forthcoming digital show called 'The Replay.' In January 2021, she became a co-host of the new 'SportsNation' on ESPN+. In July 2021, she was named host of 'Sportscenter.'
---
Ashley Brewer is a sports anchor and host for ESPN.
Who is Ashley Brewer?
Ashley Brewer is an American journalist. She has been working as a sports anchor and host/co-host for ESPN since 2020. Brewer has co-hosted ESPN's digital show called The Replay. She has also been hosting ESPN's signature shows like SportsCenter. Before joining ESPN, she worked at ABC7, KGUN-9, and Cox 7.
Early Life and Family
Ashley Brewer was born 13 December 1991 in Phoenix, Arizona, to Robert Brewer, a commercial real estate agent, and Deborah Pyburn Brewer, a former CBS news anchor. She has four siblings - three brothers - Charles, Chase, Connor, and one sister - Abby. 
All her siblings were college athletes. Her older brothers, Charles and Chase, played baseball at the University of California, Los Angeles (UCLA). Charles was a right-handed pitcher for the Diamondbacks while Chase played for the Bruins. 
Her younger brother, Conner, played quarterback at the University of Arizona, and her sister, Abby, played volleyball at the University of Southern California. 
Growing up in a family of five Division I athletes, Brewer also developed her interest in sports.
Education and High School/College Career
Brewer attended Chaparral High School in Scottsdale, Arizona, where she was a standout swimmer. She was a 12-time prep All-American during her high school. Brewer was also the 2009 Arizona 4A state champion in the 100y back. She helped her high school to win a couple of state titles. She was named her school[apos]s '2010 Female Athlete of the Year.'
After graduating from high school, Brewer attended the University of Texas. During her freshman year at Texas in 2011, Brewer was a C[apos] finalist in the 100y and 200y back at the Big 12 Championships. She also provided depth during her sophomore year in 2012 and qualified for the 2012 United States Olympic Trials in the 100-meter backstroke. She finished tied at 83rd. She was then transferred to the University of Southern California (USC) as a junior. At USC, she became a member of the varsity women's swimming team. She continued competing in her junior and senior years as a solid performer in the backstroke. 
In the spring of 2014, she interned in the sports department of KABC-TV (also known as ABC7) in Los Angeles. She then graduated with a Bachelor of Arts in Sociology from USC in 2014. 
Early Career
After graduating from USC, Brewer began her career as a college football sideline reporter for Phoenix, Arizona-based cable television channel Cox 7 (now known as YurView Arizona). She then worked as the weekend sports anchor at KGUN-9, the ABC-affiliated television station in Tucson, Arizona. 
Brewer then spent two years at KGUN-9 covering professional and college sports. She also covered Super Bowl XLIX and the 2016 College Football National Championship game.
She then worked as a weekend anchor and host for ABC7, where she worked as an intern during her college years. While at ABC7, she co-hosted The Bachelor Winter Games, a winter sports-themed reality-TV series that premiered on 13 February 2018 on ABC. It was one of the spin-offs of ABC's reality television game show, The Bachelor. The show featured contestants from all around the world who competed in a "Winter Olympics" to find love with 12 of America's Bachelor Nation favorites. Brewer co-hosted The Bachelor Winter Games alongside Chris Harrison and Hannah Storm.
Brewer also covered major sporting events, including the Dodgers in the World Series and Rams in the Super Bowl.
ESPN
In March 2020, ESPN hired Brewer as a co-host of a forthcoming digital show called The Replay. The show was launched on 6 April 2020 on the mobile subscription streaming platform Quibi. She then served as a host for ESPN's SportsNation. She also co-hosted the Sunday night edition of GameNight on ESPN Radio before debuting on ESPN's signature news and analysis show SportsCenter in September 2020. Brewer was based at the Los Angeles Production Center (LAPC) of ESPN. She typically appeared at 1 a.m. ET edition of SportsCenter. 
In January 2021, she became a co-host of the new SportsNation on ESPN+. In July 2021, she was named host of Sportscenter.
Signing WME
In September 2020, Brewer signed with a talent agency, WME Sports, to represent her in all areas. After signing with WME, the talent agency builds Brewer's business across news, lifestyle content, and unscripted programming.
Personal Life
Brewer has a dog named Hank.