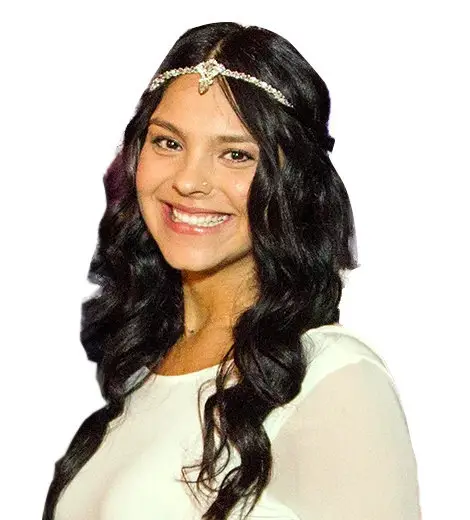 Quick Information
Full Name

Arista Ilona

Occupation

Entrepreneur, Senior Executive Assistant

Nationality

American
Girlfriend of American actor Andrew Keegan
Arista Ilona | Biography 2021
Founder of wellness company Ilona Botanica
Arista Ilona and her partner Andrew Keegan have been together for a very long time. Although the couple has not been married, they welcomed their daughter, Aiya Rose Keegan, on 15 March 2016. The couple organised a "sacred intention ceremony," to reveal the gender of the child.
---
Arista Ilona is the girlfriend of American actor Andrew Keegan. She is the founder of Ilona Botanica.
Who Is Arista Ilona?
Arista Ilona is famously known as the girlfriend of 10 Things I Hate About You star Andrew Keegan. The couple has a girl baby, Aiya Rose Keegan, born on 15 March 2016.
Ilona is a Senior Executive Assistant of Apple Music. She is also the founder of Ilona Botanica, which sells products reminiscent of the sacred Limpia remedies. Inspired by her upbringing, the items contain healing scents that help to alter disempowering emotions and restore serenity, presence, and ritual.
Raised by a Single Mother 
Arista Ilona comes from a family of mixed ethnic backgrounds. While her mother is Puerto Rican and Costa Rican, her father is Mexican, German, Spaniard, and Yaqui Indian. She lived with her single mother and was raised by her Costa Rican grandmother, Cecila.
Ilona has a very special bond with her grandmother, who took care of her and taught her the culture, beliefs, food, and wellness. Ilona described her grandma as a creative woman and helped people with spiritual cleansing, and she grew up surrounded by that environment. Ilona was also taught to focus on nature, God, and the power of prayers. 
Unfortunately, Ilona's grandmother passed away at 72 when she was 15 years old, leading Ilona into a slight depression. Remembering the tough days, she said, "I had to redefine everything that I was and find myself again."
Founder of Ilona Botanica 
Although she is popularly recognized as the better half of Hollywood star Andrew Keegan, Ilona has established herself as a successful entrepreneur and Senior Executive Assistant of Apple Music. She is the founder of Ilona Botanica.
Ilona Botanica is a wellness company that sells body mists and oils that are made of sacred ingredients. The products include "I'm Restored" Mist, "I Call Forth Divine Light," Renew Sacred Body Oil, and "I Release My Past Gracefully" Sacred Womb Oil. 
Ilona learned the Limpia cures from her grandmother, Cecila, and the Botanica products are reminiscent of that. Her mission is to help others integrate rituals into their daily lives by waking sacred presence while managing their daily lives. 
On the other hand, Ilona is also highly involved with Sacred Woman Retreat (SWR). It was established in 2019 with the sole purpose of creating beautiful and inspiring sacred spaces for women to gather, free of competition and judgment. The mission is to provide a loving environment for women to be authentic, connect in sisterhood, and receive community support.
The official website of SWR states, "We are a collective of light-bringers, healers, and magic makers who believe that the world can be healed through positivity, love, acceptance, and kindness."
Personal Life
Ilona and her partner Keegan have been together for a very long time. Although the couple has not been married, they welcomed their daughter, Aiya Rose Keegan. Aiya on 15 March 2016. She weighed 8 lbs. and 3 oz at birth. 
In October 2015, the duo revealed that Ilona was expecting a child. "Our intention is to raise our child in a co-creative environment where truth and love are foremost," Keegan told US Magazine at the time. Ilona also organized a "sacred intention ceremony" where they revealed the gender of their first child to their close family and friends. 
Andrew Keegan
Andrew Keegan, born on 29 January 1979, is an American actor prominently known for his roles in movies like 10 Things I Hate About You (1999), The Broken Hearts Club (2000), O (2001), and The Contract (2002).
He also played a recurring role as Wilson West on the television series 7th Heaven. His notable television appearances include Baywatch, Related, Hollywood Darlings, Adam and Jamero, and many more.
In his recent appearances, he portrayed Frank in Stars in Shorts: No Ordinary Love (2016), Blake in Living Among Us (2018), Jan in Adverse (2020), Dany Truax in Trinkets (2020).
Keegan is also the co-founder of Full Circle Venice, a spiritual center in Los Angeles founded in August 2014. The facility is an open-source spiritual community center that hosts monthly yoga classes and events for personal growth. Located at a 110-year-old temple in 305 Rose Avenue, the fortifications are as old as Venice itself.
About the center, Keegan said, "Full Circle is an experiential environment that aims to elevate the individual while connecting us with each other."