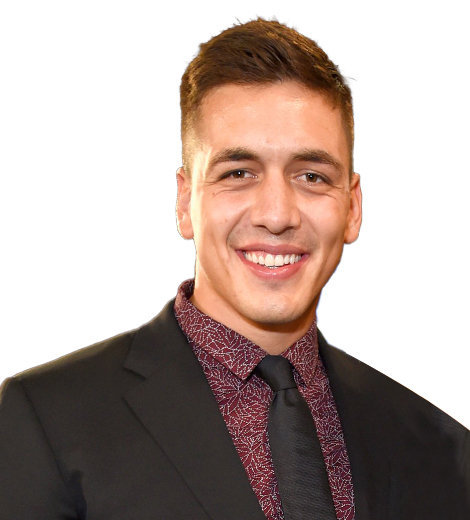 Quick Wiki
Full Name

André Murillo

Occupation

Former Basketball Player

Nationality

German

Birthplace

Bremerhaven, Germany

Birth Date

May 18, 1990

Age

33 Years, 0 Months
Former Basketball Player, Husband of Gospel Singer Tori Kelly
André Murillo | Biography
Murillo and Tori Kelly's wedding was held on a picturesque cliff in Los Angeles, California, in 2018
André Murillo and the then Afghan national basketball player Abdullah Wahidi entered into a brawl at a party at Concordia University in August 2009. Murillo's heart and lung were pierced. He underwent many operations, spent a long time in hospitals, and went through months of therapy to restore his health. Wahidi was sentenced to 12 years in jail.
---
André Murillo is a former basketball player. He is also recognized as the husband of the gospel singer Tori Kelly.
Who is André Murillo?
André Murillo is a known figure in the landscape of athletics, particularly basketball. He played for Hamburg Towers of the German Pro A Basketball League and Seawolves before announcing retirement due to an injury in 2019. 
Murillo is married to Tori Kelly, a Grammy Award-winning gospel singer. 
Early life and Education 
Murillo was born on 18 May 1990 in Bremerhaven, Germany, to Michael and Vera Murillo. Though he was born in Germany, he grew up in Southern California. Murillo completed his high school studies at El Toro High School, California, and graduated in 2008. He has only one younger sister, Michelle. 
Murillo then attended Concordia University in Montreal, Canada, and played basketball in the University team for two years. Unfortunately, he encountered an altercation at a party that caused him a severe stab injury. As a result, he was stimulated into doing drugs and was eventually dismissed from the University. However, he got rid of his addiction after surrendering to spirituality. 
Thereafter, he went to Biola University in La Mirada, California, and majored in Biblical Studies. The most intriguing aspect of Biola for him was its unabashed culture of the Gospel. Adding more to the context, his favorite Bible Verse is Revelation 5:13. At Biola, he was a part of its basketball squad. 
Stabbed in the Heart
On 25 April 2009, during a brawl at a party at Concordia University, Murillo was stabbed in the heart by Abdullah Wahidi, an Afghan national basketball player at the time.
Orange County Register published an editorial in 2014 that recorded Deputy District Attorney Aleta Bryant's statement on the incident. It conveyed that the altercation between Wahidi and Murillo initially began with a cold grudgeful stare which could have occurred because Murillo talked to Wahidi's love interest or perhaps because of "pride" between the two. Defense attorney Kerry Armstrong affirmed that Murillo could have stopped the mishap, but he decided to wait for Wahidi outside the party venue, which eventually escalated things overboard. Murillo's heart and lung were pierced. He underwent many operations, spent a long time in hospitals, and went through months of therapy to restore his health.  
Wahidi was sentenced to 12 years in jail on counts of attempted murder. However, Murillo stated in court that he had no hatred against him. Instead, he voiced concern about Wahidi's conviction and expressed empathy at how deeply the incident had touched both men's families.
 "I'm praying for you, Abdullah," Murillo said in the courtroom. "I'm praying for your fiancée. I'm praying for your son. I'm praying for your family," he added.
High School and Collegiate Basketball Career
Murillo trained for two varsity seasons at El Toro High School. At El Toro, he received the honors of the team Most Valuable Player (MVP) and an MVP award at the Sea View League. Further, his team was named the All-County second team and the All-CIF (California Interscholastic Federation) first team. 
Between 2008-2009 season at Concordia, Murillo appeared in 35 games. He played 13.9 minutes per game and scored 5.1 points in each.
During the 2011-2012 season, he appeared in 36 games for the Eagles, starting all 36 of them. He shot .545 from the field, the second-best on the team. He further scored an average of 12+ points per game, becoming second on the squad, and led the team with 155 free throws made. He finished third on the team with 6.2 rebounds per game and was named a Golden State Athletic Conference (GSAC) and National Association of Intercollegiate Athletics (NAIA) Scholar-Athlete.
He was on a medical redshirt during the 2012-2013 season. Murillo was also awarded the NAIA All-American Honorable Mention and named the All-GSAC team for the 2013-2014 season. He was named a GSAC and NAIA Scholar-Athlete for the second time and led the GSAC in rebounding with 9.3 per game. With 15.8 points per game, he led Biola and was fourth in the GSAC.
Professional Basketball Career
After graduating from Biola, he got drafted by the Hamburg Towers of the German Pro A Basketball League in 2014 and returned to his native Germany to pursue his career and passion in basketball. He had agreed to play with the Hamburg Towers on a one-year contract. After the expiry of the contract, Murillo moved to Rostock to play for the Seawolves. Following an injury in 2019, he retired from basketball.
Personal Life 
Murillo began dating the Grammy Award-winning gospel singer Tori Kelly in 2016. Their wedding was held on a picturesque cliff in Los Angeles, California, in 2018. The couple has no children as of now. But, they do own a dog named Frodo Murillo-Baggins. Murillo also has nephews and nieces, whom he spends a lot of time with, as evidenced by his Instagram posts.
It was not an easy road for the couple to get married. Kelly has written a song called 'Change Your Mind' on her parents' early criticism of her now-husband, Murillo, and her father's refusal to give them his blessing at the time of the marriage proposal.
Not in Rush for Kids
In an interview with People in 2020, Tori stated that she has no plans of having children and starting a family of her own as of now. She further conveyed that she and her husband were happy with their current familial situation.
"We've talked about kids, of course. And it's something that would be, I think, so special at some point, whenever we decide. But, we're not in any rush," she told People.