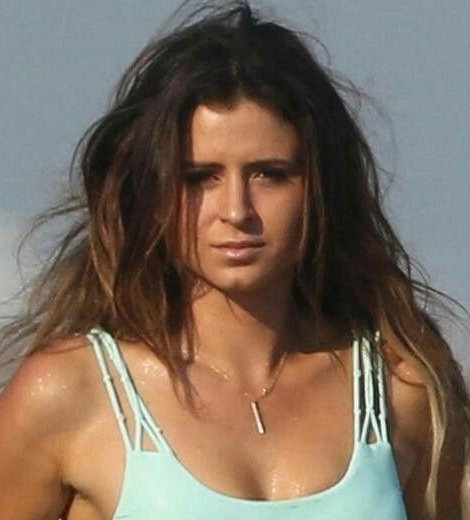 Quick Wiki
Full Name

Anastasia Electrawhitn Ashley

Nickname

Stasia

Occupation

Professional Surfer, Model

Nationality

American

Birthplace

San Clemente, California, USA

Birth Date

Feb 10, 1987

Age

36 Years, 3 Months
American Professional Surfer and Model
Anastasia Ashley | Biography
Ranked 37th in The 2021 Women's Qualification Series
In November 2014, Ashley traveled to Ireland for a Web Summit on how to keep a significant advantage in surfing, focusing on social media techniques. While there, she wanted to persuade former Taoiseach and Irish politician Enda Kenny to go surfing. 
---
Anastasia Ashley is an American professional surfer and model.
Who Is Anastasia Ashley?
Anastasia Electrawhitn Ashley began surfing at five and won her first competition at six. She then started competing and became a professional surfer, winning several prizes along the way, including a national title. 
As of 2021, 2014, Ashley is ranked 37th in the 2021 Women's Qualification Series. In addition, her adventures in gigantic waves have also garnered her attention and garnered her many nominations for the WSL Big Wave Awards.
Ashley's modeling and business endeavors took off in her early twenties, thanks to an appearance in the 2014 Sports Illustrated Swimsuit Edition and the debut of her jewelry collection. Following that, she made a slew of TV appearances in shows like Hell's Kitchen and Naked & Afraid. She also became popular in the social media world. Her Instagram account has over a million followers as of October 2021.
Early Life 
Born in San Clemente, California, on 10 February 1987, Anastasia Electrawhitn Ashley was interested in surfing from a very young age. 
She started surfing when she was five years old, just before relocating to Hawaii. By six, she had won a surf event with a battered board she found in a garbage can outside her house. And by the age of seven, she found a sponsor to help her replace her worn-out bulletin board with new ones.
Surfing Career
At 16, Ashley won the Triple Crown Rookie of the Year title in 2003. The same year, she also earned her first big national title. She then went on to win several championships, notably two National Scholastic Surfing Association honors and the Professional Surfing Tour of America championship. In addition, Ashley also took first place in the Pipeline Women's Pro in Hawaii in 2010.
In November 2014, she traveled to Ireland for a Web Summit on how to keep a significant advantage in surfing, focusing on social media techniques. While there, Ashley wanted to persuade former Taoiseach and Irish politician Enda Kenny to go surfing. 
Anastasia Ashley Wipeout
In 2014, Ashley was hit in the back by a solid 15-footer wave, and luckily, she survived. When asked about the event in an interview with Grind TV, she said, "Basically, I took the wrong line [laughs]. I didn't realize where the lip was, and when I saw it, I hesitated, and that's when things really went wrong. The lip landed square on my back and just got exploded."
Ashley also explained that she had been wiped out on more giant waves before, but this was by far the most intense wipeout she had ever experienced. She also described it as the worst-case scenario.
Modeling & Filmography 
Ashley began modeling in 2014 by appearing in Sports Illustrated Swimsuit Edition alongside celebrities like Chrissy Teigen, Nina Agdal, and Lily Aldridge.
"Sports Illustrated is an amazing experience, and everyone there is the best team to work with. It's funny, because I've modeled and been around some of the biggest supermodels, Chrissy Teigen, you name it, and I've been able to have fun with it," she said in an interaction with The Daily Beast about her experience. 
Following that, she also made appearances in various television shows. She featured on the third episode of Hell's Kitchen Season 14 and taught the team challenge winners to surf. She was also a guest during that episode's dinner service. She also appeared in other shows like the 2013 film Isolated, the 2015 short film Air New Zealand Presents a Safety Safari, and Stoked with Adam Glick in 2019.
'Naked and Afraid'
Naked and Afraid is Discovery channel's adventurous reality show where two strangers (mostly one male and one female) try to survive in the jungle for three weeks, naked. In 2017, Ashley appeared on the TV show Naked and Afraid as a survivor. She was even spotted eating fish. 
Surviving in the wild, Ashley was bitten by hundreds of bugs. "Being attacked from a swarm of freshly hatched bugs that decided I was their host while naked in the jungle, with nowhere to hide is really the worst experiences of my life," Ashley tells us. "It was pure torture. We wanted to jump in the fire to try to end the itching. Luckily we didn't," she told Entertainment Weekly in 2017.
Business
In September 2014, she collaborated with OK1984, a jewelry manufacturer, to launch her own Gypsy Jet Set jewelry line. She was also featured on Maxim magazine in the October 2014 edition.
Who Is Anastasia Ashley's Husband?
While Ashley is not married yet, she is engaged to her boyfriend, Abraham Kaslow. 
Did You Know?