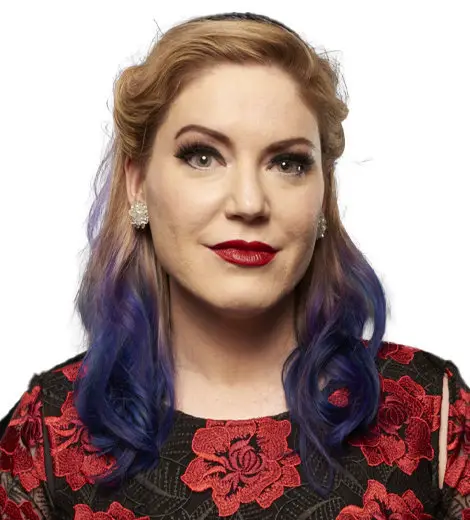 Quick Wiki
Full Name

Amy Allan

Occupation

Physical Medium, TV Personality

Nationality

American

Birthplace

Colorado, USA

Birth Date

May 31, 1973

Age

50 Years, 0 Months
Quotes
"The producers adhered to the rules! I follow a very scientific methodology when I approach an investigation, and one of the main things is that I know nothing! Otherwise, I become distracted and cannot do my job. So, I think that there is a lot of integrity that this show holds. It is two worlds colliding, too. Within my life method science and the paranormal come together, I wanted this within the show, too. Steve brings the facts and I bring in the world of the paranormal, and together we can create a whole picture of what may or may not have taken place. The biggest difference is that we are not looking for ghosts. We are just going in blind and seeing what is really going on."
Host of the paranormal television series 'The Dead Files'
Amy Allan | Biography
Allan was mentored by a renowned parapsychologist Dr. William Rolls
Amy Allan rose to fame through the television series 'The Dead Files,' which premiered its thirteenth season in January 2021. Allan allegedly communicates with the dead, while former homicide detective Steve DiSchiavi investigates the history of the property and past events. The duo finally comes up with their findings to the people who sought their help.
---
Amy Allan is a physical medium who claims to communicate with the dead and television personality best known for co-hosting Travel Channel's paranormal television series 'The Dead Files.'
Who is Amy Allan?
A Colorado Native, Amy Allan came to prominence after appearing in The Travel Channel reality-TV show The Dead Files in 2011. In the show, she appears as a physical medium who allegedly communicates with spirits to solve paranormal cases. She co-stars with former homicide detective Steve DiSchiavi in The Dead Files. The show moved from The Travel Channel to Discovery+ in 2021.
Early Life and Education
Amy Allan was born on 31 May 1973 in Colorado. Growing up in Arvada, Colorado, Allan became interested in paranormal activities at the age of four when she claimed to have been tormented by "shadow people." She then began her journey to resolve the mysteries of the paranormal phenomena, which continued throughout her life. 
Allan graduated with a degree in psychology from the University of Arizona. She was also mentored by a renowned parapsychologist Dr. William Rolls. Reportedly, her unusual abilities have been examined and tested by several parapsychologists.
During an interview with Travel Channel, Allan said she had paranormal experiences since childhood but understood such paranormal phenomena only in her 20s. She explained, "I really did not understand fully what was going on until I was much older. I would say I understood the terminology and application of that to myself when I was in my 20s. I have had experiences since I was a child."
Career
Allan frequently contributed to private and police investigations utilizing her extraordinary abilities. She was then approached by screenwriter Jim Casey who created, and executive produced the paranormal investigative television series The Dead Files with Allan and DiSchiavi, a retired homicide detective with the New York City Police Department. The series premiered on 23 September 2011 on Travel Channel. 
In the series, Allan and DiSchiavi investigate allegedly haunted locations across America to solve unexplained paranormal phenomena. DiSchiavi investigates the history behind the property and searches for physical evidence. Allan allegedly communicates with spirits to find out insight into past events. Allan also works with a forensic sketch artist to draw images, which she claims to witness. Finally, Allan and DiSchiavi share their findings with the people who sought their help.
However, some reviewers and online outlets had raised questions about whether The Dead Files was real or fake. Karen Stollznow, a skeptical paranormal investigator, wrote in 2013 that The Dead Files was misleading and biased. Stollznow had stated that the series was edited, and the points matching Allan's claims and DiSchiavi's findings were telecasted. A few years later, TVOvermind called The Dead Files "completely fake," citing the series had no evidence and signs of staging and superficial revelations, among many other reasons.
Nevertheless, The Dead Files has continually been airing and its thirteenth season premiered on 2 January 2021. The series moved from The Travel Channel to Discovery+ in 2021.
Personal Life
Allan was married to Matthew Anderson, who worked as a camera operator to document Allan's responses in The Dead Files. They divorced after staying together for 12 years. 
Later, Allan started dating director and producer Rob Traeger, one of the directors of The Dead Files. After dating for several years, Allan announced their engagement on 30 October 2017 and then exchanged their wedding vows a year later on 31 October 2018. 
She currently resides in Acton, California. A tattoo enthusiast and animal lover, Allen has many tattoos on her body, including Hello Kitty tattoos that she considers an honor to all cats in the world.