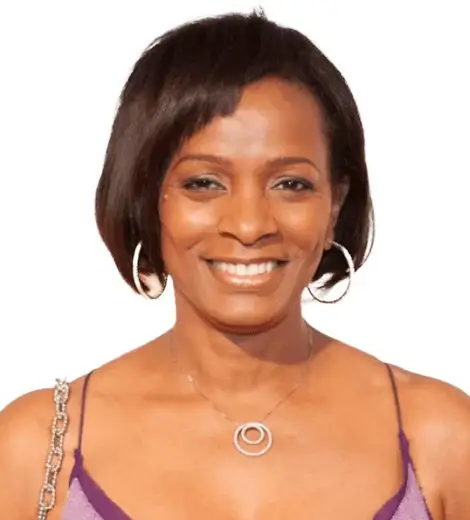 Quick Wiki
Full Name

Allison Dean

Occupation

Actress

Nationality

American

Birthplace

Kansas, USA

Birth Date

Mar 31, 1977

Age

46 Years, 8 Months
Cast of 'Coming to America'
Allison Dean | Biography 2021
Dean will appear in the Upcoming Fantasy TV Movie 'Zodiac'
Allison Dean played Patrice McDowell in th 1988 movie 'Coming to America.' It is a story by the renowned comedian and actor Eddie Murphy, who also played the lead role of Prince Akeem Joffer. The movie's sequel 'Coming 2 America' was released on 5 March 2021, and Dean was shown in a photo during its opening credits.
---
8Allison Dean is an American actress best known for playing Patrice McDowell in the 1988 film 'Coming to America.' 
Who is Allison Dean?
Allison Dean was born on 31 March 1977 in Kansas, USA. She began her acting career in the Oscar-nominated film Coming to America in 1988. Later, she appeared in films like Ruby in Paradise (1993), Speed 2: Cruise Control (1997), Where's Marlowe? (1998), American Intellectuals (1999), and Tears of the Sun (2003). She also appeared on television series such as CBS Schoolbreak Special, Chicago Hope, Once and Again, Alias, and Girlfriends. 
Career
Allison Dean made her acting debut in the 1988 romantic comedy film Coming to America, portraying the role of Patrice McDowell. She then appeared in the role of Barbara in the 1990 comedy TV movie Dr. Ruth's House, which follows the story of a college professor and a sex therapist Dr. Ruth Westheimer who tries to help the relationship problems of five college students and one of them is played by Dean. Other cast members of the TV movie included Tim Conlon, Tammy Amerson, Lisa Alpert, and Travis McKenna. 
In 1991, Dean appeared as Princess in the romantic musical comedy film Cool as Ice. That year, she also appeared in the role of Naima in the film Without a Pass. Two years later, Dean played the role of Rochelle Bridges in the 1993 romantic drama film Ruby in Paradise, adapted from Jane Austen's coming-of-age novel titled 'Northanger Abbey' published in December 1817. In 1995, she appeared in Joseph Dougherty's TV movie Abandoned and Deceived, alongside Lori Loughlin. 
She then portrayed the role of Marifa in the 1997 action thriller film Speed 2: Cruise Control. The following year, she appeared as Angela in Daniel Pyne's mystery thriller film Where's Marlowe? The film won 'Moxie! Award' under the category 'Best Comedy' at Santa Monica Film Festival. 
In 1999, Dean starred in the role of Beatrice in Paige Taylor's satirical comedy film America Intellectuals, alongside Rob Biermann, Peter Gibson, Shawnee Free Jones, and Portia de Rossi. 
That year, she also played the role of Erin Cortland in Julie Dash's thriller TV movie Incognito, adapted from Francis Ray's 1997 novel of the same name. In the film, she portrayed a rape victim stalked by Derek Scanlon (played by Phil Morris), who assaulted her. Her father employs a bodyguard Jake Hunter (played by Richard T. Jones), for her protection.
Dean again played the role of a rape victim in the 2003 action thriller film Tears of the Sun.
'Coming to America'
In Coming to America, Dean portrayed Patrice McDowell, who gets attracted to Semmi (played by Arsenio Hall), crown prince Akeem's best friend and personal aide. But, he lies as being the prince of Zamunda. Renowned comedian Eddie Murphy portrayed the role of Prince Akeem Joffer. In the film, Patrice is the daughter of Cleo McDowell (played by John Amos) and the younger sister of Lisa McDowell (played by Shari Headley). Cleo is Akeem's employer, and Lisa is Akeem's love interest. 
Coming to America was nominated for the 'Academy Award' in 1989 under two categories — for the 'Best Costume Design' and 'Best Makeup.'
The movie's sequel Coming 2 America was released on 5 March 2021, in which Dean was only seen in a photo during its opening credits.
Television Shows
On television, Dean appeared in two episodes of the adventure comedy-drama series CBS Schoolbreak Special in 1989 and 1990. In 1996, she made a guest appearance as Masai Mother in the CBS mystery thriller drama series Chicago Hope, the story of medical staff in a fictional hospital in Chicago. Dean then appeared in an episode of ABC romantic drama series Once and Again in 2001. The following year, she appeared as Stella Campbell in an episode of ABC mystery drama series Alias, created by J.J. Abrams. Between 2006 and 2007, Dean guest-starred in two episodes of the comedy series Girlfriends, playing the role of Bridget Thompson. 
Comeback
After appearing on Girlfriends, Dean disappeared from the entertainment industry for more than a decade. She returned to acting in 2019 to become a part of the short film The Talk. As per IMDb, the short film has been completed but not released yet. She will appear in the role of Faia in the upcoming fantasy TV movie Zodiac, and the post-production work is going on.
Production Works
Besides acting, Dean served as an associate producer for three episodes of the sci-fi action-drama television series Operation: WASTE.LAND in 2010. It was directed by Anthony Wilson and created by Pablo Digenio and Gonzalo Digenio. Dean also worked as a production assistant in the comedy-drama series Little Women, Big Cars (2012) and the sport-drama series Beyond the Mat (2013).