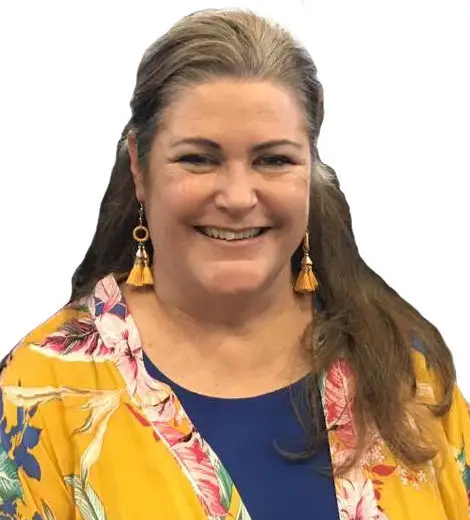 Quick Wiki
Full Name

Alison Botha

Occupation

Motivational Speaker, Author, Former insurance broker

Nationality

South African

Birthplace

Port Elizabeth, South Africa

Birth Date

Sep 22, 1967

Age

56 Years, 0 Months

Did You Know?

She was abducted, raped, and severely incapacitated at the age of 27.

Husband

Tienie Botha

Wedding Date

February 1997

Awards

'Courage Beyond the Norm' 'Woman of Courage' Citizen of the Year'

Did You Know?

Botha was found with 36 stab wounds on the abdomen, 17 slits on the throat, and sexually assaulted multiple times.

Children

first child, Danial (14 November 2003) second child Matthew in 2006

Zodiac Sign

Virgo
Quotes
"It's a human story. I know it's about violence, I know it's about rape … but it hits a nerve [with everyone]."
Author of the book 'I have a life'
Alison Botha | Biography
Member of the non-profit health care provider Hawaii Pacific Health
Alison Botha was an insurance broker when on one night in December 1994, she was abducted, raped, and severely attacked by two unknown persons. She managed to reach the nearest road before a passing veterinarian saved her. The brutal rape case that shocked entire South Africa was widely called the Noordhoek Ripper Trial. The convicts were sentenced to life. A movie was released in her name based on her story, and she is the author of two books, 'I have a life,' and 'For the Tough Times.'
---
Alison Botha is the victim of the brutal rape that shocked South Africa in the 1990s, and the case was widely called the Noordhoek Ripper Trial. 
Who is Alison Botha?
Alison Botha worked as an insurance broker before being abducted, raped, and severely incapacitated at 27. 
Botha was left to die by her perpetrators on the city's outskirts. But she regained consciousness and made it to the nearest road from where a passing veterinarian saved her. The criminals were identified and sentenced to life in prison for rape, kidnapping, and attempted murder.
Botha then became a motivational speaker. She also won the 1995 Rotarian Paul Harris Award for 'Courage Beyond the Norm' 'Woman of Courage' from Femina magazine and was awarded Port Elizabeth's 'Citizen of the Year.' In 2016, a documentary movie Alison, based on her first book, was released. 
Alison Botha was born on 22 September 1967 in Port Elizabeth, South Africa. She grew up with her mother and 18 months older brother Neale after her parents divorced when she was ten years old. She went to Collegiate High School for Girls, Port Elizabeth, and graduated as the head girl in 1985. After that, she traveled around for a couple of years and worked as an insurance broker.
Abduction, Rape, and Attempted Murder
On a day in December 1994, Botha was returning home after dropping a co-worker off at 1 am. She could not find space in her usual parking lot, so she went to another parking space within walking distance from her house. While trying to get out of her car, an unknown man threatened her with a knife. He asked her to shift behind and give handover the car keys. 
The man promised her that he wouldn't harm her if she followed his order and just needed the car for a while. He drove Botha along, picked another person, and then to a deserted outskirt area of the city. Upon stopping at a location where no one would find them, they raped her and suffocated her to knock her out. They went on to stab her multiple times in her abdomen, which disemboweled her, and then cut her throat.
When she regained consciousness, she could not figure out what was happening to her. "All I could see was an arm moving above my face," she excerpted. 
After that, she recalled the gruesome moment without any pain, which made it feel like a dream. 
"I was outside the car and on the sand now on broken glass," she added, "All I could see was an arm moving above my face. Left and right and left and right. His movements were making a sound. A wet sound, it was the sound of my flesh being slashed open. He was cutting my throat with the knife. Again and again and again."
"It felt unreal but it wasn't. I felt no pain, but it was not a dream. This was happening. The man was slashing my throat," Botha continued, "The fear and the horror wrenched through every nerve in my body and I was completely aware. The man moved away and I heard their voices drifting further from me, and then I turned onto my front. There was a strange rasping sound."
Only later that Botha could discern that the rasping sound was from her own throat. She tried to stop her body from making that sound as she feared that if she got too loud, they might hear her alive. 
Also Read About - Robby Soave - Wiki, Age, Birthday & Reason
How did she survive?
After slashing her throat over 15 times, those two men were convinced that she was dead and that no one in such a condition would survive. She heard the men talking to each other, so she chose to pretend dead till they drove away. 
However, Botha was only 27 years old. She wanted to do more things in life and did not want to die. She decided to fight right on her deathbed, "At that moment, I knew I had to at least leave a clue about who did this to me, so I wrote their names in the sand and 'I love Mom' beneath it. There was so much I still wanted to do, so much that I still wanted to live for." 
Firstly, Botha wrote the names of the men on the stone she was lying on, using her blood, and braced to get up. However, while moving, she found that her internal organs were on the surface of her body. Nevertheless, Botha chose to get up. 
"It was time to move. I crawled, struggling through dirt and broken glass, my one hand holding the shirt. With each successive movement, I became increasingly tired. At some point, I collapsed onto the sand, exhausted," Botha added, "As I struggled forward, my sight faded in and out and I fell many times but managed to get up again until I finally reached the road."
She grabbed her clothes lying beside her, covered her abdomen with one hand, straightened her head with the other hand, and walked to the closest road hoping someone would find her.
While added, "I pulled my head forward with my free hand and my vision returned, at least temporarily. As I struggled forward my sight faded in and out and I fell many times but managed to get up again until I finally reached the road."
Botha wanted to give up and pass away many times from the intensity of effort and trauma. However, every time she tried to do that, she got reminded of her mother. "But then the thought of my mother entered my mind, and I knew I had to go on. So I pushed myself up again and continued to crawl, but it was taking too long. I knew then I had to get on my feet," she reminisced. 
Who saved her?
To her luck, a veterinary student from Johannesburg, Tiaan Eilerd, who was on holiday, found her lying on the road. After seeing her alive and conscious, he held her until medical help arrived.
When the medical team and Eilerd took her to the hospital, the doctors were shocked that they had never seen such injuries on one person and yet alive. Botha was found with 36 stab wounds on the abdomen, 17 slits on the throat, and sexually assaulted multiple times. Yet, she survived because none of the injuries had reached her arteries and her trachea was still intact, letting her breathe enough.
Botha recognized the perpetrators after the surgeries. They were found to be satanic followers named Theuns Kruger and Frans du Toit. They supposedly enacted a ritual on her as an offering to Satan. The counts of her atrocities and her survival had shocked the entire nation, and her trial was famously named the Noordhoek Ripper Trial.
Nevertheless, the accused pleaded guilty to all charges, including kidnapping, rape, and attempted murder. They were convicted and were given life sentences in August 1995.
Post Trauma
After the incident, Botha was left severely depressed and could not return to her normal life. It took her a long time and constant help to move on.
Unable to pretend to be fine and not willing to remain traumatized, Botha quit her job in 1995 and decided to start an afresh journey. She asked her friend for opportunities and gave public speeches for small incentives. She also traveled around the world talking about her abduction and rape and became the first South African woman to build up the courage to speak about sexual assaults publicly.
As a result, she was given the 1995 Rotarian Paul Harris Award for 'Courage Beyond the No'm.' She also received the 1995 'Woman of Courage' from Femina magazine and was chosen as the Port Elizabeth's 'Citizen of the Year.'
Botha addressed her overpowering survival story to tens and thousands of people in over 20 countries worldwide. She desired to make a difference with her words and relentlessly worked to bring changes in herself and others.
In 2020, Botha joined a non-profit health care provider in Hawaii, Hawaii Pacific Health as the executive board member.
Books
In 1998, Botha published a book on her survival titled 'I have a Life.' It was ghostwritten by Marieann Thamm. The book was translated into seven languages and became a bestseller, selling over 90,000 copies.
In 2002, she published her second book, 'For the Tough Times.'
Documentary
Subsequently, a production company offered a movie based on the attack and the book to Botha. However, she wanted to control the movie's contents, so she withheld the story's rights until she came to a good agreement with the director and writer of the film, Uga Carlini.
Carlini was inspired by Botha's speech at a Rugby field in 1999. She wanted to imprint her spirit in the movie and worked accordingly with Botha to deliver the best version.
In an interview with the Sunday Times Magazine, Carlini explained the sentiment he could share with Both in the field, which made him initiate the project. "Alison was so far away from me I couldn't even see her face, but I could hear her clearly through the sound system and I'll never forget her ability to make you feel she's there just because of you."
He also added the impact Botha could have on other people from her story and her ways of displaying it in front of so many people. "She speaks right into your heart, and you feel like you've known her all your life. I felt that and I could see it in everyone around me. These tough ooms next to me were even crying. Not because her story is sad but because it is so uplifting, this connection she has with people, her honesty. Something so bad happened to her, but she turns it around and shows you it's not about that."
In the documentary movie Alison, Botha walked through her tale as a narration with artistic representation. During the promotional interview for the film, Botha said, "It's a human story. I know it's about violence, I know it's about rape … but it hits a nerve [with everyone]."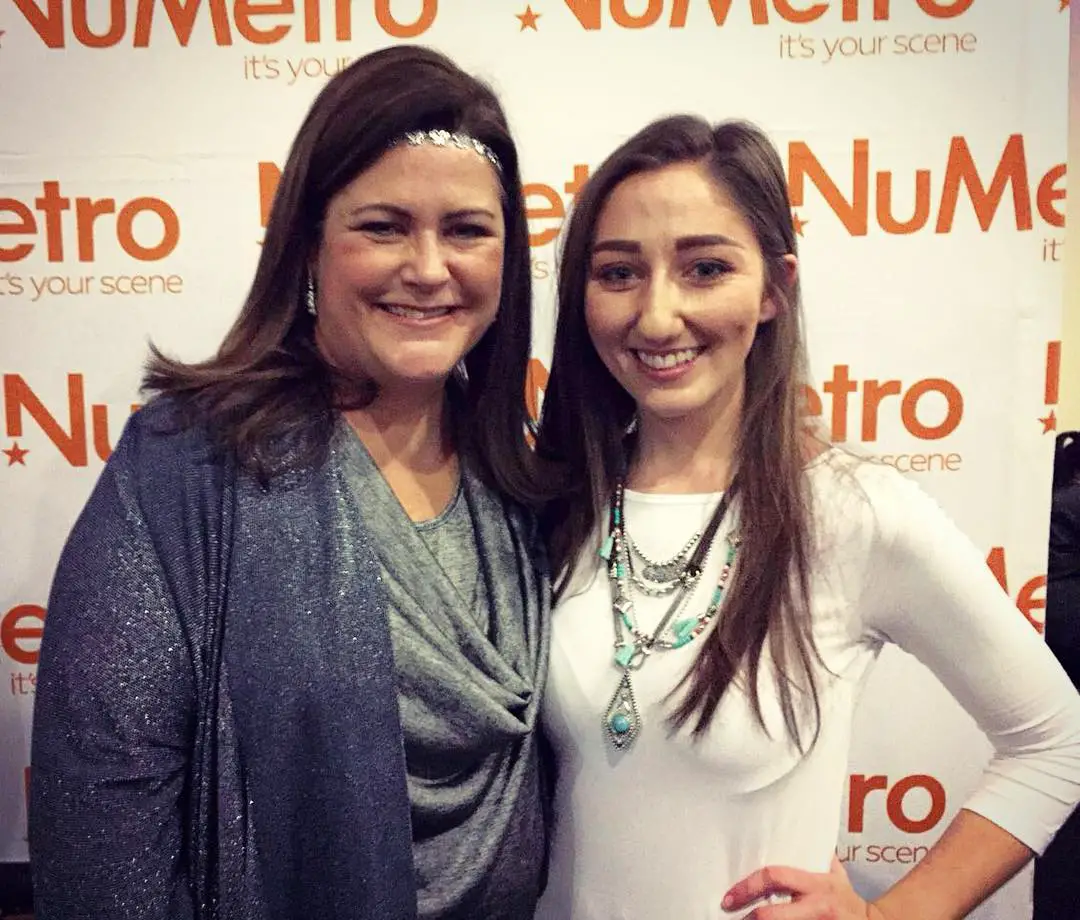 Alison Botha with entertainment journalist Nadia Romanos during the premiere of Alison in 2016 (Photo: Instagram)
The movie was released in 2016. It became the first movie in the history of South African cinema to be selected for the 'Dances With Films' of the Los Angeles Indie Fest. Carlini won the 'Best Director' and the 'Best Screenplay' award at the 2019 'International Innovation Film Festival (IIFF)' for her work in Alison.
In 2016, she was also featured in a short biography, The Butterfly Revolution, inspired by the 1999 controversial Charlize Theron "Real men don't rape" campaign.
Husband and Sons
A year after the attack, Botha met her longtime friend Tienie Botha, who was also depressed from his childhood trauma. 
"Tienie and I have known each other for many years but not very well," she explained, "We met again at a friend's house about a year after my attack. He was severely depressed himself at the time because of unresolved childhood trauma, and I was trying to fight my own depression."
Nevertheless, they found common ground in their friendship and eventually fell in love with each other. "I think our mutual desperation was the basis for our friendship deepening as we helped each other get out of the 'dark'. There was no specific thing that happened or moment when I knew that he was 'the one' - it was just the most natural thing for us to discuss the future knowing that we would spend the rest of our lives together."
They got married in February 1997. On 14 November 2003, Botha gave birth to their first child, Danial. The couple welcomed their second child Matthew in 2006.
About revealing the attack to her children, Botha said, "I have never lied to my sons – I didn't want them to find out what happened by picking up my book or seeing me on TV–but I have never told them more than they were asking. My oldest son was about five when he asked about the scar on my neck. I just said, 'Mommy was hurt, and sometimes when you get hurt, you get a scar afterwards.' And that was enough. They guide themselves in what they are able to digest. As they have got older and can comprehend more, they have wanted to know more."
Botha also regards her position as a mother as a prominent part of her life and survival. "Being a mother is the most important thing that I have ever done in my life. To know that it is all actually about someone else is an incredibly humbling experience."
She also shared that she cannot want her children to grow up and be their wonderful selves. "I take the responsibility very seriously but my sons make it easy, especially Daniel because he is so very beyond his years in personality, attitude, and ability. We cannot wait to see how Matthew's character differs from Danial's. My desire for both my sons is that they will always be true to themselves."
Parole
Shortly before the production of Alison began, Botha and Carlini learned that all the prison inmates convicted before October 2004 were eligible for release. The rule applied to Kruger and du Toit.
During the production, Du Toit made contact with Carlini from prison. He offered an on-camera interview in return for a signed letter of forgiveness from Botha and backdated revenues from her book and motivational lectures. Carlini turned down the offer, but the fear of criminals walking free manifested fear in Botha's life.
Botha then worked on a public petition to reject their paroles and keep them in jail. She also found that Kruger's parole process had already begun without any notification to the victim. However, Botha continued her petition and pledged national and international viewers to participate.