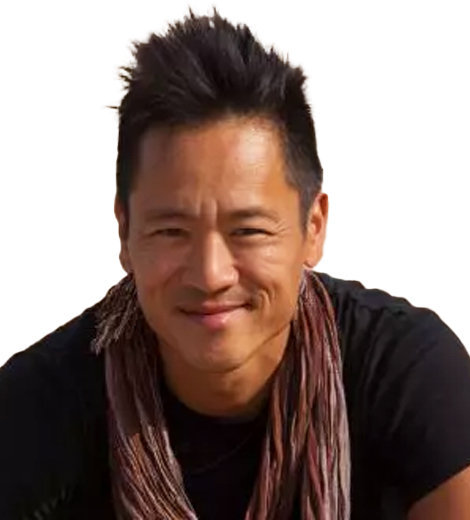 Quick Wiki
Full Name

Albert Yu-Min Lin

Occupation

Explorer, Scientist, Traveler, Researcher, Phiolosopher

Nationality

American

Birthplace

California, USA

Birth Date

Mar 22, 1979

Age

44 Years, 6 Months
Quotes
"We're finding places where there are secrets hidden within extreme conditions—things that might tell you more about the human story."
"They gave me a horse and taught me about a history I didn't even know was there—one in which Khan was a hero... Of course, he was a warrior at the time, but he changed the entire course of the planet within a single lifetime, defeating armies that were more advanced by every account."
National Geographic Explorer, Research Scientist at the University of California San Diego
Albert Lin | Biography
Lin is the Director of the Center for Human Frontiers
Explorer, Scientist, Philosopher, Traveler Albert Lin, an Explorer of the National Geographic Society since 2010, received funding for his Khan project, an expedition in search of Genghis Khan. Due to the connections Lin developed on earlier journeys, he could secure entrance to Mongolia's so-called "Forbidden Zone," where Khan's tomb was thought to be. The tomb was never found, but Lin's technology using satellites, drones, geophysics, virtual reality, and the extensive ground got him sparked great influence in his methods to find it and got him in the limelight. He also led National Geographic's first crowdsourcing endeavor in archaeology and pioneered the platform Tomnod.
---
Dr. Lin is an 'Emmy Award'-winning scientist and explorer who had led excursions to some of the world's most distant locations, including Genghis Khan's tomb and Maya temples.
Who is Albert Yu-Min Lin?
An award-winning scientist, technologist, explorer, and adventurer, Lin works as a Research Scientist from 2009 to date at the University of California at San Diego (UCSD). He is also a National Geographic Society Explorer. Also, Lin is a co-founder and CSO of Planet3 Inc. (2014- Present) and Tomnod Inc. (2011-2013).
Lin had led many trips to the farthest reaches of the globe, bringing digital advancements in the search for oddities ranging from Genghis Khan's tomb to Maya temples. Several of his explorations had been converted into National Geography documentary series, namely, Lost Treasures of the Maya (2018), Lost Cities with Albert Lin (2019), Buried Secrets of the Bible with Albert Lin (2019), all of which were hosted by him. Such hostings and appearances in media portals like BBC, The Washington Post, NPR, and on the cover of Newsweek had established Lin as a media figure.
Lin lost his leg after an off-road collision. He eventually chose a prosthetic replacement, but that had not stopped him from participating in sports or risky excursions. Furthermore, his contributions to exploration and discovery earned him the 'Lowell Thomas Medal' (2011), 'Nevada Medal' (2014), and an 'Emmy Award' for a 'National Geographic Promotional Announcement' in 2012.
Early Life and Education
Albert Yu-Min Lin was born on 22 March 1979 in San Diego and grew up in Cambridge, England. Brought up by an astrophysicist father and music-loving mother, Science and Arts became integral parts of Lin's childhood. When Lin was a child, his father used to take him on sabbaticals throughout Europe and Russia, which was the start of his worldly travels. 
However, his period of discovery began at the University of California San Diego, where he took classes with materials scientist Marc A. Meyers, a novelist, and poet. The professor's engagement in various fields alongside material science motivated Lin to broaden his area of expertise.
Lin describes Meyers as a "renaissance guy" in a bulletin published by the US San Diego Jacobs School of Engineering. "I always thought you had to be an expert in one thing. But he wrote poetry and novels; he went down the Amazon. He did all these other things, but he was also a materials scientist. He was a human being", Lin added to his impression on Meyers.
These realizations helped him achieve multiple titles today, such as explorer, traveler, scientist, philosopher, researcher, and many more.
Lin completed his master's and doctorate degrees in materials science and engineering from the University of California San Diego (2005-2008).
Career Bio
Lin currently works as a Research Scientist (from 2009) and Co-Director of Distributed Health Labs (from 2011) at UC San Diego. He is also a co-founder and Chief Science Officer of Planet3 (from 2014) and an Emerging Explorer at National Geographic Society (from 2010). Similarly, he is a member of the Board of Directors of DigitalGlobe Foundation (from 2013) and Advisory Board Member of HBS Digital Initiative (from 2014). His 2010 program, Engineers for Exploration, funded by the National Science Foundation, sent hundreds of top engineering students from all over the country on field excursions around the world.
Expeditions
The Valley of the Khans Project is where Lin began his career as an explorer. He searched for Genghis Khan's tomb using satellites, drones, geophysics, virtual reality, and extensive ground exploration. His subsequent excursions to Maya sites in Guatemala and the tomb of the First Emperor in Xian, China, used similar procedures. 
Furthermore, his insights on the amalgamation of remote field expeditions and public participation helped pioneer the platform for crowdsourcing human analytics of substantial satellite imagery.
Also Read About - Chelsea Laden - Destination Fear, Age, Boyfriend
Experience at Gobi Desert
Meyers played an influencing role in Lin's decision to become an explorer-scientist. He would take summer travels on a minimal budget to build his own spirit of adventure. Amidst such trips, one was his midnight train aboard in the Gobi Desert, near the Chinese-Mongolian border.
During the trip, Lin had a random encounter with a Mongolian woman and her friend who were having a hard time crossing the border. Lin assisted the parties to cross the frontier in the middle of the night. He recalls the incident as an intense and spooky experience. This seemingly little deed ultimately altered the direction of Lin's journey and his destiny. Lin was brought to her home by the woman as a virtue of appreciation, and she introduced him to her family and their nomadic culture, which dated back to thousands of years. Their cultural history included the emperor Genghis Khan, a subject Lin took a keen interest in his future explorations.
Fluent in English and Mandarin, Lin instantly built a rapport with the woman's family. Furthermore, Lin was treated as if he were an adopted son by them. "They gave me a horse and told me about a past I didn't even know existed—one in which Khan was a hero," US San Diego Jacobs School of Engineering shared Lin's experience in their bulletin. "Of course, he was a warrior at the time, but he changed the entire course of the planet within a single lifetime, defeating armies that were more advanced by every account", the bulletin added to his experiences.
After the Trip, Lin went home to attain his doctorate but his infatuation with Khan remained.
Tomb of Genghis Khan 
Lin continued his fascination with Genghis Khan after obtaining his master's and Ph.D. in materials science and engineering. He sold all his belongings, sleeping in his car and on sofas, spending all of his time and resources to construct his own exploratory project. He wanted to learn more about Khan's past and decipher the enigma surrounding his last resting place. He set a timeline of a year in preparation for the project.
Lin devoted his entire attention to researching Khan's forgotten history from a scientific and technical viewpoint. His perspective was further enhanced by Maurizio Seracini's '73 graduation speech. Seracini had explained how multispectral imaging and other non-destructive techniques might be used to look under the surface of paintings and through walls. This opened Lin's eyes to the possibilities of studying cultural items without causing harm or intrusion. The talk also exposed him to the Qualcomm Institute, formerly known as Calit2 at UC San Diego.
Despite Lin being just a mere dweller at Calit2, the directors there encouraged Lin's interest and determination to succeed in his studies. Lin's reputation and relationships grew little by little as he gained experience. Eventually, The Valley of the Khans project evolved into an international collaboration between a number of prestigious institutions, namely, the University of California at San Diego, the Mongolian Academy of Science, the National Geographic Society, and the International Association for Mongol Studies. This collaboration helped perform a high-tech, non-invasive remote sensing investigation for Genghis Khan's tomb.
The tomb was not discovered, but Lin's search tactics sparked significant attention.
Tomb of China's first Emperor
The first Chinese Emperor, Qin Shi Huang's tomb was believed to carry horrifying mysteries, which Albert Lin and the National Geographic Channel studied on their China expedition. Buried merely one mile from the tomb of China's first emperor, the Terracotta Warriors were revealed to be just the edge of a larger proportion of tomb intricate that was mostly unexplored. Those motionless sculptures were assumed to protect shocking, gruesome discoveries.
Guatemala Excursion
Lin was a part of the team that explored the Maya archeology in the Guatemala excursion. The exploration, which was accompanied by the PACUNAM project, surveyed almost 800 square miles of the Maya Biosphere Reserve in Guatemala's Petén area, providing the biggest LiDAR data collection ever acquired for archaeological study. Settlement patterns, interurban connections, and militarization in the Maya Lowlands were revealed by the survey.
Unknown for millennia, the Maya archeology expedition revealed more than 60,000 dwellings, palaces, elevated roadways, and other human-made structures buried in the forests of Guatemala's north. Furthermore, Lin was the host of the National Geographic program Lost Treasures of the Maya Snake Kings (2018) that introduced viewers to the given significant findings in Maya archaeology.
Early TV Career
Lin appeared in the TV series Expedition Week in 2011 in an episode named 'Forbidden Tomb of Genghis Khan' and appeared in the TV Movie documentary In Orbit: How Satellites Rule Our World in 2012. The Greatest Tomb on Earth: Secrets of Ancient China (2016) and China's Megatomb Revealed (2016) were other TV movie documentaries that featured him.
Additionally, he was a correspondent in a documentary series Explorer in 2018 in its episode 'Space Race' and starred as an explorer in Lost Treasures of the Maya the same year. He then hosted Lost Cities with Albert Lin and Buried Secrets of the Bible with Albert Lin in 2019.
'The Bible from Space'
In 2019, The Bible From Space premiered on National Geography in the United States and over 170 other countries.
The documentary sought to uncover the truth behind the biblical stories. Lin traveled to the Holy Lands in search of an explanation of biblical historical events like the Exodus, the parting of the Red Seas, and the destruction of Sodom and Gomorrah. Satellite images were used in this two-part documentary special to explore the reality behind some of the Old Testament's most famous narratives.
'Lost Cities With Albert Lin'
Since 2019, Lin has been hosting a docu-series titled Lost Cities with Albert Lin. In the show, he goes on expeditions searching for ancient archaeological shreds of evidence that suffice the historical theories and events. The program finished its first season of six episodes in 2019. 'Fortress of the Knights Templar,' 'Ghost City of the Pacific,' 'El Dorado City of Gold,' 'Stonehenge,' 'Petra's Hidden Origins,' and 'Inca Island in the Sky' were among the segments Lin hosted in the first season. 
The first episode of Lost Cities With Albert Lin of the second season, 'The Great Flood,' aired on 2 May 2021 in Germany. Lin traveled from the cold depths of the Black Sea to the peaks of the Peruvian Andes in quest of the roots of Great Flood tales in this episode. The expeditions within Lost Cities With Albert Lin use high-tech imaging to unravel and resolve historical riddles at some of the antiquities at the sites as mentioned earlier. 
'El Dorado'
'The El Dorado City of Gold,' the third episode of the first season of Lost Cities with Albert Lin, aired on 27 October 2019 in the UK. Lin commuted to Colombia to learn the truth about the fabled city of El Dorado in this episode. Furthermore, he also examined the remains of Ciudad Perdida In the Sierra Nevada highlands in this expedition.
'Lost cities with Albert Lin: The Great Flood'
The Disney+ channel announced a wide selection of programming from Disney mothership, Pixar, Marvel, the Star Wars world, National Geographic, and more for October 2021. The documentary Lost Cities With Albert Lin: The Great Flood is among the lineup, which will be available for streaming on 15 October 2021.
Exploring Bujang Valley
According to a Yahoo news piece dated 4 November 2019, Lin told Malay Mail over the phone that Malaysia is in his ranking of nations to visit. He revealed he wanted to explore the ancient ruins of Bujang Valley, Malaysia's prosperous archaeological region. It is in the northern state of Kedah and is estimated to be as old as 2,535 years old.
National Geographic Society 
Lin is an Emerging Explorer member of the National Geographic Society (June 2010 -Present). He led National Geographic's first crowdsourcing endeavor in archaeology and pioneered the platform Tomnod. It has been utilized by millions on projects corresponding to humanitarian and environmental surveillance.
Lin had also received National Geographic funding for his Khan project. Due to the connections, Lin developed on earlier journeys, he could secure entrance to Mongolia's so-called "Forbidden Zone," where Khan's tomb was thought to be. The tomb was never found, but Lin sparked great influence in his methods to find it.
Other works
Lin leads the Center for Human Frontiers as its director. An interdisciplinary research endeavor, the Center for Human Frontiers is potentially driven to commercialize innovative technologies at the man-machine interface.
Award and Recognitions
Lin has won several awards, including 'National Geographic's Adventurer of the Year' in 2009, the Explorer's Club's 'Lowell Thomas Medal' in 2011, and the 'Nevada Medal' in 2014. In 2012, his contribution to National Geographic's "Next Generation Explorer" campaign helped him bag an 'Emmy Award' for 'Outstanding Promotional Announcement.' Furthermore,  he was named the 2010 Readers' Choice Adventurer of the Year by National Geographic Adventure Magazine.
How Did Albert Lin Lose His Leg?
Lin was on his way to another expedition in September 2016. Despite the adventure being a low-risk one situated in a local setting, the tiny 4x4 car met with an accident injuring Lin and his friend. "My friend was driving and it rolled," Lin told Jacob School of Engineering. "It was a split second, and I instinctively tried to stop it from tipping."
He opted to stop the rolling by sticking his right leg out, but unfortunately, the roll cage crashed on top of it, shattering his bones, requiring an amputation. "I literally could not function. The pain was so excruciating and constant that there was a point about a week or two weeks after the amputation where I remember thinking to myself, ``I would rather have died in the accident than have lived through it", he said to National Geography in 2018.
He eventually decided on prosthetic substitution.
Mirror Therapy
In a 2018 interview with National Geographic, Lin revealed the strange thing about the pain. He was succumbing to the pain in his amputated limb, a part which was no longer there. The condition is medically described as phantom pain. 
"Excruciating, burning, stabbing, fire-like pain—in thin air. You reach down and there's nothing there. And anyone who has gone through chronic pain knows how consuming it becomes. You can't sleep, you can't breathe. You can't do anything but just figure out how to face it," Lin described the pain he experienced to GQ in 2021.
The pain prompted Lin to meet V.S. Ramachandran, a world-renowned neurologist. The two began collaborating on mirror treatment, a technique that fools the brain into perceiving the presence of the missing limb to remap the body in mind. To simply put, this technique involved reflecting one of his intact limbs in a mirror to make it appear as though he has two legs.
"I would stare at the reflection—as if there was an extension of my original leg. It's a really simple old trick. You're doing it in a way to tell your mind that there's a narrative where the pain that you're sensing is okay—that it's healed," he shared with GQ of the treatment.
The treatment was adequate, but the therapy's effects went downhill in the absence of a mirror. Eventually, Lin attempted a variety of activities, including Kundalini yoga and meditation, in an attempt to adapt to his reality. But nothing seemed to work during that time. Lin recalled the melancholy he experienced as complete hopelessness. Even the painkillers weren't working, and he was hesitant about opioids because of worries about addiction and dependency.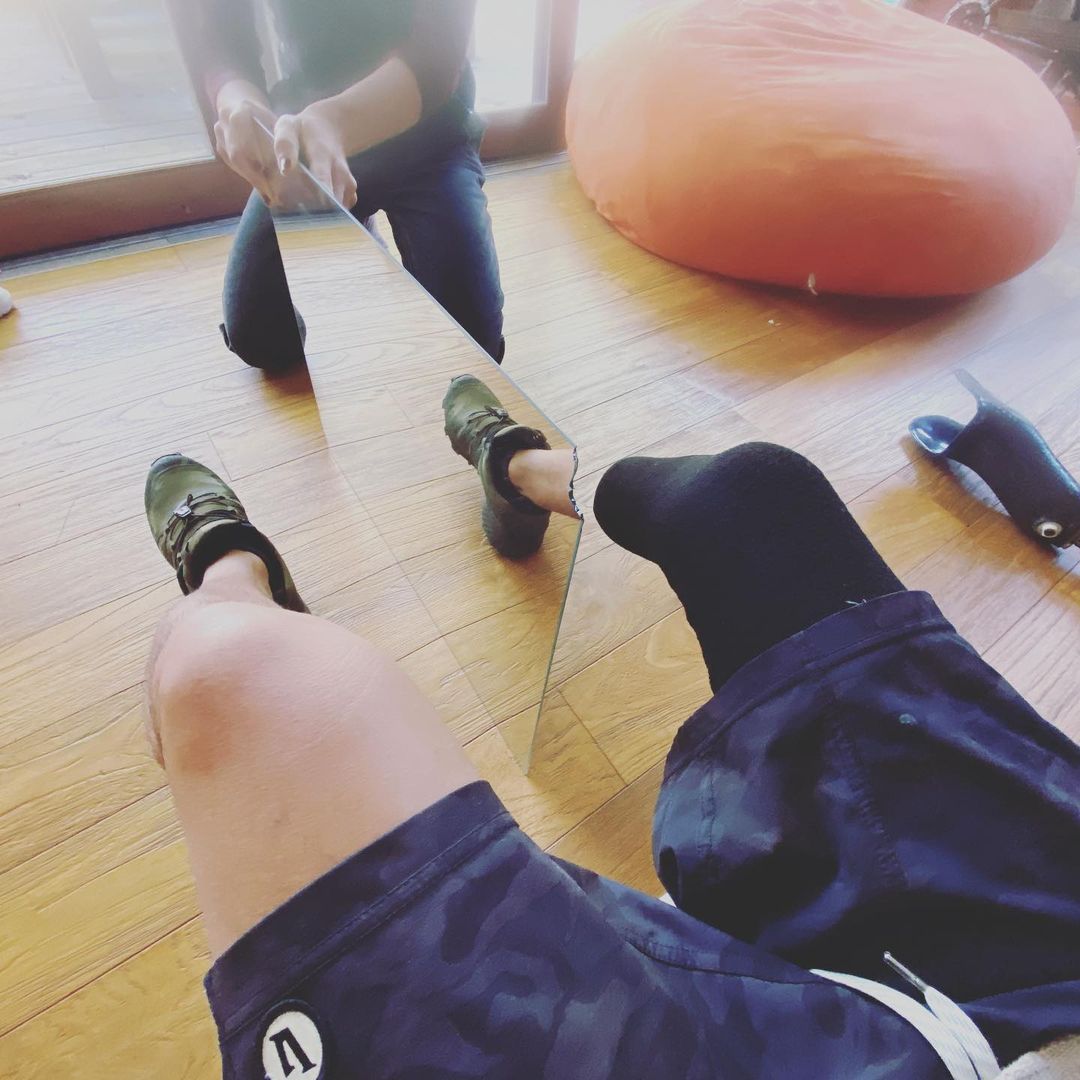 Using Psychedelics to Heal 
Psilocybin has been studied extensively to determine whether it might assist with various forms of chronic pain or not. Lin's phantom pain inspired a similar groundbreaking research project at UC San Diego that looked at the therapeutic use of psychedelics to rearrange pain pathways. Psilocybin, a form of psychedelics, was the one that provided Lin with the enormous relaxation he was yearning for. 
Lin and his wife stepped out of the hospital setting to have alone time in the middle of nowhere while Lin was still seeking treatment for his pain. The couple carried mirrors and a high dose of psilocybin to help Lin cope with his agony. The combination of drugs and mirror therapy worked like a miracle. 
"Within 30 minutes I was doing handstands. Literal handstands. I was free of pain. I moved my leg in and out of the sand in a way that I would see the moment when my amputation emerged, and I printed that into my mind and said, it's okay. Over and over: it's okay," Lin told GQ in 2021.
However, that was the only time Lin used psilocybin. His pain level had instantly dropped from ten to zero. Nonetheless, he doesn't attribute the success only to the drugs. "There are so many things that go into this that are very important—I was in a good, safe setting with a partner who was ready to help me rewrite my story in a way that was focused on positivity," he told GQ, describing the reduction in pain to a positive setting.
Furthermore, he warned that the capacity to remap your mind swiftly, also known as neuroplasticity, had risks. "It's not like psilocybin is this purely positive source. It has so much to do with the setting, the intentions, the community. Neuroplasticity can be used in many ways, like getting people ready to go to war. You have to facilitate the positive outcome." Lin added.
Commencement Speech
Lin gave the opening address during the UC San Diego Commencement Ceremonies for Thurgood Marshall College Commencement in 2018. While making his remarks to the audience, he simultaneously played electric guitar. 
Lin began by wishing everyone a happy father's day and then emphasized the life-defining moment of transition and metamorphosis to the graduates. He also discussed his expeditions and the importance of schools in his speech. He played the electric guitar throughout his entire speech.
Married
After 12 years of togetherness, Albert Lin and Shannon Bailey held their marriage on 9 July 2016 at Bloomfield Hills' St. Hugo of the Hills Parish. The couple has a daughter and a son.
Did You Know?
During the filming for Welcome to Earth's most remote expedition, Lin attempted to persuade actor Will Smith to sing The Fresh Prince of Bel-Air theme song.