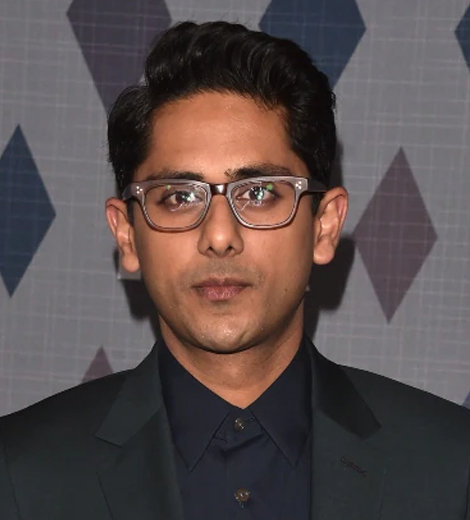 Quick Wiki
Full Name

Adhir Kalyan

Occupation

Actor

Nationality

South-African

Birthplace

Durban, South Africa

Birth Date

Aug 04, 1983

Age

40 Years, 1 Months
Cast Of Television Sitcom 'Rules of Engagement' (2009-2013)
Adhir Kalyan | Biography
Appeared in movies like 'Paul Blart: Mall Cop,' 'Up in the Air,' 'Fired Up!'
Kalyan has been married to his wife, Emily Wilson, since 1 October 2016. The couple has a child, a daughter, born in March 2021.
---
Adhir Kalyan is an actor who starred in the TV series, Aliens in America as Raja.
Who is Adhir Kalyan?
Adhir Kalyan is a South African actor famous for starring in the CBS sitcom Rules of Engagement as Timmy from 2009 to 2013. 
He was already in proximity to the film industry while in South Africa. He even appeared in theatrical productions like Oliver Twist, A Christmas Carol, and The Ground Beneath Her Feet. He later relocated to London in 2005 and continued on his acting ventures on a bigger scale.
Early Biography
Kalyan was born in Durban, South Africa, on 4 August 1983 to an Indian-African family. His mother's name is Santosh Vinita Sandy Kalyan. She was one of the parliament members of South Africa.
Kalyan is an alumnus of Crawford College in Durban.
Movies and TV shows
Kalyan moved to London from Durban in 2005 to seek a career in acting. Soon after, he guest appeared in the TV series Holby City and MI-5 in 2006. A few more of his cameo credits include the series Nip/Tuck (2009), Arrested Development (2018 and 2019), To Whom It May Concern (2019), and The Goldbergs (2020). 
Similarly, he has also made appearances in several movies such as Paul Blart: Mall Cop (2009), Up in the Air (2009), Fired Up! (2009), Youth in Revolt (2009), No Strings Attached (2011), Buttwhistle (2014), Square Roots (2016), Brothered Up (2017), Making Friends (2018), A Nice Girl Like You (2020), and Chemical Hearts (2020). 
Additionally, he played recurring roles in the TV series Fair City (2006-2007) as Ramal Kirmani, Aliens in America (2007-2008) as Raja Musharaff, Rules of Engagement (2009-2013) as Timmy, Second Chance (2016) as Otto Goodwin, I Love Dick as Geoff (2016-2017), and United States of Al as Al (2021). 
Wife & Child
Kalyan has been married to his wife, Emily Wilson, since 1 October 2016. The couple has a child, a daughter, born in March 2021. "When your filter is your wife's pregnancy glow," Kalyan wrote captioned the Instagram post on 8 March 2021. "We weren't sure if 9 months was too soon to share the news, but we're having a baby girl in about 3 weeks! We absolutely cannot wait."
They initially met in 2010 when Emily came over for auditioning for the role of Kalyan's girlfriend on the TV series Rules of Engagement. Kalyan had invited Emily out for tea after the audition was over, but she was already seeing someone else at that time. However, after Emily broke up with her partner, she asked Kalyan if he wanted to go out for tea. The rest is history.
Emily also works in the film industry like Kalyan. In addition, she has appeared in popular TV shows such as General Hospital (2012-2016), Disaster Date (2009-2010), The House Bunny (2008), Meet the Spartans (2008), and more.
Net Worth
According to Celebrity Net Worth, Kalyan has a net worth of $6 million as of 2021. He has amassed a sizeable net worth owing to his career as an actor.